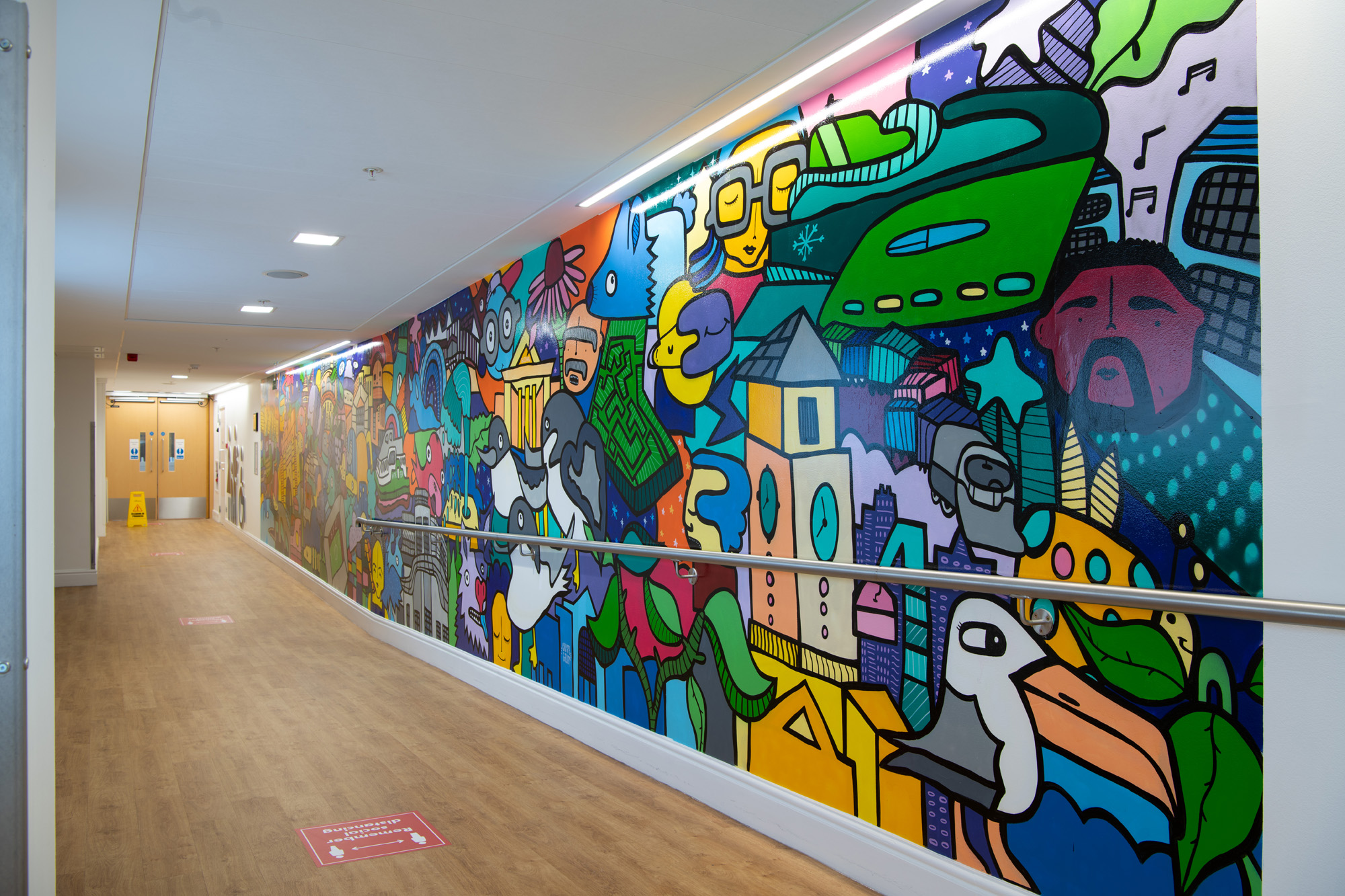 Alumnus Kev Munday creates cultural mural for Southampton Street Art Project
Solent University's Showcase Gallery is supporting GO! Southampton and Southampton City Council's Southampton Street Art Project – as they unveil a new cultural mural in the city's Westquay Shopping Centre this week.
7th December 2020
Kickstarting the project, renowned local artist, and Solent Alumni, Kev Munday, has created the 'Birds, Boats & Buildings' - a 14-metre-long artwork that celebrates the city of Southampton's residents, environment and history. The mural is painted directly onto the wall with acrylic and spray paint by the new family facilities area on Above Bar Mall.
Kate Maple, Curator of the Solent Showcase Gallery, says: "Artist Kev Munday's artwork represents an exciting partnership between Westquay, Showcase Gallery and Go! Southampton.
"It is the first project in Showcase Gallery's "What is our Place?" - a new programme of offsite, community-based work to strengthen local partnerships and explore how creativity can contribute to the wider city.
"Although Solent Showcase Gallery has temporarily closed, we are as present as ever - expanding our work in communities and public spaces of the city, utilising our gallery window display, and maintaining our online presence. If we cannot be somewhere, we'll be everywhere."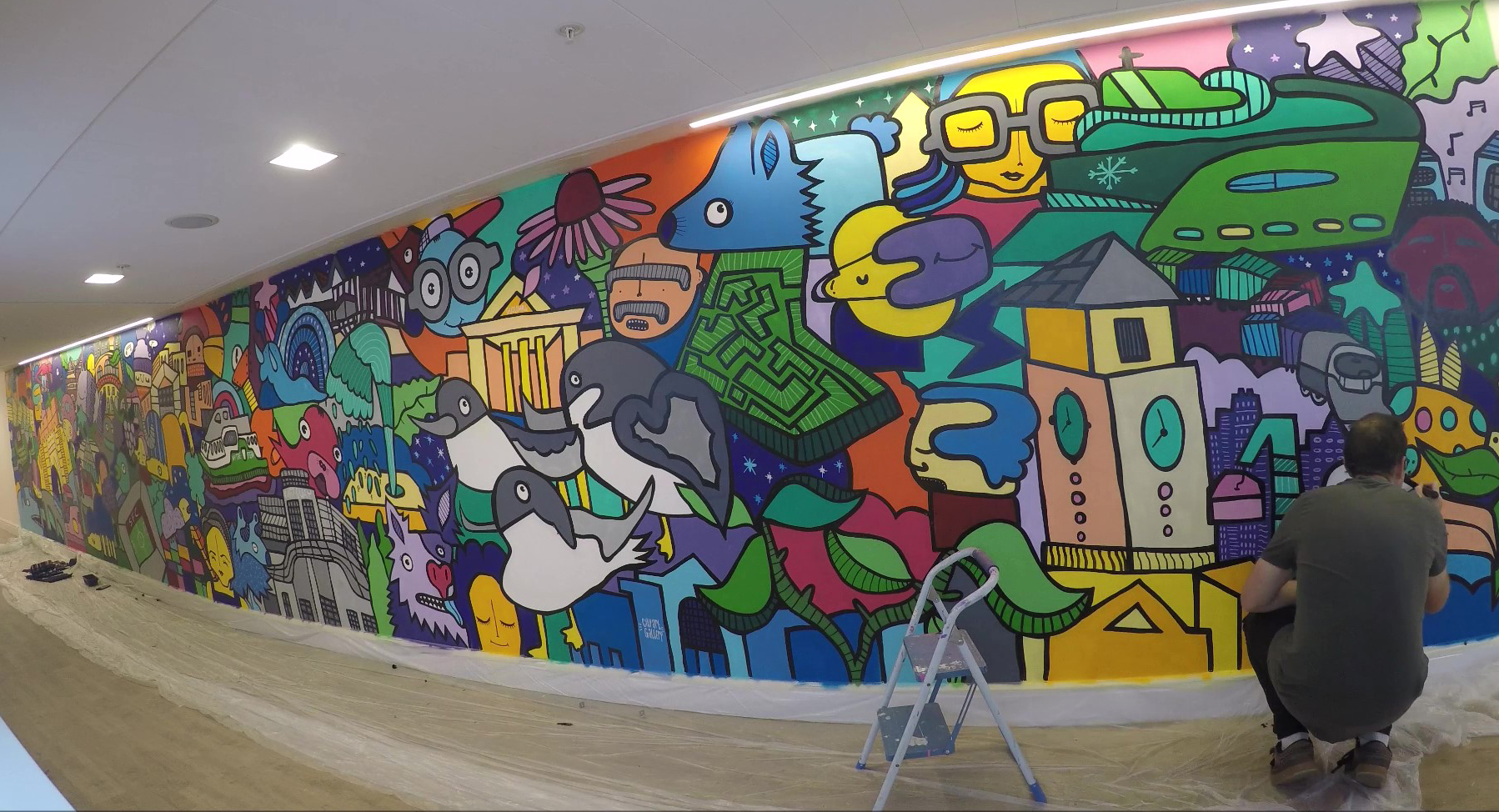 The mural installation will appeal to all ages and will include a number of local landmarks to evoke a sense of civic pride and community spirit during a difficult time for everyone in the city.
The artwork will be the latest in a series of street artworks by Solent University graduate, Kev Munday, popping up in public areas across the city. The bespoke piece will take its place along the corridor leading from the centre to Westquay's brand new toilet, feeding facilities and a lounge area located on level 3, adjacent to Boux Avenue.
Artist Kev Munday added: "When asked whether I wanted to create a large, hand painted mural inside a new area of Westquay shopping centre, the answer was of course yes! I've been planning this for a while now and the 14-metre-long artwork will contain many references to Southampton's people, landmarks, wildlife and local attractions in my bold and vibrant artwork style.
"The piece will be entirely hand painted using spray paint, acrylics and marker pens and will be a permanent feature within the shopping centre. I'm very excited to be able to bring such a large piece to an area which will have a high footfall and I hope that the painting will bring joy to visitors for many years to come."
Giles Semper, Executive Director at GO! Southampton, says: "We're delighted Westquay has commissioned this piece by Kev Munday – one of the city's best-loved artists. This installation ties in nicely with a range of street art projects that will emerge in coming months – from us, Solent Showcase Gallery and John Hansard Gallery – as part of our city recovery plan. We hope they will bring our city centre to life, promote Southampton's incredible street artists and make art more accessible to all as we prepare for the city's bid to be UK City of Culture 2025."