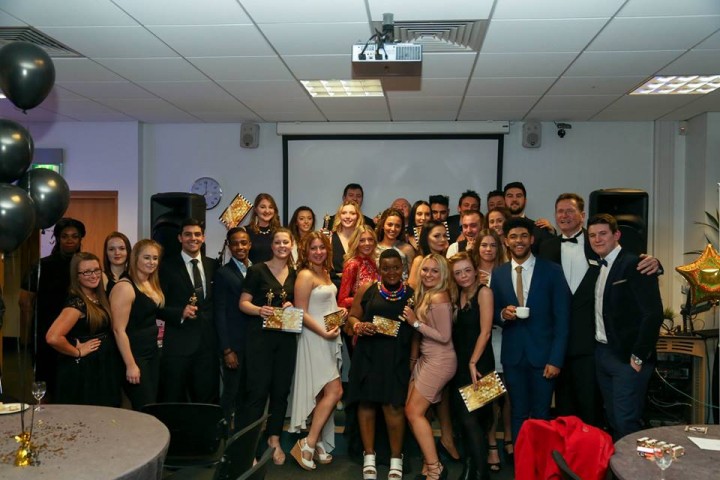 Events students celebrate, Oscars-style!
Events Students Awarded Oscars!
2nd March 2016
Students got into the Oscars spirit recently by hosting their very own event. Those on the BA (Hons) Events Management course have been honoured at a ceremony, which was organised, run and promoted by Solent Works.
Solent Works (SoW) is a student-led event focused initiative designed to provide students across various courses within the University with valuable work experience, and opportunities to work on live events and with real client briefs. Emma Mitchell, 20, third-year events management student and CEO. of Solent Works explains.
The Oscars celebrates the best of the film industry; our event celebrated the achievement of event management students throughout their three years at Southampton Solent.
The awards were created around three years ago by SoW, as a fun occasion to let our hair down and share in each other's success, and it's great to be able to continue the tradition. Every year, the awards have grown and this year, there were thirteen student awards – each hotly contested!
SoW was responsible for every aspect of the evening, from the floor plan, to the ticket design, finalising sponsorships, allocation of budgets, hiring staff, booking technical teams… the list is endless! Some of our team want to progress into the awards industry after university, so this is a really great opportunity to get the real-world experience that is necessary.
As it is a ceremony dedicated to third year students, after helping with the preparation in the morning, I was lucky enough to be able to sit back and enjoy the awards. I was privileged to work with two great SoW Event Managers, Ellie Tuohy and Sabina Barbu, who ran the event and the after party, ensuring that it went without a hitch. We also had great Event Assistants on the evening who were invaluable to the overall atmosphere of the night.
For the 2016 awards, there were three awards nominated by students which included:
Most Innovative, won by Tom Smith;
Most Competitive, won by Aran Sahota; and,
Drama King/Queen won by Bethany Davies.
Robbie Christou, Technical Manager for SoW, won Best First Year, and jointly won Best Second Year with Becky Gayler and Lara Abirichad. Both awards recognise academic achievement throughout the year.
Becky and Lara also picked up Best Research Proposal, which they submitted in their second year to direct their dissertation work.
Georgina Best, Event Manager for SoW, won a handful of awards, including Most Employable, a self-nominated award chosen by the tutors); Work Based Professional Studies, which is judged on our 210 hour placement in the summer between first and second year; and jointly won Most Improved Student with Jordan Stuart.
Jordan and Bethany Davies also received praise for their place in the semi-finals of The Eventice, similar to The Apprentice but for Events Management students! Well done – good luck to you both!
Lara, Niall Kelly and I also shared the Peer Mentor Award, which recognises our work within the first year employability classes.
Greg Halls won an award for Contemporary Issues, which is an academic award and combines grade scores from a poster and essay relating to issues within events management.
There was also a shared award for Best Live Second Year Event, which was won by Crown Productions and Fantasy Events. Crown Productions was made up of Jordan Stuart, Katrina Wilson, Jessica Warner, Hanna Spiller, and Natalie Russell, while Fantasy Events included Georgina Best, Lara Abirichad, Gemma Craggs, Becky Gayler, Robbie Christou and Leva Zigate.
Finally, we awarded Sheridan Easton, Course Leader Events, and Liam Higgins, Senior Lecturer in Leisure, an award each for all of the hard work and dedication which they give to us each and every day.
There were lots of different types of award, which made the evening fun and enjoyed by all!
Overall, the evening was fantastic, it was great to be able to let our hair down and enjoy ourselves and celebrate everyone's success and talk about our futures. Thank you to all of you for making the evening so enjoyable for everyone who attended.
Being able to be part of SoW has been a fantastic experience and has truly prepared me for the industry I am about to make my first steps into.
A final congratulations to all award winners and nominees! Good luck to everyone in the years to come!
Find out more about Solent Works 
If you would like to find out more about what Solent Works can offer your event, or are interested in working with us, please contact Sheridan Easton.