Experiencing life behind the scenes on match day
BA (Hons) Event Management student, Nikoleta Chonti had the opportunity to shadow the events team at Southampton FC to see how they prepare and deliver match day hospitality at a Premier League game.
22nd April 2020
As the official university partner of Southampton Football Club, Solent was the proud sponsor of the Aston Villa match, played at St Mary's stadium. On the day our student, staff and alumni community benefitted from exclusive experiences, and fans were also able to take part in a series of free activities to test their fitness levels and access tips on how to live a healthier, more active lifestyle.
Nikoleta Chonti, a BA Hons Event Management student, spent the day work shadowing the Southampton FC events and hospitality team - we caught up with her to find out more about her experience.
Hi Nikoleta - tell us about your course and career aspirations
My name is Nikoleta Chonti and I am currently studying the BA Hons Event Management course at Solent University, seeking a career in the event management industry. My eventual career goal is to become a fully qualified and experienced event manager, with the longer-term aspiration of creating my own event business focusing on mental health.
Tell us about your experience at St Mary's Stadium – what did you do on the day?
I was provided with a great opportunity to work shadow the Southampton FC events and hospitality team, going behind the scenes to see how a large-scale event is delivered. I was lucky enough to meet a variety of professionals that work within the event industry, which has enabled me to grow my professional network.
During the day I worked with the events team and became familiar with the delivery of a large-scale event from the start to the end of it. I was involved from the start of the day, seeing how the team prepare and encourage their staff to do their best, welcoming the guests and delivering an excellent customer service by paying attention to detail.
I had the opportunity to see how important every task is for delivering an excellent event from a manager to a staff member perspective - everyone is working towards the same goal which is delivering the best possible experience for every single guest.
Most importantly, I experienced working with an excellent hospitality team - Saint Events - towards a goal, and I can confidently say that it was an experience I will never forget.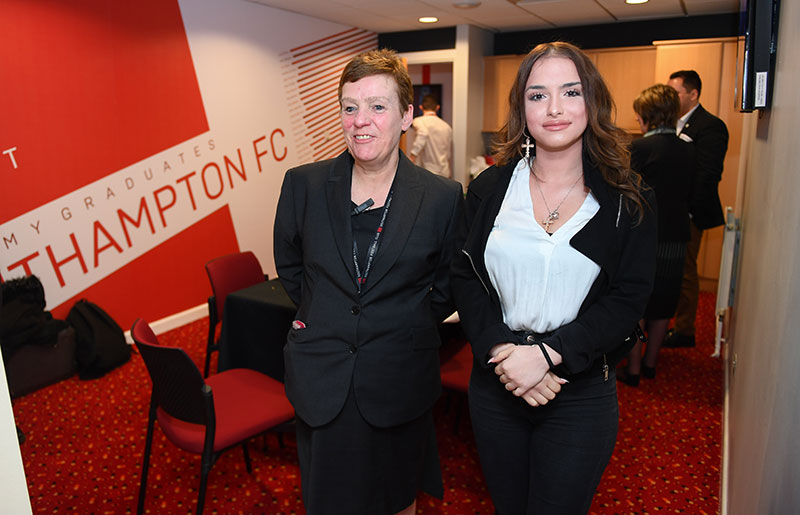 How will this experience help you with your studies and career aspirations?
This experience will help me with my studies as my course prepares us for a career by providing the knowledge and skills required. On this occasion, the opportunity of working with the Saints events team was a great way of applying all the theory and knowledge learnt in lectures.
This experience will also help me when it comes to preparing for my future career. The opportunity of networking and meeting professionals who work in the events industry will be helpful as I start a career in the sector. From this experience I have learnt that is important to plan carefully and gained practical experience that will be useful for my future career.
I think that building up your work experience by taking opportunities like work shadowing an event will always be helpful for your career.
Would you encourage other people to take up these types of opportunities?
I would encourage any student to take up these opportunities provided by Solent without thinking twice. These are excellent opportunities to gain practical experience in the field of your studies, while growing your professional network. I think that building up your work experience by taking opportunities like work shadowing will always be helpful for your career.