Flashback: fashion journalism students' New York Trip
At the beginning of the year, before the planes stopped flying and the world was locked down, a group of Solent fashion journalism students had the fantastic opportunity to visit New York city – one of the world's fashion and cultural capitals.
1st May 2020
English and journalism
Journalism
At the beginning of the year, before the planes stopped flying and the world was locked down, a group of Solent fashion journalism students had the fantastic opportunity to visit New York city – one of the world's fashion and cultural capitals.
As well as seeing the sights and getting a taste of the big apple, students explored the Metropolitan Museum of Art's In Pursuit of Fashion exhibition, went thrift shopping in SoHo, and more.
Students Jaina Patel and Charlie Noall take up the tale:
Jaina: When we arrived in New York, we stayed at the Wellington Hotel.
Charlie: We all had rooms next to each other in the hotel so it was easy for us to plan dinners and activities with each other. During this week we had packed in as many attractions and activities as we could to ensure we made the most out of our trip. The University had provided us with city passes to ensure that we could really benefit from the trip and what the city had to offer.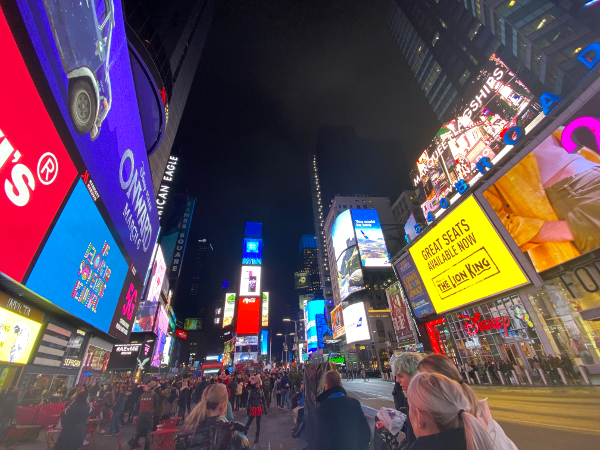 Jaina: That first night, my roommates and I, with some others on the trip, went to look around the city. We were about a five-minute walk from Time Square, so we got some dinner and we took a look around.
The next morning, we went for some breakfast and then had a small walk around Central Park. After, we walked to the Empire State Building where we managed to get just below the top floor (because you had a pay extra) and the views from the top were amazing.
Charlie: The weather was slightly cloudy and windy but you could still see all of Manhattan and its skyline. We spent the rest of the afternoon on a boat tour that travelled around the island, past the statue of Liberty and up past Brooklyn. The weather had begun to worsen but the experience of seeing New York from the river was great.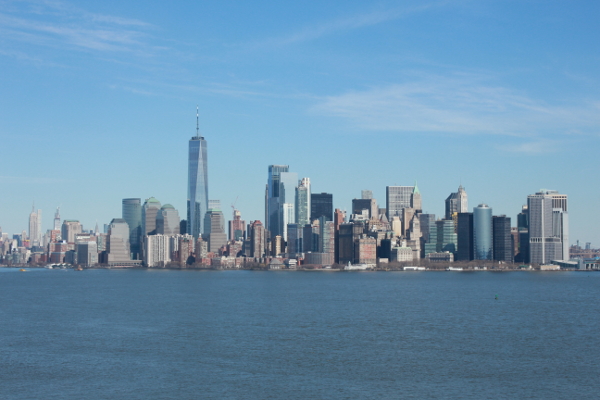 Jaina: The New York City Line Tour was an hour and a half, and we saw the World Trade Centre, Ellis Island, Hudson Bridge and the Border of New Jersey. It was a lovely boat trip and the tour guide was extremely knowledgeable.
After that, me and my roommates decided to visit the New York Public Library. It was stunning in there and I finally got to see where Carrie got her heart broken by Big in the first Sex and the City film! It was strange to see people working in there as I was on a trip, but this is a place where people actually come to study.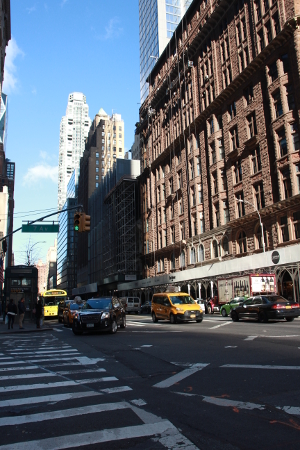 As it was a short walk away (we did get lost) we ended up going to Grand Central Station. Its main part of the station was amazing to look at, and I got to see the Grand Central Clock (where Melman from Madagascar got his head stuck) which was funny. but it was strange seeing everyone within their own busy lives and us just standing there! Back at hotel, being that tired from so much in one day, we crashed – we didn't have dinner, we just slept.
Charlie: The next day was much sunnier, with clear skies all around. We began the day by walking through Central Park before heading to the Met museum. We attended a fashion exhibit before exploring the rest of the museum. The museum has an amazing Egyptian exhibit which I really loved.
Jaina: Inside the met was quite insightful. We first went down to the 'In Pursuit of Fashion' exhibition, which showcased some truly amazing pieces of fashion. Me and a couple of friends then went to explore the rest of the museum where we got lost multiple times when trying to find the exit!
Charlie: We had some free time to explore the shops located in the upper east side and to also grab some food before heading to the Guggenheim museum. I really loved the architectural design of the Guggenheim, and although I didn't particularly enjoy the exhibit inside, it was still an enjoyable experience.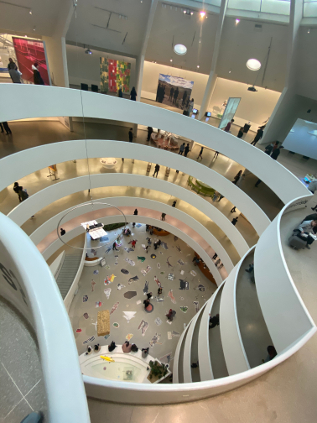 Jaina: The Guggenheim is completely different to the Met. It's much more modern, showcasing new technologies, debates and sustainability – all which relate to my course, so I found that very interesting.
Soon after we walked all the way back down central park to go to Bloomingdales, the iconic department store. It reminded me of Harrods back in London, so I wasn't too blown away with what I saw, but it was a lovely experience walking around and seeing what they had.
That evening we decided to go for a diner dinner. As it wasn't far from our hotel, we went to the iconic Stardust Diner. It's all American but they have aspiring actresses and actors who sing while you're eating. I would 100% recommend going here, they really put on a show and it's something new and different – I enjoyed it so much.
Charlie: The next day, Thursday, was the sunniest that we had in New York and we had a tour of the Statue of Liberty. it is such an iconic landmark for New York, and I was even able to get some photos in front of it wearing my Supreme TNF Statue of Liberty jacket!
Jaina: Once finished there, we boarded another boat that took us to Ellis Island. Learning about this place was actually quite sad knowing what happened here and the impact it had on all those people. Inside, the museum was eye-opening – seeing all the different aspects of what happened on Ellis Island.
Charlie: After getting the ferry back, we visited ground zero and visited the 9/11 museum. This was a very surreal and sombre experience and I felt very moved when experiencing this.
 After this, we walked back to the hotel – it was nice to see a slice of New York's famous nightlife and to generally see more of the city than we previously had.
Jaina: The following day was a lot calmer. In the morning I had gone to the MOMA (Museum of Modern Art) which was quite enjoyable, but I was a bit museumed out by then and just wanted to explore the city more – I think we spent a little bit too much on clothes shopping around Time Square, however I don't regret it one bit!
Charlie: I met up with one of my college friends who was on an exchange programme in New York. We went for lunch and a catch up before going thrift shopping. It was great to see my friend after so long and to also go into shops that I would not normally visit. After this I explored Soho before meeting one of my course mates. This was a disaster as it began raining and his phone lost signal so we spent ages trying to finally track each other down!
Later, whilst my other course mates were watching a basketball game at Madison Square Garden, I was attending a talk at the Cooper Union building led by the artist Daniel Arsham. I had recently seen his exhibit in Paris and I was very fortunate to be in New York when he was doing this talk. It was a very interesting talk in which he gave an insight to his techniques and the creative process which helps him within his work.
Jaina: For dinner we met up with some other friends and went to Hard Rock Café for dinner. It was very lovely in there, but I think there are so many other new and exciting places in New York to go for dinner, I would recommend trying those instead of Hard Rock.
The second to last day was one of the best days. We ended up going to Brooklyn Bridge which was so lovely, and the weather held up so nicely. The views from the bridge were incredible and when you managed to get that quite space, it was so nice to take it all in and enjoy the time I had. We found some other mates on the bridge, so we decided to go to Chinatown for some lunch. I finally had soup dumplings which I had been craving for ages and they did not disappoint.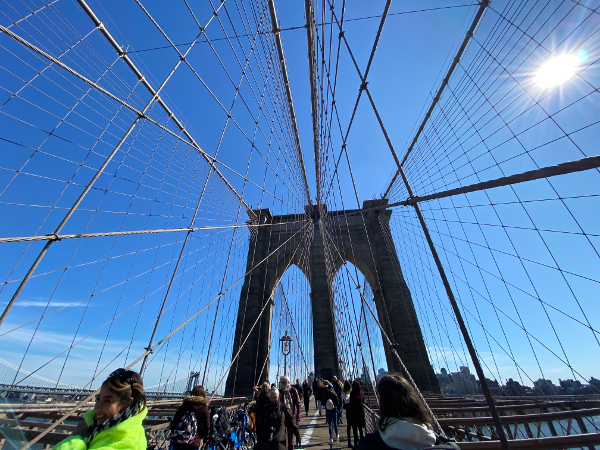 Charlie: After the bridge, we walked up to Soho for some shopping. My tastes in clothing are quite varied from my classmates so it was fun to bring them to the stores that I would normally shop in, I was also very excited to be in stores such as Stadium Goods and Billionaires Boys Club. We were heading to the Top of the Rocks to watch the sunset at 5pm. We had all split up to go to different shops which meant we all ended up getting different trains on our own and frantically panicking trying to figure out where we all were. We ended up getting to the Rockefeller late but it all worked out fine and we managed to get to the top to witness the sunset.  Watching the sunset from the top was so surreal, the sky was so clear and bright hues of orange filled the sky; it was beautiful.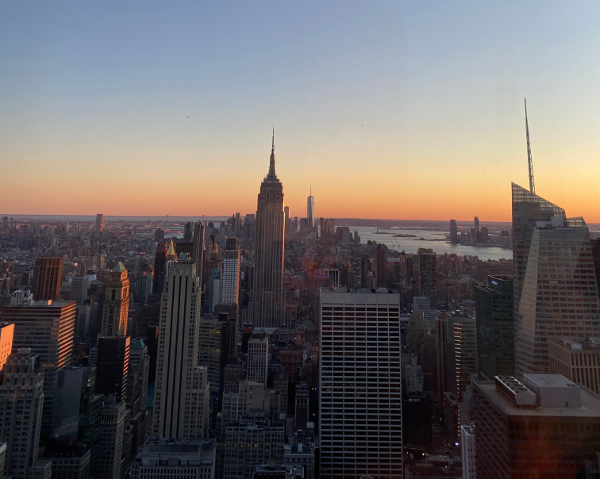 Jaina: I actually have family in New York, so I travelled a bit downtown New York to see them. They had cooked me dinner that night and it was some of the best food I had eaten whilst being there, it was lamb shank and risotto which are two of my favourite things to eat. It was the best time seeing my family and enjoying my final night with them because I knew it was going to be a while before I saw them again.
On the final day, most of us went to Time Square to do some final bits of shopping and take in the final sights. We sat on the stairs and enjoyed the sun. There were even a couple getting their wedding pictures done which was really cute. We got some lunch at the iconic Joe's Pizza and now I know why it is so iconic.
We still had some spare time before we had to leave the hotel, so we went and sat in Central Park on one of those big boulders overlooking the ice rink; the weather was perfect and we were looking over the ice rink just sort of people-watching (not as weird as it sounds!) and it was just calm and a really lovely way to round off a trip.