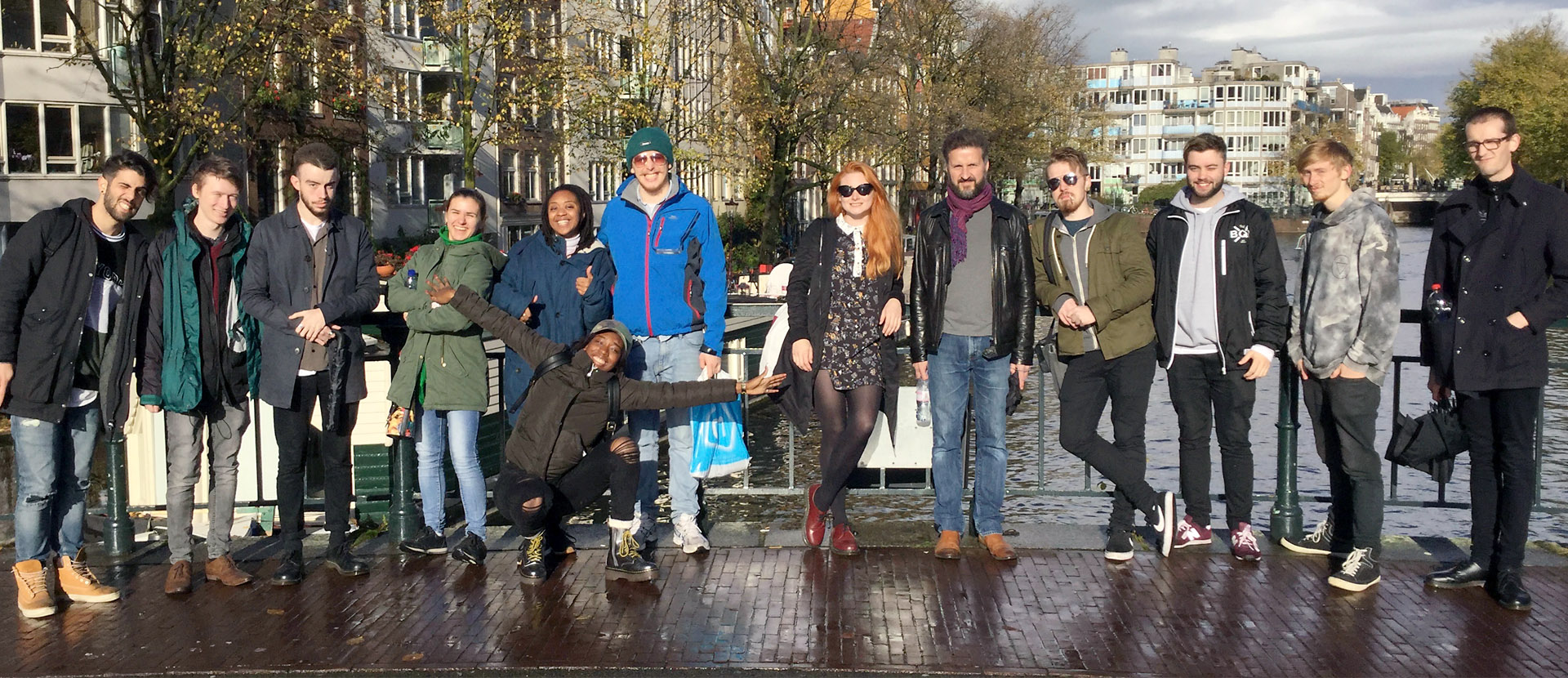 International Enrichment Week: Six days in Holland with Solent music scheme
As part of Solent's first International Enrichment Week, students and staff from across the School of Media Arts and Technology packed their bags for a six day trip to Holland.
25th November 2016
As part of Solent's first International Enrichment Week, students and staff from across the School of Media Arts and Technology packed their bags for a six day trip to Holland. Students spent time in both Amsterdam and Utrecht, making the most of the time away by taking part in a range of events, performances and projects.
The first stop was the Amsterdam Conservatorium, where students were given the opportunity to take part in a speed networking event before being invited to join jam sessions with students from our BA (Hons) Popular Music Performance programme.
Students also made the trip to HKU University of the Arts, Utrecht. Here, they attended a music business modelling lecture hosted by Arthur van de Graaf, co founder of crowdfunding platform Get a Crowd and active consultant for many innovative social projects throughout Holland.
Back in Amsterdam, the Studio for Electro-Instrumental Music (STEIM) invited students to tour its facilities and attend a seminar with senior researcher Kristina Andersen. Kristina spoke in depth about the vast expanse of experimental / electronic music and its relevance in today's musical world.
The students were also given the opportunity to perform at three live music venues across Amsterdam: The Waterhole, CC's Muzikkafe and Bourbon Street. Solent's own SVGA, Sammy Kettel and Courtney Gray performed energetic sets at each venue. 
The group also made time to see BA (Hons) Popular Music Performance alumni Samm Hennshaw and Stefan Adamson perform a sold out show at the Bitterzoet. Students caught up with Samm after the show, chatting about his experience of the industry and his recent performance on Later... with Jools Holland. 
Students also visited many of the tourist sites that Amsterdam has to offer including the Van Gogh Museum, the Banksy and Warhol exhibition at MOCO Museum, the Marilyn Monroe exhibition at De Nieuwe Kerk, Anne Frank's house, the Science Museum and the world's first virtual reality cinema.
Paul Rutter, Head of Music in the School of Media Arts and Technology, spoke of the talent and enthusiasm on display throughout the trip:
"It was great to be part of such an absorbing international itinerary involving students from Solent's music performance, production, promotion, digital music and TV courses. I really felt that the students made impact on their overseas visit, and their performances were delivered with such talent and enthusiasm.
"Seeing Solent alumni Samm Henshaw and Stefan Adamson performing to a sold out venue in the heart of Amsterdam certainly proves what is possible at Solent and provided much inspiration for our students."
Esther Frake, Senior Lecturer on Solent's popular music performance course, is excited about the opportunities for collaboration that this trip opened up: 
"The purpose of this trip was to encourage students to start thinking internationally and engage in music on a global scale - it not only helped to enrich the student experience but also allowed for us to develop our links with potential international partnerships. One of the students described the trip as 'a creative reset button' and I feel that this sums up the whole experience perfectly. 
"Having the opportunity to perform at several music venues, in addition to working with students and staff at STEIM, The Amsterdam Conservatorium, and HKU, provided excellent networking opportunities, giving students the chance to collaborate and transfer knowledge and skills and, in turn, encouraging them to be outwardly mobile in creating their own opportunities. 
"The trip was a huge success and the students have already been invited back to work on projects with students and staff from HKU, which will be a fantastic opportunity to collaborate and develop further links with this prestigious arts university."
Nick Burton, a third year popular music performance student, values the great contacts he has made while away:
"The whole trip was an incredible experience - having the opportunity to play gigs at different venues across Amsterdam gave us a real insight into the live music scene outside of the UK and we were able to make some great connections with venue owners, gig promoters and other music students. I can honestly say it was the best week of my life."
Chloe Williams, a third year TV studio production student, used the trip as an opportunity to launch media projects with colleagues from other courses:
"The trip to Amsterdam was incredible for me and for the film crew to embark on. We were given this amazing opportunity to showcase the music students' talent, while gaining valuable experience. The trip has also helped build relationships between the music students and I'm excited to work with the different bands/artists on their new projects!"