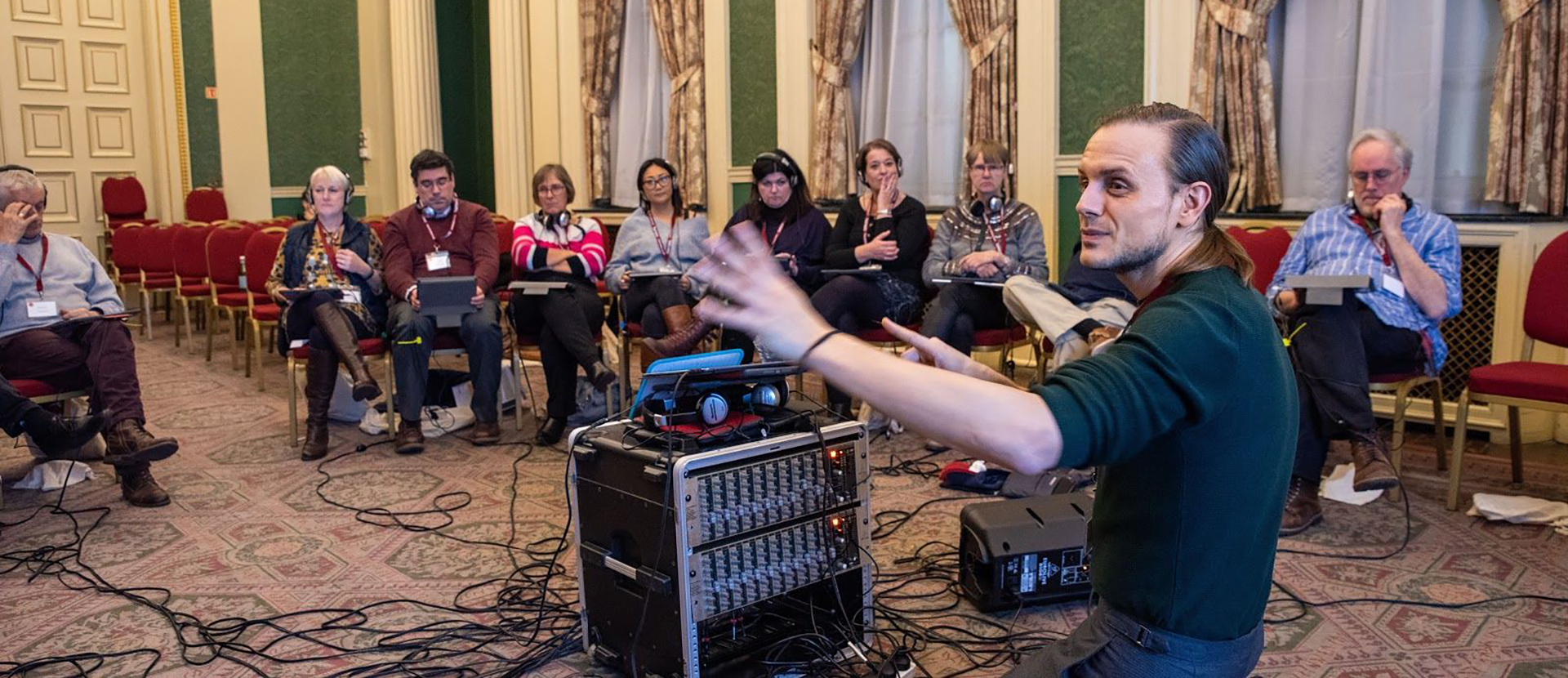 Lecturer shares pioneering music project at music education conference
Associate Lecturer for BSc (Hons) Popular Music Production, Matt Brombley has recently returned from the annual Music Mark Conference, where he had the fantastic opportunity to present his pioneering electronic music project.
17th December 2019
The 'Synthesis Project', led by Matt and funded by Youth Music and Southampton City Council, works with young electronic musicians, many of whom are facing significant challenges in their lives, to improve their music-making skills using iPads, alongside developing their personal and team working skills. 
The project takes an innovative approach to making music, flipping the usual model of instrumental learning on its head - which typically starts with learning and mastering new technical skills - and instead starting with self-expression through sound manipulation. The project is also working with world-class musicians to create inspirational digital resources which enable young people to create their own learning journeys.  
Matt said of the project: "It was an amazing milestone for the team to present our learning from the first half of the project with music hubs and cultural organisations from across the country. We're passionate about enabling young musicians to have action and urgency in the music-making process, even from their very first experiences.
"Music is an incredible motivator and when young people are empowered to lead their own learning, we see them develop not just musically, but personally and socially too. This conference was a great opportunity to build relationships with music hubs across the country who are keen to work with us to bring this pioneering approach to their regions." 
Toni Diaz, Course Leader for BSc (Hons) Popular Music Production, said: "Matt's innovative approach opens up access to music-making for children who may otherwise be excluded. We're delighted that Popular Music Production students have been able to be part of this exciting work through their live project brief module, providing real-world experiences to develop the skills needed as producers and music leaders of the future. For all involved, the benefits are clear, and we look forward to supporting Matt in developing the project further."
Find out more about the Synthesis Project at Southampton Music Hub