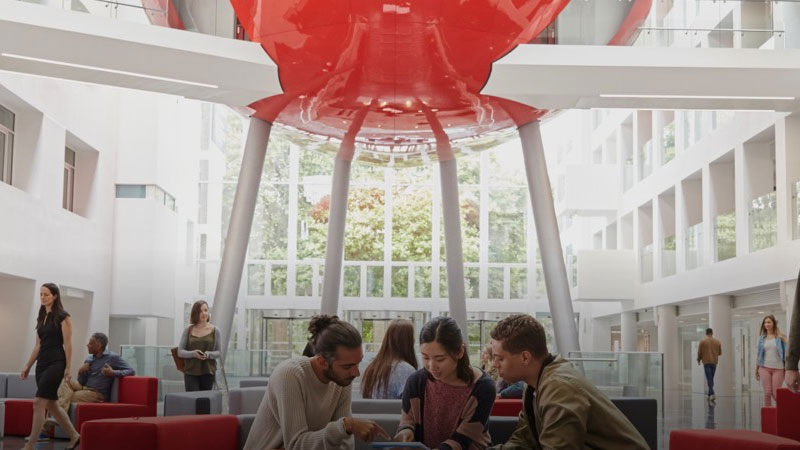 Come along to the Spark and join in with Solent' Environmental Day 2022
In line with the University's 2025 Strategy and in order to strengthen our environmental sustainability agenda, Solent is running our second 'Environmental Day' on Thursday 20 October 2022. This is a free event, open to all staff, students, and local community with focus on low-carbon economy, energy savings and some cost-of-living issues.
Solent is committed to making a substantive contribution to addressing the challenges presented by the climate and ecological crisis through our teaching, research, campus operations and engagement with students, staff and the wider community.
Our Environmental Day 2022 will focus on low carbon economy, energy savings and will address some of the cost-of-living issues. We will provide a chance to connect with colleagues and local community through sustainable marketplace. You will hear from our researchers and from external experts, such as the Environment Centre who will be running the Green Surgery.
Market place
As part of the day we will be running a sustainability-themed market place event in the Spark, allowing students and staff to showcase their own businesses, inventions or activities that are positively making a difference to the environment.
The Marketplace will run 12 noon - 3pm in the main atrium of the Spark and will showcase a variety of goods and services promoting sustainable life choices. So far we have a variety of stallholders running the following:
SUEZ will be providing waste and recycling information and advice 
Southampton City Council's My Journey Travel Team will be providing sustainable travel advice for Southampton and South Hampshire
The Environment Centre will be running Green Surgery providing carbon footprint and energy advice for students and staff
Dr Tammi Sinha will be explaining donut economics and Sustainability Community of Practice 
Hedgehog Friendly Campus will provide advice on how to help hedgehogs 
Sholing Valleys nature reserve and study centre will join us to promote the reserve, activities and volunteering opportunities
Our Alumna Tanya Lippuner will be showcasing sustainable home products from her own Vivusinteriors (purchases on the day will be available)
Re:So will be showcasing their sustainable fashion range 
Sea Ranger Online Shop stand by one of our wonderful staff members (purchases on the day will be available) who will be selling sustainable products and raising awareness of reducing plastic in oceans
Students Union will be present to raise awareness and promote sustainability among our student community
Abri will be providing a series of 1to1s with students briefing them on working in the social housing sector (this activity is booking only - should you wish to secure your 1to1 slot please email aggie.larus-hartley@solent.ac.uk, please note slots are limited and on first come first served basis)
Monty's Bike Hub will be located just outside the Spark building and providing guided rides on the day at 12 noon or 1pm. Book your space >
Bike Doctor will be available to help with your bike needs, located just outside the Spark building
The Woodlands eco project will be showcasing responsible tourism and providing information on our carbon footprint when on holidays
Beryl Bikes located just outside the Spark building will be providing information on the bike share scheme which launched across the city at the end of September 
Future South will also be present in the Spark
If you or a fellow colleague, student, alumni or other university partner are interested in running a sustainability-themed stall at the Market Place, there is still time to book your stall. Please contact Aggie Larus-Hartley in the Vice-Chancellor's Office (aggie.larus-hartley@solent.ac.uk ) before Friday 14 October to discuss your idea.
The Green Surgery
The Environment Centre will be running 'the Green Surgery'. Visit their stand to talk to them about:
Finding out your impact on the planet
Getting sustainability advice
Making a pledge to go green
You can also win a £100 Bitterne Box Co. gift card to spend on veg boxes and food treats online! Simply make a pledge to go greener at their stall. 
Find out what your impact is on the planet with a short quiz, and you can get sustainability advice and be inspired on their website. 
Evening lecture
We would also like to invite students, staff and local community to a topical evening lecture: Retrofitting and regenerating buildings: The challenge and opportunity.
We know that there is a lot of interest across the University in the sustainable agenda and we would like to encourage staff and students to share anything else you are already doing to support this agenda. Let us know what you are doing via askthevc@solent.ac.uk and provide as much detail as possible and any relevant links so that we can share with our staff and student communities.