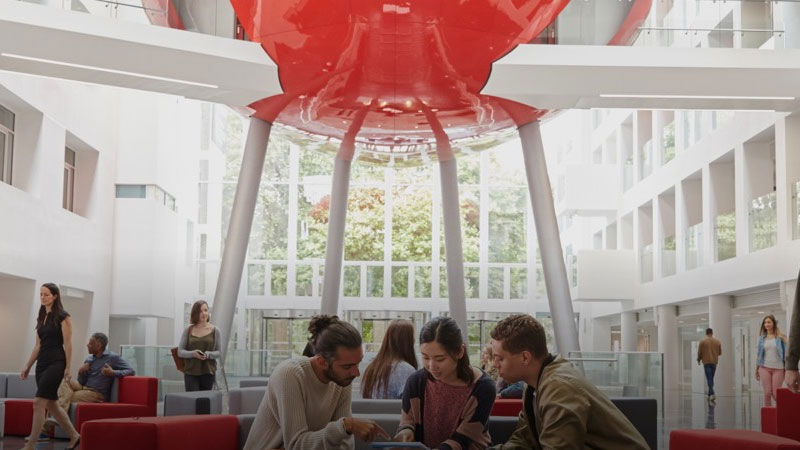 Virtual insight series: celebrating the anomaly – agile approaches in fixed spaces
Exploring the intrinsic links between learning and teaching, research and knowledge exchange.
Wednesday 27th October 2021
18:00 - 20:00
Online event.
In this lecture Professor Martin James will underline his strong belief that learning and teaching, research and knowledge exchange are symbiotically linked and that by taking an approach that steps out of the narrow lines of process can produce exceptional results.
Professor James is an award-winning learning and teaching innovator who links research and public engagement to curriculum design. This work has included investigation into place narratives and creative industries ecologies of third-tier cultural cities, multi-venue festivals as live teaching & learning and research spaces, and hidden histories as narratives of cultural heritage.
Drawing on this three-pronged work as evidence Martin will show how a multi-disciplined approach that celebrates critical excellence as much as skills acquisition supports a love of learning and an aspiration for academic achievement that enriches communities as well as industries.
At a time when standards are becoming victim to standardisation and transcendence is problematized as being anomalous to the greater good of business organisations, Martin's lecture calls for industries to embrace the outsiders and the anomalies, as it's there that creative solutions can often be found – hiding in plain sight.
About Professor Martin James
Martin James is Professor of Creative and Cultural Industries at Solent University, Southampton where he lectures and researches on music and the creative industries, disability and music, and late twentieth-century alternative music cultures. He is currently working on a practice based research project using his own music compositions to explore notions of false memory and nostalgia, while also analyzing the taste management processes of online and streaming platforms from production, through distribution and on to consumption.
Martin was the founder of the SMILEfest multi-venue festival and conference that ran for ten years until 2019 when it was superseded by SO:Music City, a collaboration with the local music and creative industries of Southampton. He continues to work closely with Southampton based music and cultural organizations. Throughout last year he worked with the City of Culture 2025 bid team representing Solent University on the Research and Evaluation Group.
Martin is also known as an internationally published music critic who worked on the editorial teams of some of the UK's leading music magazines in the 1990s, including Melody Maker and Vox. He also regularly contributed to numerous music and lifestyle magazines throughout the world, as well as writing for UK daily broadsheet newspapers including The Guardian, The Independent and The Independent on Sunday. He is the author of several critically acclaimed books about music, including State of Bass: Jungle – The Story So Far (Boxtree, 1997), the first book length investigation into the Jungle and Drum & Bass scenes. After being out of print since 1998, the book was reissued 2020 under the name State of Bass: the Origins of Jungle/ Drum & Bass (Velocity Press).
Martin's edited collection (with Dr. Chris Anderton) Media Narratives in Popular Music, (New York, Bloomsbury) will be published in January 2022.