About the fashion studios
The spacious, purpose-built fashion studios are always busy and bustling with students working on their latest creations. The studios are extremely well equipped with industrial machinery and large pattern cutting tables. There are industrial lock-stitch machines, overlock machines, cover-stitch machines, two industrial button-hole machines and a chain-stitch machine. In addition, there are over 50 mannequins and other machines including a blind hemmer, fusing press and industrial steam-irons with vacuum tables.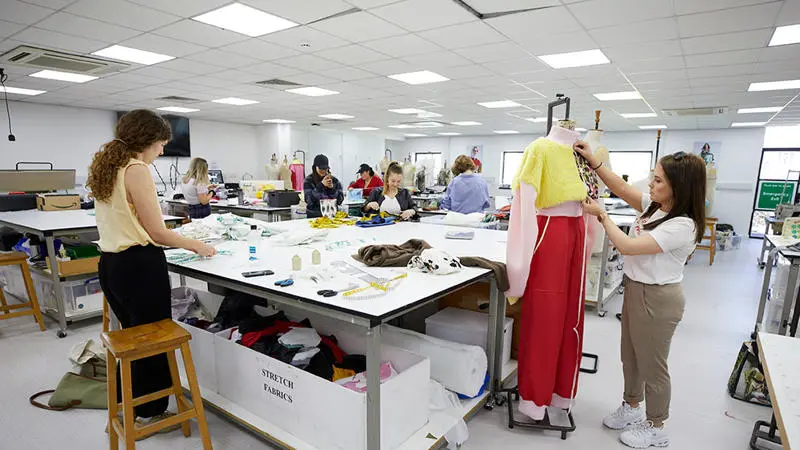 There are projectors in each studio that are used for teaching during both practical and theory based classes.
The studios are very well stocked with various fabrics and threads, and there is usually enough spare equipment to go around should a student find they have forgotten something.
The studios are open from early in the morning to late into the evening during busy periods. They are supported by helpful experienced instructors who are on hand each day for advice and assistance. The knowledge of the instructors helps to ensure students have the opportunity to develop their practical skills to the highest standard.
Equipment
35 industrial lockstitch machines
11 industrial overlock machines
4 industrial cover-stitch machines
2 industrial buttonhole machines
Chain stitch machine
5 industrial steam irons with vacuum tables
Blind hemming machine
Fusing press
22 large pattern cutting tables
Over 50 various female and male mannequins
2 Apple Mac computers
2 projectors
Courses that use this facility