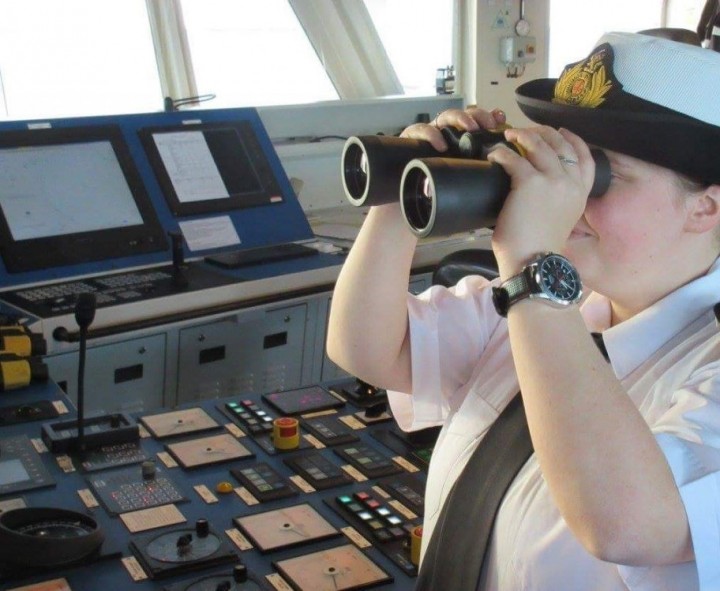 A life less ordinary: my first year as a Merchant Navy cadet
Elle Watson, a phase three Merchant Navy deck officer cadet training at Warsash Maritime Academy, shares her thoughts on the first year of training.
29th March 2016
The global shipping industry generates millions of pounds for the world's economy, but what of the people who spend their time navigating and maintaining the ships that cross the globe with goods, passengers or fuel? We caught up with Elle Watson, a phase three Merchant Navy deck officer cadet training at Warsash Maritime Academy, and asked her to share her thoughts on the first year of training.
What made you decide to become a merchant navy deck officer?
For as long as I can remember, I've always had a keen interest in navigation, cartography, and generally knowing my way around, to the extent that I was nicknamed 'Pigeon' at a young age, because my sense of direction was like that of a homing pigeon. I also come from a seafaring background, as both my parents are ex-Royal Navy medics and are now high up in the local Royal Naval Association, so I have grown up with tales of life at sea.
In 2005, at the age of 10, I visited an open day at BAE Systems in Barrow-in-Furness, which is close to my home, where I met a Merchant Navy officer. At this point I knew that I wanted a career in navigation, and when I heard what this officer did, I knew that it was the career path I wanted to go down. And here I am, 11 years later, just starting my second year at Warsash Maritime Academy.
The maritime industry and careers at sea sometimes seem to be like a 'best kept secret' – how easy was it to find information about officer cadet training?
Despite coming from a seafaring background, it was at the BAE Systems open day where I first discovered careers in the Merchant Navy. There are quite a few sponsoring companies based in Barrow, and many ex-seafarers in the area, so this meant I had lot of information close to hand. Also, because I knew what I wanted to do, it was easier to research companies and routes to take.
Ironically I chose to take my cadetship with a Southampton and London based company rather than one closer to home. Having an idea of what I was looking for did ease the process of gathering information, but it wasn't until I attended an open day at Fleetwood Nautical College that I actually learnt more about the process and the different types of shipping companies.
Not many people know that you have to apply to shipping companies for sponsorship – how did you find the recruitment process?
The recruitment process is fairly simple, once you know what's to be done. For those who don't know, there are three areas you can study as a Merchant Navy officer cadet: deck (which is what I'm doing), engine, and electro-technician. There are two academic routes: HND, which can be followed straight from GCSE with five A*-C grades, including English and Maths, or foundation degree, which can be taken with at least 120 UCAS points, 60 of which must be in a mathematical based subject.
Unlike university applications, you apply to a shipping company for a cadetship and if you're successful they'll choose which college you go to – normally between Glasgow, Fleetwood Nautical, South Shields and Warsash. You can request which college you're sent to, but some companies may choose to send you far away to prepare you for being away from home, like you would be at sea.
As for me, I actually intended to apply for a cadetship with about 13 companies, however when I started applying I managed to apply only for Maritime London through Chiltern Maritime before I lost internet connection for three days. By the time the connection returned I'd already had a phone interview with Chiltern, and a face-to-face interview the following Monday. By the Thursday I was offered a place as long as I passed my ENG1 medical. I also had a Skype call with my individual company, ICS.
So, personally, I found the application process very easy, but I know some people had various other things to do: some companies require extra maths tests, medicals (in addition to the standard ENG1 all seafarers need), and team building events to see how they worked with people, before they got their final confirmation of an offer.
Being away from home for the first time, for some, can be quite daunting. Were there any activities to help you get to know others in the cohorts when you got to Warsash?
Every phase one cadet has to live on campus; this not only make it easier for us all to get to know each other, but it's also normal to share cabins on board ship, so it gets you used to sharing a sleeping and living space with someone. On the first night we arrived there was a band put on in our campus bar.
We had morning muster every day for the first few weeks which took place at 8am and involved everyone in the phase. Our first week was induction and was mostly introductions and safety presentations, but our first Friday was the day we really got to know each other better, starting with paintball and ending with a night out in Southampton organised by Solent SU. Sailing and powerboating were also optional activities we could do, both to get to know each other and also as taster sessions for the watersports centre, based at Warsash.
The first college phase is about 15 weeks – what sort of things did you study? And what practical training did you do?
We had five navigational subjects: terrestrial, celestial, tides, chartwork, and navigation aids; two cargo subjects: wet and dry; ship stability and maths. Maths was optional, as long as we got so much on a maths test within our first week.
Ship stability was probably my favourite subject as it was very hands on, and we were also constantly solving problems and maths equations. Chartwork was also very hands on, as we spent our lessons plotting positions and track lines as though we were on the bridge of a ship. Tides was probably one of my least favourites, stemming from my hatred of coastal subjects when I did physical geography at GCSE and A-level.
Despite being confusing to begin with, I really enjoyed terrestrial and celestial navigation as I felt as though I was starting this career for real. I'd wanted to be here for so long, and now I was finally learning how to navigate the sea and take positions using the stars.
When it came to practical training we spent three to four weeks at the end of phase one doing our safety training, with the two most predominant courses being efficient deck hand (EDH) and basic safety training week (BSTW). EDH was mostly knot tying and rope work (we go into more detail in phase five to cover signals and painting).
BTSW compromised of safety and security, fire fighting, first aid and sea survival. As I'm pretty pyrophobic, fire fighting was quite a challenge for me, to the point that putting out a chip pan fire with a blanket seemed too daunting. So, I would never have believed that later that day I would be in full fire fighting kit, including breathing apparatus, in a 260°C burning room, fighting a fire!
Sea survival was also quite a challenge and included jumping off a three-metre platform, righting a liferaft and climbing into it, and other basic skills that can aid survival if we had an emergency which caused us to abandon ship.
What type(s) of ship were you on when you were at sea?
I was on two ships during my sea phase, spending about three months on each. My first ship was the Trinity House Vessel Galatea, which is a buoy tender operating around the UK coast. The second was Condor Ferries' Commodore Goodwill, a ro-ro freight ferry operating between Portsmouth and the Channel Islands. While on board the Galatea, along with tendering to buoys, I also took part in lighthouse and helicopter operations, as well as seabed surveying.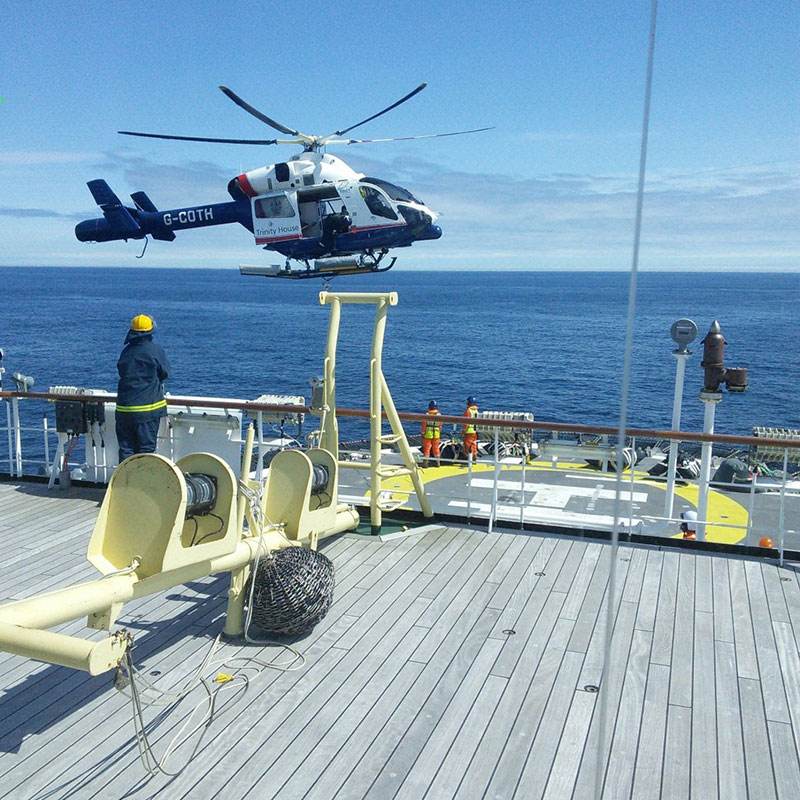 How did you find your first sea phase? Was it what you expected?
Being the 'wanderlustic', adventurous person that I am, I had hoped that I would be able to see a bit more of the world during my sea phase, so when I was told that I would just be going around the UK I was slightly disappointed. However, I did pretty much sail all the way around our wee island, and discovered how amazing it really is.
I think my sea phase was both exactly what I expected and yet completely different. Coming from a seafaring background I'd been told many stories about what life at sea is like so I did have an idea of what to expect. The two ships had completely contrasting environments, primarily in terms of crew nationality. I had no issues with this, especially as I adore learning about different languages and cultures, but it did prove to be harder circumstances to work in, with language barriers and different views coming in to play.
Is there anything that's stuck in your mind the most about your first time away at sea?
My time on the THV Galatea will always stay with me. The crew made me so welcome, especially as I was extremely nervous about being on my first ship. I worked with both the officers and the crew while on board, all of whom were very happy to teach me and answer any questions I had.
There are many moments that stick out, ranging from hanging off the side of a light vessel in the middle of the Dover Strait in four-metre swell, to helicopter operations off Lundy, Eddystone Lighthouse and the Isle of May, and surveying a fishing vessel that had sunk the night before in the Dover Strait. But my favourite memory from my time on the THV Galatea was when the whole crew surprised me in the mess on my 21st birthday with cake and Prosecco.
Fewer memories have stuck from my time on Goodwill, but I feel this is due more to the repetitiveness that comes from being on a ferry. Having said that, one of my best memories was the first day I took charge of the deck. I received the loading plan from the chief officer and directed the stevedores to where they were to park the lorry, as well as informing the ABs on how I wanted them to load the cargo.
My other favourite memory was completing my steering ticket. For this we had to complete 10 hours' steering the ship in various conditions, which at first is quite a scary task, remembering you are in charge of hundreds of pounds of cargo, and a few thousand tonnes of ship! I don't think I'll ever forget the day I practically perfectly steered the Goodwill into Portsmouth Harbour.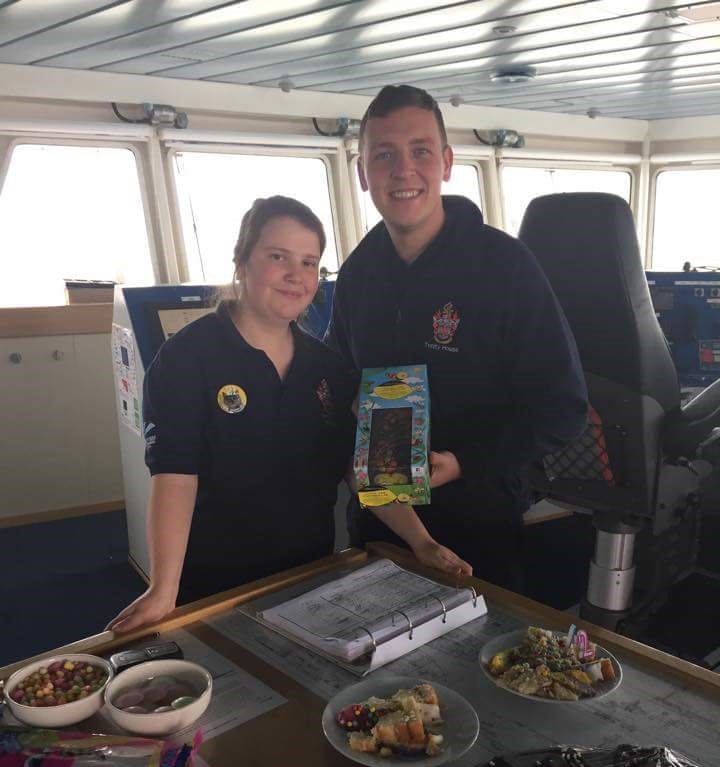 What are you looking forward to in your next phases at Warsash and then again at sea?
I'm very much looking forward to seeing all my friends from Warsash again, because we all know no matter where you go it's the company that makes or breaks a place. I'm also very much looking forward to some of the subjects we study this phase, especially meteorology (the study of weather), which the geography geek in me can't wait to start!
We're also going to be doing maritime law, voyage planning, more cargo, and stability and radar plotting. I don't know what my next sea phase will bring; I hope I do get to go deep sea and explore some far off ports! I'm interested in the science behind reefer shipping, and would also like to look more into survey vessels – I was very interested in what happened on the Galatea when we surveyed the fishing wreck.
The number of female ship's officers is still very small, although we are seeing more women enter the industry. What advice would you give to any aspiring female deck or engineering officers?
Do it! And stick with it! I've seen both positive and negative aspects of being a female at sea, from being treated slightly better then the male cadet I was with because I was in the minority, not in the sense of respect, but because those providing training wanted me to succeed more as I was female and I was proving that females can be officers and good ones at that. I also received unwanted attention from some ABs because I was a female. This wasn't nice, however I knew to somewhat expect it.
I also worked with people – officers and ABs – of various nationalities who thought women shouldn't be at sea, or in any industry that didn't include cleaning and cooking. Some days this did get to me a little, but I mostly found that it gave me more of an incentive to work hard to prove these people wrong.
I started blogging to let my family and friends know what I was doing, but as it gained popularity I realised it's a great platform to help encourage people, especially girls my own age and younger, to look into this industry, so you can't imagine how great it felt to have been sent messages from my old school teachers saying they've shown pupils my blogs, and that a group of girls recently attended a careers at sea open day.
This is a fantastic career path with lots of opportunities to travel, to earn, and to grow as a person. So, yeah, my advice is do it, and enjoy it, but do realise that there can be negative aspects to life at sea, especially as a female; but don't let it get to you, use the negatives to build and become the best person you can be.
---
Visit Elle's blog to find out more about her Merchant Navy training, or visit the Warsash Maritime Academy website to find out more about starting your own career at sea.