Media production alumna Peace Olabode, Netflix Production Assistant on Bridgerton, tells her story - and how Solent helped her get there
24th October 2022
Media production
TV, film, media production and technology
A year before coming to Solent I realised that I was pretty terrible at business management and was failing that A-level, and that I probably wasn't going to be a successful international businesswoman.
But I was doing okay at media studies, and more and more I could potentially see myself as a creative in the media industry. So I decided to focus mainly on media and immerse myself in media and the industry.
I didn't really consider myself as someone who was academically driven and I struggled a lot at college; they weren't very helpful at understanding my learning processes, so in the end
I didn't do so well at my A-levels and didn't have enough UCAS points to go into university directly.
So that's how I ended up doing my foundation year in media and culture. Portsmouth University had offered me three years, but not in media production – they offered me media studies, which was only 50% practical and the other 50% was written.
Solent though, offered me what I really wanted. Even though I'd spend longer in University, doing one foundation year and then media production, that suited me a lot better; it was 80% practical and 20% written, so it had everything that I wanted. It'd just take a little bit longer!
And I am glad that I did the foundation, in the end; it was great to learn the different areas of media, and when I did go into year one of my degree, it gave me a little bit of an edge over anyone who had just started onto the course. I had a better understanding of the media world, a little bit more technical knowledge. The ins and outs of the university as well, so you know where facilities were. Because I did it all in the foundation year, I didn't have that nervousness you normally get on your first day at university. It just made me kind of like more confident.
When I got onto the degree after my foundation, everyone on the course was super nice and I had a great relationship with the course leaders; which is what you want, you want people who will understand you. So I think Solent media production at Solent is the course for you if you want the best understanding and the best help in learning about media.
Media production at Solent is for you if you want to learn it, and want the coolest lecturers, the chillest lecturers!
I didn't feel like I was just a statistic, that the lecturers were trying to, you know, get us to pass and that was it; I felt like they genuinely did want us to understand and succeed, adapting to what each individual student needed. It just made the experience a lot better for me.
And the opportunities for experience, work experience, were great. Solent Creatives, the university's in-house agency, is great - I think the best selling point for the university. I did a lot of work experience, about 600 hours!
Solent Creatives was a freelance agency, which helps you build yourself up as a freelancer ­– a real freelancer, not just a student employee. It helped me set up my own brand, know how to do invoices, develop a logo, build my website up… and it also provided some money!
The thing I'll never forget though, was working at Glastonbury. That was a great experience. I didn't even know that Solent University had a relationship with Glastonbury when I applied, but when I learnt about it I couldn't apply fast enough, you know?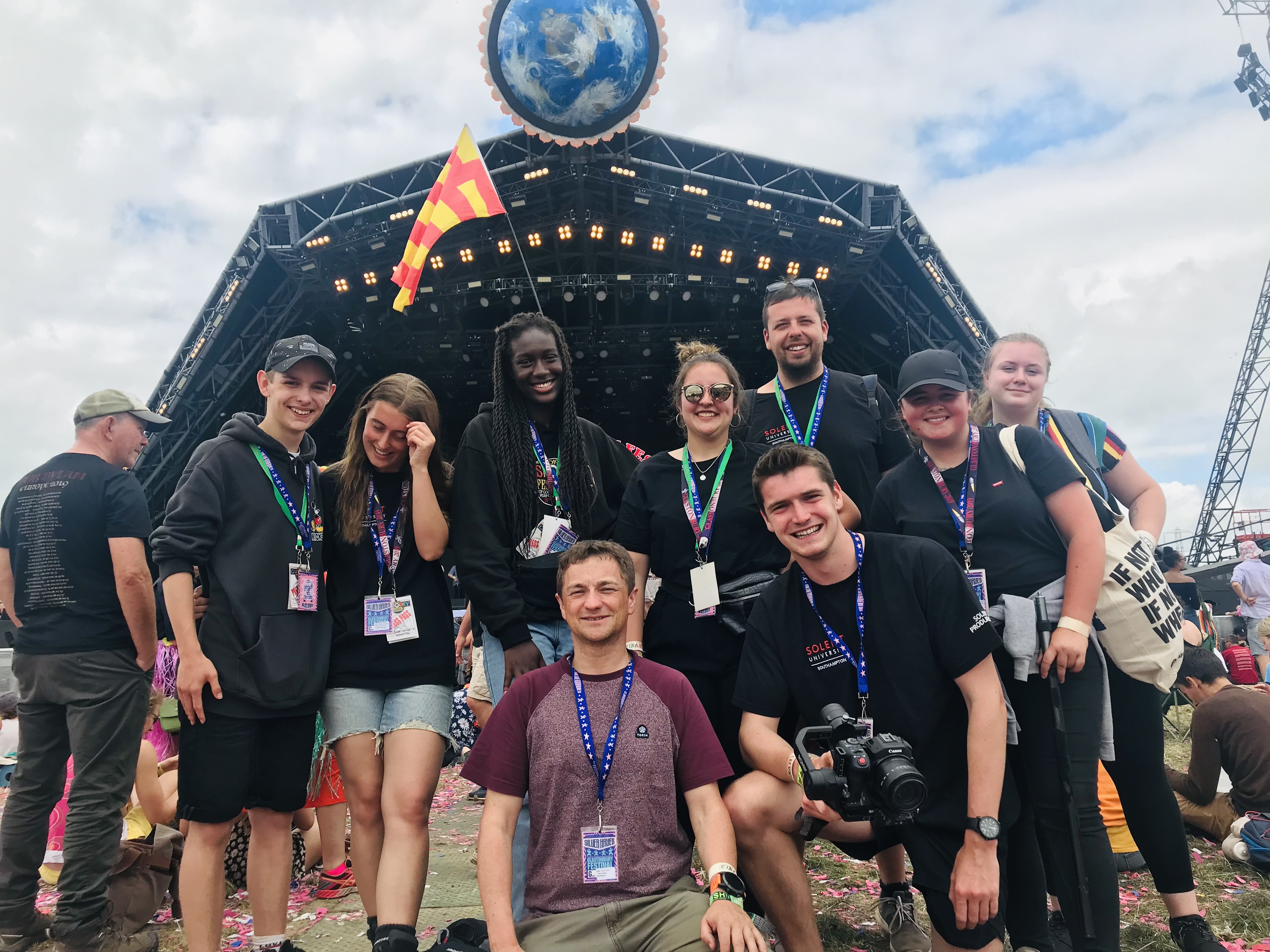 I'd never been to a festival before, never worked at a festival before, and it was great working with other students who clearly wanted nothing more than to be in that position, working really hard. I was a producer, with my own little team, and I coordinated what we needed to shoot and collect for each day of filming, to give the client what they wanted. It was fantastic experience. We were all a team, a collective.
And it really helped with that transition to the world of work, all that work experience. After I got this job I had a conversation with people from the production about our ins into the industry, and my production coordinator told me, "the fact that you went to university and had that many hours of work experience was the reason we picked you." So if I hadn't gone to university, I don't know how I would have gotten that. My work experience really helped me sell myself on the job market.
Even with all that, though, finding a job after I graduated wasn't straightforward, wasn't easy. When I graduated in 2020, I, like many other people, moved back home. For about four months I didn't have a job. I didn't have anything. I eventually decided to work in my dad's bus company as a rail replacement bus controller.
That was OK I guess, because at least I had some money coming in, but it was completely different to what I studied, and it wasn't the industry that I want to go into. I was doing that for about a year, but I wasn't happy because I did still see myself wanting to be in the film and TV industry.
I still worked freelance a bit. I didn't stop that completely. With people that I already knew or friends, I would just help out with photography and videography. My local café, I helped out with some poster designs and photography for them. I did some stuff for Making Waves Film Festival as well; basically I was just doing bits and bobs so I didn't lose that connection to the media and TV industry.
That was where I wanted to go, so I was still going to keep building connections and networks with people. But it had been a year, still hadn't gotten a job, so I applied to do an MA in producing for film and TV; doing an MA, getting some work experience again, using the connections that my course leaders might have, I wanted to use that to my advantage.
And that's when I got the job!
Like I said, I'd been working with my local café, done some promotional stuff and photography for them, and they'd connected me with a lady called Nancy who was the organiser for Lewisham Creative Futures; Lewisham was the London Borough of Culture for the year, and Nancy was looking for someone to help promote the events that were happening. But she also started sending me opportunities as well.
And one she sent me, very last minute because the deadline was the day that she sent it to me! It was titled PA [Production Assistant] for a Netflix production, so I sent my CV. I didn't really think I would get anything, and after hearing not hearing anything for two weeks, I forgot about it.
Then I got a call from this unfamiliar number, and I didn't answer because… you know us Gen-Zs, we don't answer numbers that we don't know. So I let it just ring out! Then I saw I'd been left a voicemail, and I heard this woman saying hi, I'm from Netflix. And I'm just calling because we got your CV!
I didn't even finish listening to the voice note! I just called her number back, and the same day I had an interview with her. I was supposed to be going out with my friends that evening but I said, sorry guys, I'm cancelling because this is an opportunity that I cannot miss.
The interview only lasted 15 minutes. Some might be worried about that but from the kind of responses I was getting it almost seemed as if I'd already gotten the job, so I wasn't super worried about the fact that the interview was so short. And then yeah, I get a call at the end of the week saying hi, we would like to offer you this job as production assistant (PA) for a Netflix show, you might've heard of it, called Bridgerton!
So yeah, I'm working with the Bridgeton team for Netflix. And as a production assistant, my typical day is pretty much doing everything that no one else wants to do.
That lady who left the voicemail? She's my production coordinator now!
So don't ever stop working, don't ever stop working hard. Even if your job is not within the industry now, don't ever stop networking and talking to people. Even now, for me; Bridgerton is a great production but I don't know if my next job will be lined up, so I need to make sure that I'm building great relationships with people and working hard.
So yeah, go to events, those little BFI events. Go to film festivals, always network. Always be nice and friendly, you don't know who is going to offer you a job… And always answer your phone!
Find out more about our media production degree at https://www.solent.ac.uk/courses/undergraduate/media-production-ba