An art collaboration between Solent University's art gallery and Southampton City Council aims to help vulnerable young people express how they are feeling during the Covid-19 crisis.
6th May 2020
The University-funded project will provide pizza boxes, packed full of art materials and creative ideas, that the City Council and No Limits charity can deliver to young carers, to help them express how they are feeling during these challenging times.
Included in the boxes, put together by artist Joe Ross, are blank postcards to record - in words and pictures - their lockdown experience.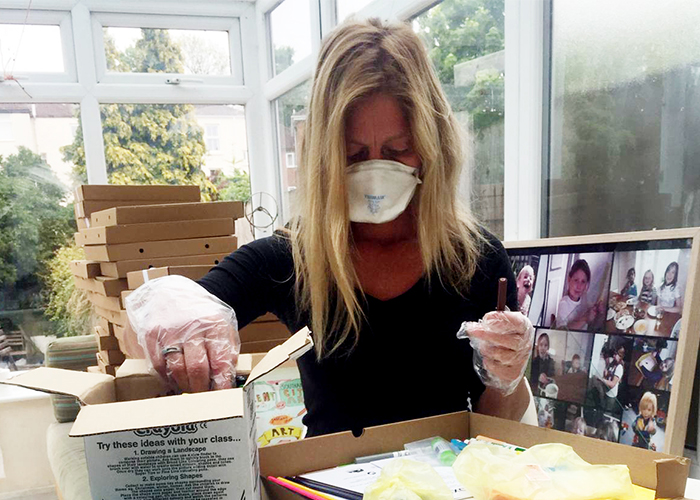 Other fun activities include an easy guide to creating sculpture from Southampton City Art Gallery, local activities about Sea City Museum and Tudor House Museum, and 10 drama activities to do at home by NST Youth Theatre.
The boxes also contain colouring sheets by Solent alumni Kev Munday, whose bold and vibrant artworks are being sold by IKEA, and images by local artist Ann Ridley about social distancing.
Designed to help support young people's health and wellbeing during the crisis, Solent Showcase Gallery aims to collect the works of art after lockdown and display them in the gallery as part of a special 'Life in Lockdown' exhibition.
"We want to create a lasting record of how local young people responded to lockdown during this difficult time. To give voice to their fears, concerns and hopes for the future," says Showcase Gallery curator, Kate Maple.
Art Pizza Boxes is part of Showcase Gallery's Connection, Community & Creativity in Quarantine campaign – which also includes online activities, public art projects and community action to find ways of connecting with audiences and contributing to community wellbeing and plans for the city's future.
"It's really important to us to be able to continue to help our community," explains Kate. "This pandemic has shown us how important the arts are in helping people to process, express and heal."
The campaign also includes filmed interviews with artists that the gallery has worked with in the past, talking about how they are continuing to be creative during lockdown.
The gallery is also collaborating with Go! Southampton to commemorate, celebrate and revitalise areas of the city with artwork that inspires.
"These public artworks will be made in collaboration with local groups and communities" continues Kate.
"These street art pieces will ensure that the struggles felt by us all during this crisis are acknowledged and remembered, as we work together towards a new future - getting the city and its communities back on track."