Ben researches indoor acoustic measurements
BEng (Hons) Audio and Acoustic Engineering student, Ben Warrington, shares his final major project.
19th May 2022
TV, film, media production and technology
For his final major project, BEng (Hons) Audio and Acoustic Engineering student, Ben Warrington, explored how to reduced the cost of indoor acoustic measurements. We caught up with him to find out more about the fascinating project, which will be on display at the Media Technology Degree Show on 20 May 2022.
Hi Ben, tell us about your project:
My dissertation project aims to drastically reduce the cost of indoor acoustic measurements (specifically reverberation time and speech intelligibility) by utilising smartphones and artificial intelligence, as the standardised methods have remained essentially unchanged for decades.
What was the inspiration behind it?
I was drawn to the use of artificial intelligence in room acoustics by a previous Solent graduates' dissertation: "The use of artificial intelligence in room acoustic prediction using a photograph", in which they achieved astounding results on a very specific problem using an image-based deep learning model. Despite its success, the model fell victim to the black box problem, whereby the method by which the results are achieved cannot be confidently specified. I decided to approach the problem in multiple, broader artificially intelligent stages, primarily to demystify the process but also to allow updates to the state-of-the-art on broader problems to improve the overall system.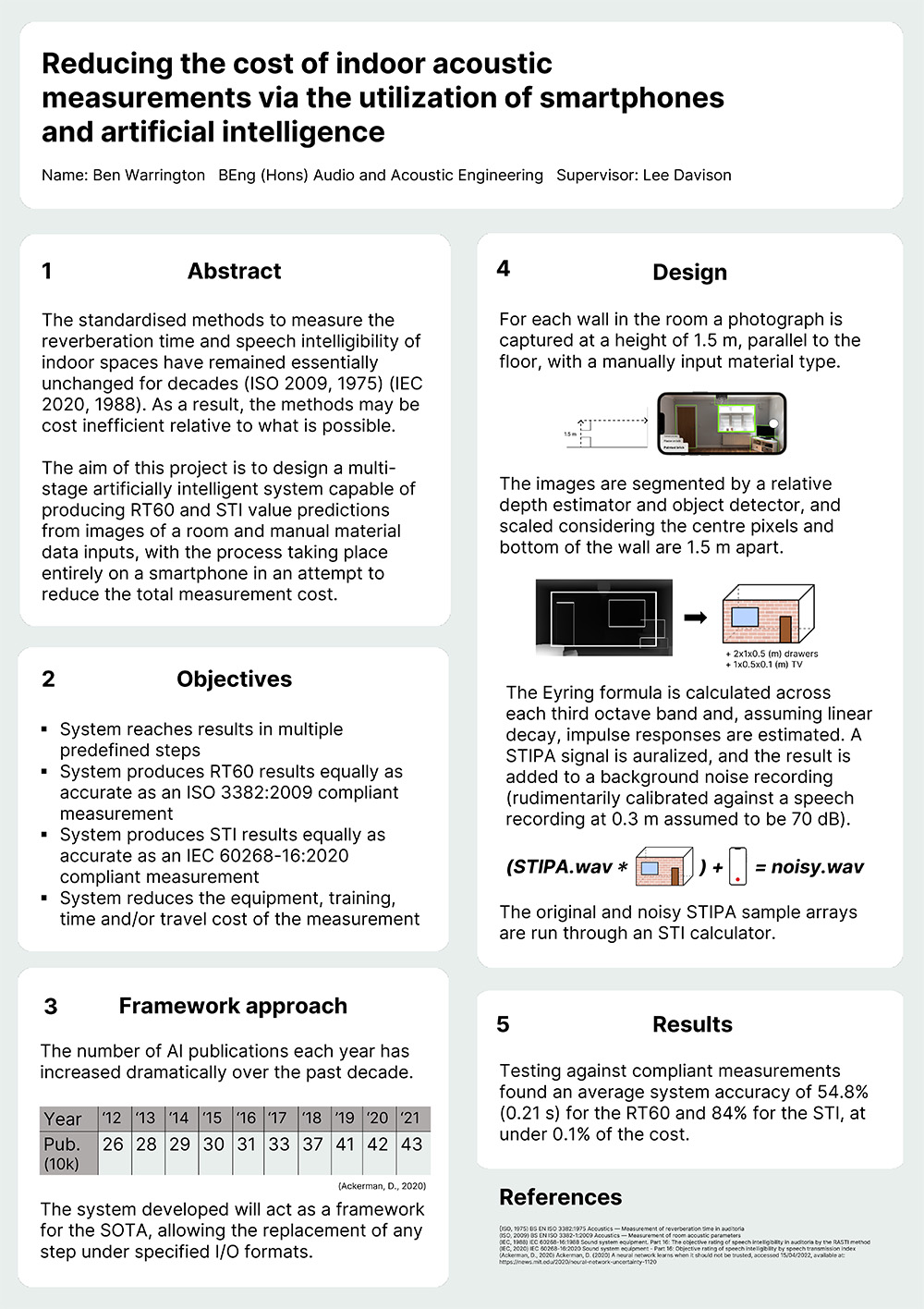 What have you enjoyed most about your time at Solent?
The staff have been highly responsive and enthusiastic about every project, no matter how simple they may be relative to their level of expertise, but I have most enjoyed the work experience offered to students via the courses industry connections, in particular the festival work.
What's next for you? 
With the help of Solent Enterprise, I have started a software project to assist well-being practitioners in UK primary schools.
What advice would you give to other students?
Go for every opportunity you can, even if it isn't necessarily your field. Some of the most valuable experience I got at Solent was exposure to emerging sectors/new technology.
To view Ben's final major project in detail, visit the Media Technology degree show.