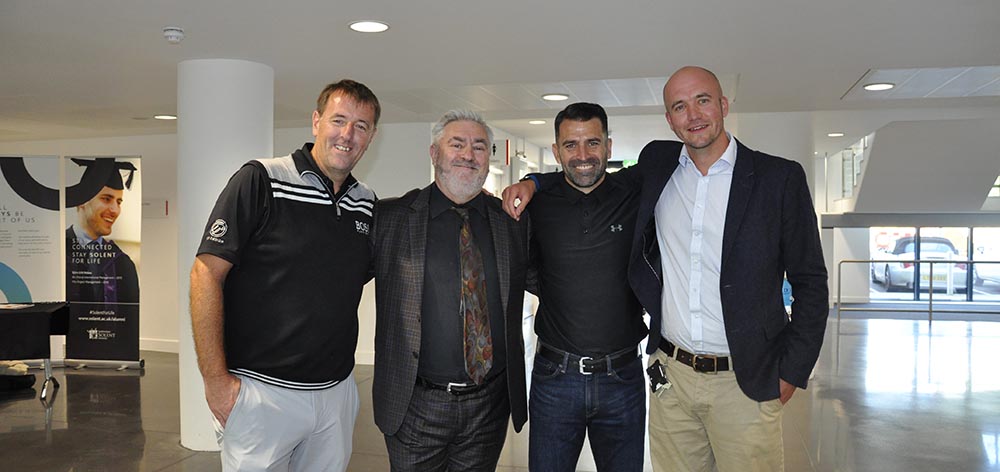 Celebrating ten years of sports journalism at Solent
A big birthday
29th September 2017
English and journalism
Journalism
This September saw the tenth anniversary of Solent's BA (Hons) Sport Journalism course. To celebrate, we welcomed staff, alumni and big names in sport to discuss how the industry has changed in the last decade.
Former Course Leader, John May, has been around from the beginning and played a large role in curating the current staff team for the course.
He says: "I'm so proud to be here ten years after we started, and I think the reason the course is doing so well is because we listen to industry and keep our finger on the pulse.
"When starting their first job within the industry, people are now expected to hit the ground running, which is what we're good at producing."
The event featured a panel made up of former Saints legends Matt Le Tissier and Francis Benali, as well as sports journalists Phil McNulty, Jeremy Wilson, Adam Leitch, Gary Taphouse and Nigel Dean.
The group shared their experiences in the sports industry, and advised on the skills needed to succeed, before taking questions from the audience.
One topic discussed was the benefit of earning a journalism degree in an age where anybody has access to a laptop. During the talk, Saints legend and Sky Sports Saturday Soccer Special presenter Matt Le Tissier highlighted the importance of professionalism, saying: "You need to know what you can and can't print. With amateur journalists, there's a danger of ethics going out of the window a little bit."
Francis Benali also highlighted honesty as an important part of the industry: "It's crucial to build relationships. When I was a footballer, I would trust certain journalists enough to give them a quote or an interview, and not worry that what I said would be twisted in any way."
Phil McNulty, Chief Football Writer for the BBC Sport website, added: "If you want to be a journalist you've got to really love the job, be persistent, and talk to people. Don't send an email – you make contacts by speaking to people, and that is the biggest piece of advice I can give."
Not only are the working destinations of graduates a testament to the course, but those who pass through it are quick to praise the role it played in getting them their foothold in the industry.
Jordan Meyer, one of three Solent alumni working for American media giant ESPN, says: "I think it's fair to say that I would not be where I am today without the course."
"My three years there were brilliant and I owe it pretty much everything."
Dan Brown and Charlie Price attended after graduating earlier this summer; both have already snagged coveted roles within the industry.
Dan says: "I've been working as an assistant producer at a sports broadcasting company. Solent definitely gave me all the skills I needed to start work straight from university; I was able to go in and start shooting and editing immediately."
Charlie added: "I'm a freelance sports journalist at a company Solent got me work experience at last year. I absolutely love it – it doesn't feel like work."
Today has been amazing to see everybody again, and great to be able to network and cultivate ideas."