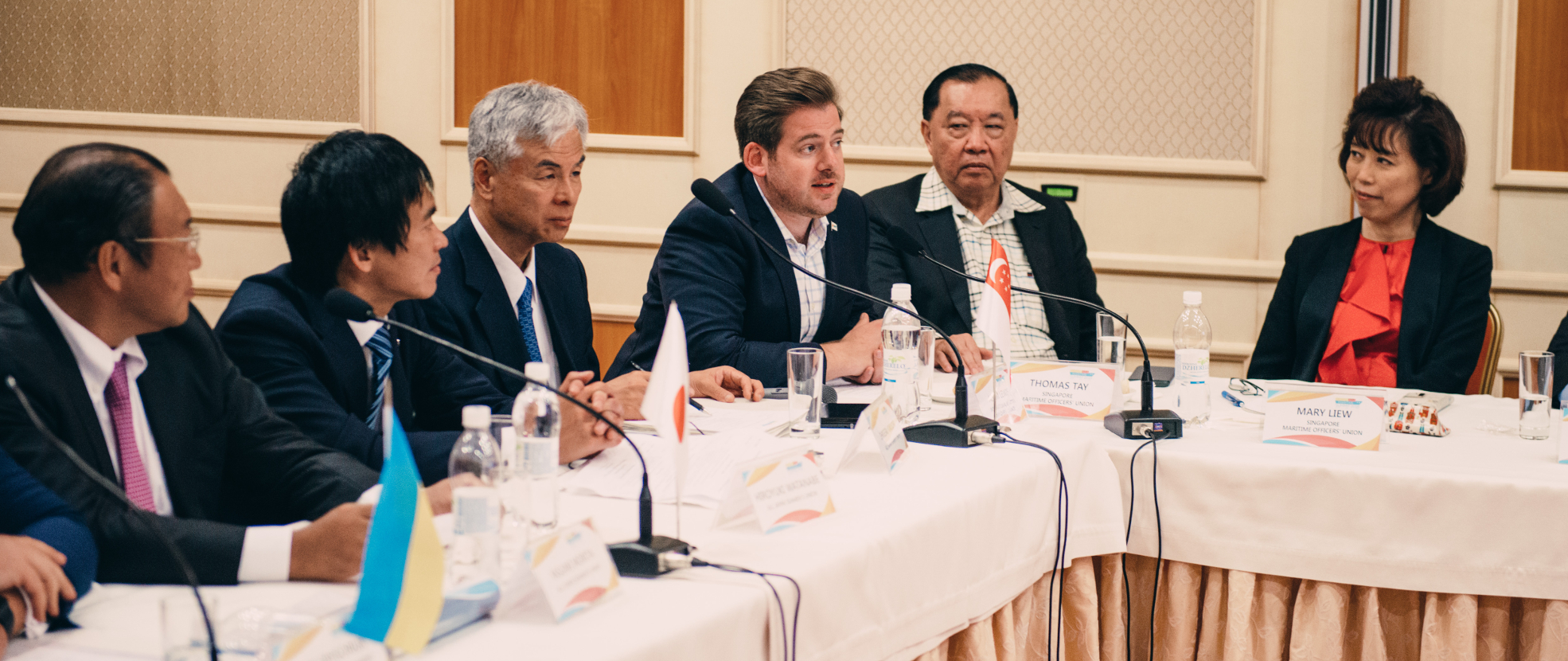 We caught up with the Head of Training and Operations for International Maritime Employers' Council, Adam Lewis, who graduated from our BSc (Hons) Merchant Ship Operations degree back in 2005, about the unexpected places his career has taken him.
18th December 2018
Why did you pick Solent?
My route to Solent was slightly unusual. I originally applied and was accepted on two maritime courses at Solent, but in the February before leaving school, I found out about cadetships in the Merchant Navy.
I applied and was accepted by Cunard, but I needed to undertake a very specific degree as part of my training. I therefore had to drop the places I had and then apply through clearing for the Merchant Ship Operations course.
Do you feel your studies helped you prepare for a career in the industry?
Undoubtedly. My degree dealt with real life situations, whether it be navigating a ship in one lecture, to legal studies in another.
I wouldn't have described myself as an academic at all before starting at Solent. I had very average A-Levels and I wasn't overly motivated by the classroom environment. However university academics are very different from traditional schooling and it quickly became an environment that I thrived in.
I didn't stay at sea after my studies, but I stepped straight into a ship operator's role where I was expected to communicate with captains at sea on all aspects of their daily voyage.
What opportunities were there for practical experience?
My course was a sandwich course, so after the second year I spent a year at sea, before returning to university again for my final year. I was rather fortunate as I was given the QE2 as my first ship in the summer of 2003.
I spent the first four and a half months travelling around Norway, the Mediterranean, Canada, and the Americas, then joined the QM2 in the January as her first cadet, and sailed on the maiden voyage, before spending a few month in the Caribbean. Later that year I even managed to stay onboard when she was chartered as a floating hotel for the Athens Olympics!
What did you like best about living and studying in Southampton?
Southampton is a great city and the campus is right in the middle. My best (and very possibly worst!) memories were living in a large shared house.
What did you like best about being a Solent student?
I remember walking into the Freshers' Fair, and being met with so many opportunities outside your normal academic routine. On a whim, I joined the taekwondo club at Solent. I carried on the sport after leaving uni and got a couple of black belts.
There are obviously academic deadlines you have to meet, but in your free time, if you want to learn a martial art, circus skills or how to fly a plane, there are opportunities for you.
Tell us a little about your career so far. What were the challenges, starting out?
My career has been great so far, but down a totally different route than expected. I came to the university through a cadetship with Cunard and fully expected to become an officer at sea. But I quickly started to excel at the more business and legal related subjects, and made the decision after my course to come ashore.
I secured my first role through the University as a broker and operator for a small shipping company. It was a fantastic first job as I saw all aspects of running a company. I could be negotiating freight rates in the morning and visiting a ship in the afternoon. After nearly two years in that job, I moved to London and started work for one of the large superyacht companies, specialising in safety and security management.
Then about five years after graduation, I received that magic call that we all hope will come. The manager I had reported to as a cadet had moved on to a large international organisation and thought I could be a good candidate for a new role they were looking to fill. They had recently commenced a cadetship programme in the Philippines and were looking for someone to manage it.
I joined the International Maritime Employers'​ Council (IMEC) in March 2010 and have been there ever since – I'm now primarily responsible for running IMEC's cadet programme in the Philippines. We have around 700 officers under training, who will become navigation or engineering officers onboard merchant ships. Outside of the training operations, I also get involved in industrial negotiations, as well as negotiations at the International Labour Organization in Geneva.
What are you working on at the moment? Any projects or plans you're excited about?
In 2017 we launched a new training programme in the Philippines, training school leavers from underprivileged backgrounds to become engine ratings onboard merchant ships. Most of the boys are from extreme poverty, so the programme is a genuine, life-changing opportunity for them. The programme hasn't been an easy start up, but we're just about to enter the second pilot course.
What tips would you give to someone wanting a career in the industry?
Think digital, think mathematics and think interpersonal skills. Shipping is about to undergo some major digital changes. While I'd question whether anyone will pull off a full unmanned deep sea vessel anytime soon, automation will certainly be adopted by the industry in quite a large way.
The future workforce will not only require good maritime skills, but also good digital and cyber security knowledge, as well as good mathematical skills to deal with the data analysis. One thing that will never leave the industry though is networking – good interpersonal skills are a must in shipping.
To find out more about our maritime degrees and cadetships, visit our maritime pages or our Warsash Maritime Academy site.