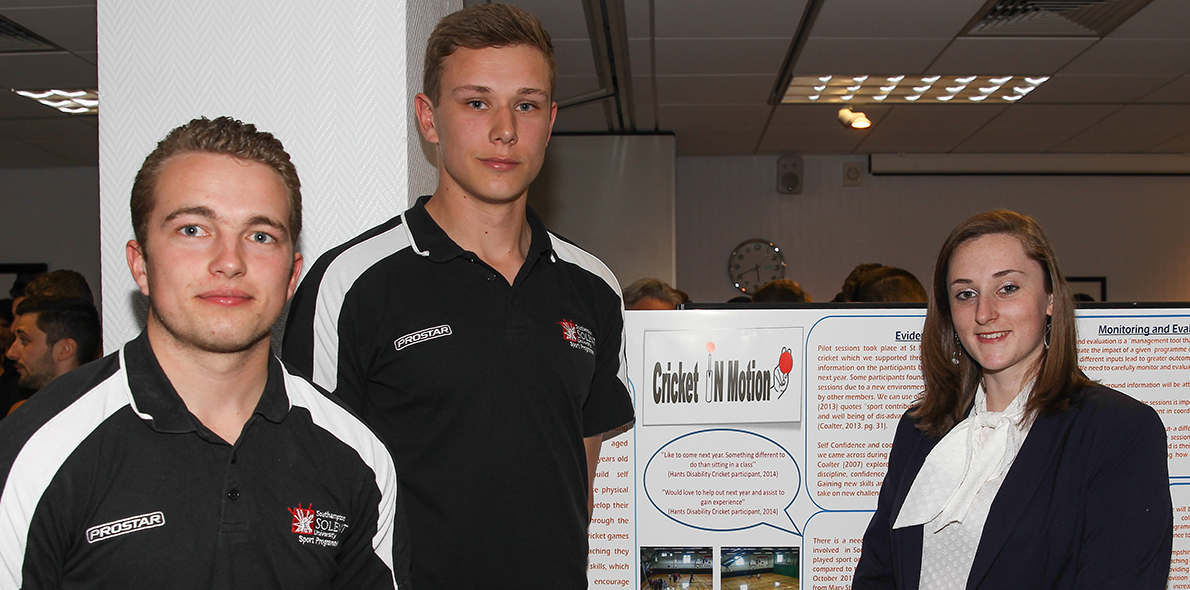 Community cricket project benefits local college students
Community cricket project benefits local college students
26th February 2016
Every year, second- and third-year BA (Hons) Sport Coaching and Development students at Solent are encouraged to take part in the Coaching Innovation Project (CIP) – a series of student-run community coaching schemes that usually focus on a social issue such as health or education.
The CIP has been running for six years now, and has contributed more than 200 student-run projects to coaching, physical activity and sport provision in Southampton and the surrounding areas.
One such project that has just finished is Cricket in Motion, which was run for eight weeks by third-year students Bronwyn Annetts, Tom Arnold and Joe Butcher, who worked with disabled 16-20 year-olds studying at Southampton City College.
Through the use of quick cricket games and intensive coaching, the participants built self-confidence, increased their physical activity and were encouraged to go on to the next stage of cricket development.
Equipment was provided from the Bluebird Care Hampshire Disability Cricket Programme, while Southampton City College helped with hiring the hall and providing eligible participants.
Third-year student Tom Arnold, one of the Cricket in Motion team, said: "Working with disabled students has given me great experience to develop my coaching. In terms of the project it's been very reflective in understanding that it's not all about just coaching, but using a sport to tackle social issues like building confidence and giving them opportunities to participate after the project."
One of the teachers from Southampton City College said: "Participant A always asks for help as she doesn't have the confidence. It is great that in this setting she is not relying on us; she is being self-sufficient, which is lovely to see."
Following the Cricket in Motion sessions, the participants' teachers have also been given a coaching pack to enable them to carry on into the summer – as well as information about the Hampshire cricket pathway, enabling those who would like to develop further in cricket to do so. The Cricket in Motion team will also visit the college again in six weeks' time, to check on participants' progress.
Bronwyn Annetts, who also helped organise Cricket in Motion, added: "The comments received from the students each week were lovely to hear; as a coach you know all your hard work is paying off!"
To showcase the wide selection of student-led CIPs, Solent is hosting the annual Coaching Innovation Programme Symposium, which takes place on Thursday 28 April, 5-8pm, in the Sir James Matthews building, 157-187 Above Bar St, Southampton SO14 7NN.
If you're part of a community, school or college sport organisation and would like to get involved – or if you're simply interested in seeing what Solent students can offer – you're welcome to attend. Simply register your place on Eventbrite.