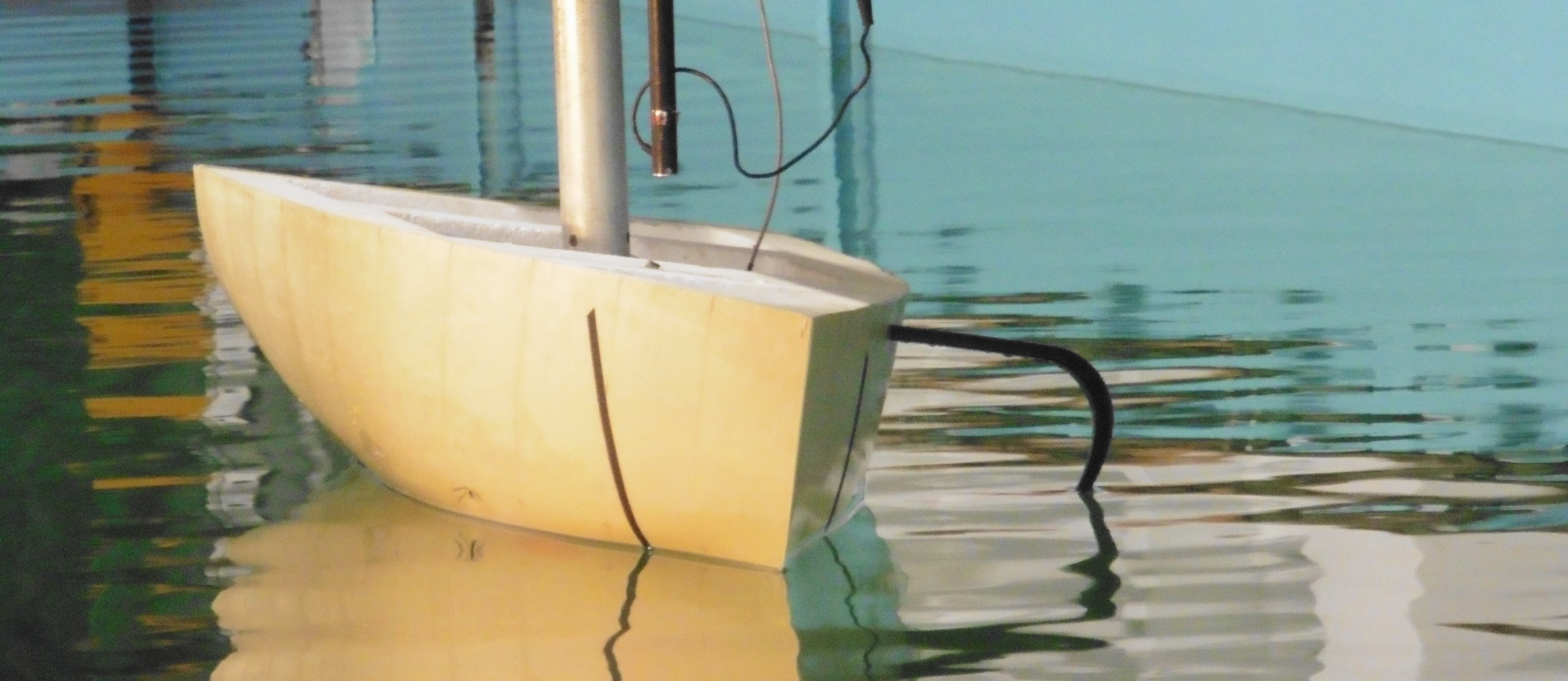 How do you like your hydrofoils?
Award-winning international master's students make invaluable contributions to groundbreaking yacht design research
4th November 2019
Early in 2019, Gaetan Labi climbed up on stage in front of an assembled and applauding crowd to accept the EMship+ programme's award for best master's thesis. A year before, it had been Juliette Dewavrin accepting the award.
As part of the EMship+ programme, a research exchange bringing together over a dozen leading maritime universities worldwide, the two researchers had come to Solent to carry out their principal research under the watchful eye of Senior Lecturer Jean-Baptiste Souppez.
Wings on a boat!
For Juliette, studying her EMship master's in ship design and hydrodynamics through the University of Liege in Belgium and the Ecole Central de Nantes in France, it was a chance encounter that brought her to Solent.
"I discovered Solent University when Jean-Baptiste came to Belgium to give us a lecture about yacht design," Juliette said. "The lecture was really good, and Solent University became the first choice for my research internship because of two main reasons: the fact that we could choose the subject of our research with our tutor, and above all, the university's outstanding manufacturing and testing facilities."
We asked Juliette about her time at Solent, and her project:
What was the idea behind your project? Can you briefly summarise the project, and its outcomes?
Hydrofoils! Wings on a boat, as simple as that! A 'flying' boat was the perfect subject for me as an aeronautical engineer studying ship design.
Hydrofoils are raising such interest and curiosity nowadays because of their countless benefits such as performance, stability and sustainability. Although they have existed for over a hundred years, there are so many design configurations, so many options you can study, that they are still a significant design challenge in the naval field.
The aim of my research was to determine, through an experimental study, the hydrodynamic advantages when hydrofoils are implemented on a sailing yacht. We decided to focus on three contemporary foil options, namely a Dynamic Stability System, a Dali-Moustache, and Chistera foil.
To compare their hydrodynamic benefit, those configurations were tested in Solent's towing tank on a 1:10 scale model of a 50-foot racer-cruiser hull. The experimental data relative to hydrodynamic efficiency was studied, in order to conclude on the most suitable configuration for leisure craft application.
Very little literature and scientific data on that subject are available in the public domain, so Jean Baptiste and I published the first conclusions and outcomes in a scientific paper in the International Journal of Small Craft Technology (Transactions of RINA, Part B2, 2018).
Can you give some detail of how you carried out the project? Walk me through the practical side a little.
I first focused my study doing the 3D CAD (Computer Aided Design) design of the yacht and the three types of hydrofoils. Then, after ordering a 1.5m foam hull model which had been CNC cut to my design, we hand-laminated it with E-glass woven roving and epoxy resin in Solent's composites workshop.
The keel and hydrofoils were then manufactured out of resin in one of the university's 3D printers, and strengthened with carbon fibre twill and epoxy resin using a vacuum process. During the build I learned a lot about a range of different composite manufacturing processes which were relatively new to me, which was an amazing experience.
Then finally the experiment could start. The model was run around 400 times in the hydrodynamic testing tank, with experimental data measurement being focused on the drag, side force, heave and trim. Those data have provided consistent conclusions, as well as raising unexpected new issues – as it is often the case when carrying out any kind of experimental investigation.
Following the experiment's conclusion, the paper we have published with Jean-Baptiste Souppez was quite an accomplishment, I am very proud of it. As well as publishing the paper in a journal, we decided to share our work on ResearchGate, a networking site for researchers and students.
What was it like receiving your best master thesis award from Bureau Veritas?
We received the awards at the EMship graduation ceremony. It was the first time I won an award, actually – so quite a moment of emotion! The award provided a strong motivation to pursue the work on the topic, as we did later on with Jean-Baptiste writing the scientific paper.
Modelling performance
Like Juliette, Gaetan Labi came to naval architecture from a neighbouring discipline. After studying a bachelor's degree in mechanical engineering at Universidade Federal de Santa Catarina in Brazil, Gaetan studied his master's in naval architecture from University of Liege and Ecole Centrale de Nantes, as part of the EMSHIP Erasmus Mundus programme – and joined Solent to develop his master's thesis at Solent.
"The UK is famous around the globe for its great universities, and Solent University is known worldwide for yacht design. When I met Jean-Baptiste Souppez and he presented me the installations and opportunities the institution had, I did not think twice! Solent University has great laboratories, with available staff that understand the technology and theory behind every equipment, as a solid group of experimented lectures."
Building on the data from Juliette's experiments and work from another researcher, Florian Gohier, who had come from world-leading yacht manufacturer Beneteau to investigate the stability element under Jean-Baptiste' supervision, Gaetan worked to develop a model for predicting sailing performance. "Basically we took experimental results from Solent's towing tank and included it in a numerical model we developed, making the dynamic balance between hydrodynamic and aerodynamic loads to predict the performance of sailing monohulls assisted with hydrofoil.
"The technology and solutions we investigate increases the performance of sailing vessels, offering more comfort in cruising yachts, keeping it more stable and horizontal; or pushing the speed of racing craft to new records, making the sport industry more interesting for the main public."
Were there any particular challenges you remember? Any particular high points?
"Numerical modelling is always challenging, especially if an engineer or naval architect must do it, without the computing and coding skills different careers offer. But at the same time, combining classical engineering applications with numerical tools make the work more interesting, because every week there is a different task to be performed and there is not much repetition."
What support did you get from lecturers/tutors?
I believe I got it all! My supervisor, the Senior Lecturer Jean-Baptiste Souppez had many meetings with me, and in difficult moments, several times per week. When he was not available, or when I had to perform some long laboratories tests, there was always a tutor or technician to help me.
What about the facilities at Solent – were you able to use equipment and techniques you wouldn't have otherwise had access to?
Definitely! The access I had to the towing tank laboratory was outstanding, this facility is hard to find around the world, just a few institutions have it and I had several days to run test in it. Not only it, but I learned a lot about the equipment and how it works, a very valuable knowledge.
Have you had any external interest in your work? Has it led to making professional connections, getting work opportunities, ideas/inspiration?
"Despite the short time I had at Solent University, just four months, the work I could develop allowed me to push my own limits and explore different fields: experimental testing, computational coding, 2D and 3D modelling, physical modelling and numerical simulating. This experience provided me useful knowledge and tools that I apply daily in my current job as a naval architect, more specifically as a mooring engineer. This career is not really in the domain of yacht design, but both fields have similarities, particularly regarding hydrodynamics.
"Developing my research I manage to meet and exchange with some naval architects, what inspired me, gave me ideas and motivated me to develop my thesis. As a major win, my Master Thesis was awarded as the best EMShip Master thesis of 2018, what was a big surprise for me at that moment. Currently I am working as a Mooring Engineer, doing lots of numerical simulations, and before I got the position, my current boss asked to read my master thesis, and I strongly believe it helped to convince him I was a good candidate for the position."
Where next?
And after more than two years of research, and thanks to the hard work of Juliette, Florian and Gaetan, Solent's Jean-Baptiste Souppez has released the project's collected findings on the hydrodynamics, stability, and performance optimisation of hydrofoil-assisted monohulls – freely available on ResearchGate.
This pioneering work has generated a tremendous amount of interest in the cutting-edge yacht design research at Solent University, and will be featured in a special edition of the Royal Institution of Naval Architects' Ship & Boat International magazine on yacht design and construction in November.
The underlying science will also be the basis of the Sailing Yacht Research Foundation's next validation project, aiming to enhance the understanding of numerical modelling of hydrofoiling yachts, and JB Souppez will also discuss hydrofoils, along with his award-winning research on yacht sails, at the upcoming Yacht Racing Forum in Bilbao, Spain, on 25 November.
Find out more about our yacht design and engineering courses