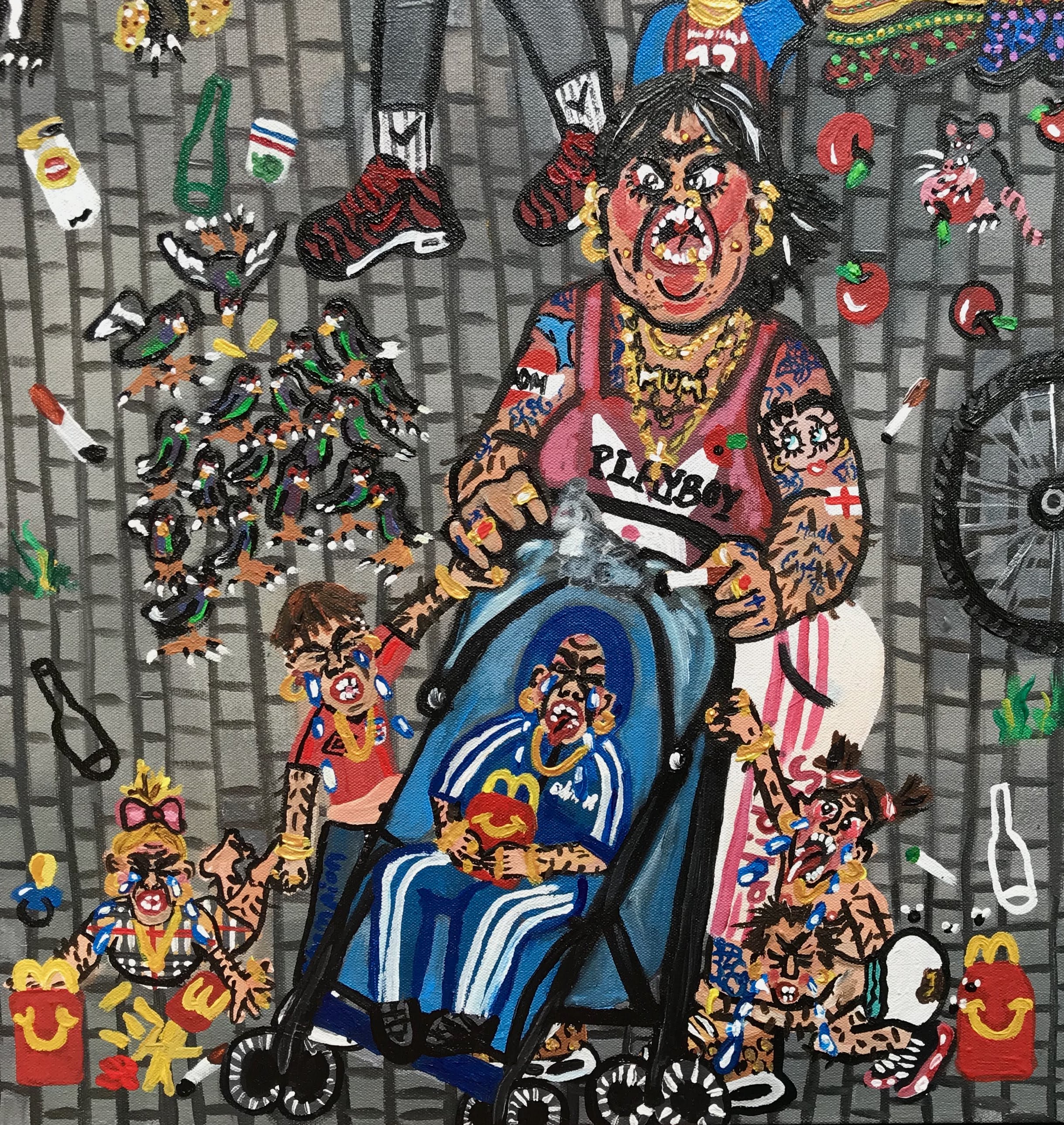 Megan's art challenges working-class stereotypes
Final year BA (Hons) Fine Art student Megan Georgia Smith, 21, shares her final major project challenging working-class stereotypes.
14th July 2020
Final year BA (Hons) Fine Art student Megan Georgia Smith, 21, grew up in working class industrial towns and cities, and uses her upbringing to inspire her creative practice focusing on stereotypes of class, youth culture and the tragic condition of being human. Her work depicts events, people and places personal to her in often exaggerated forms.
We caught up with Megan to find out more about her final major project work, and what she's enjoyed most about her time at Solent.
Hi Megan, tell us a bit about your final project
My final pieces consist of four large-scale paintings on canvas and two on paper. These works are centred around class, youth culture and the tragic condition of being human combining (often exaggerated) depictions of events, people and places that are personal to me.
My lived experiences, thoughts and imaginations are heavily influenced by my connection to working class youth subculture through growing up and living in industrial, working-class towns and cities. I view the modern, urban world as a sometimes bleak, almost harrowing place to be and this is reflected in my work. Grimy teenagers hang around in my paintings: smoking, drinking, and performing sexual acts. Rabid seagulls, rats and pigeons infest the canvas, scavenging through litter; cigarette butts, fast food, bottles of drink and drug paraphernalia. Consistently, I situate these components in settings in which I personally have deep attachments to, whether that be a place I have lived, worked or 'hung around'.
Class is a very British issue and I often struggle with a fear that playing with stereotypes adds fuel to the fire, that I am complicit in ridiculing the 'lower classes.' I seek to overcome this by placing myself and often my family/friends in the picture. This connects me to the scene and shows that I too am participant in the chaos.
I focus intently on each figure I paint; I do not judge them. I highlight their struggles and offer sympathy by paying extreme attention to detail. I dress each person in patterned bootleg designer garments, stud each nose, ear, and eyebrow with gold, hang chains around each neck and decorate arms with tattoos, suggesting that each character is worth eulogising. It is a laborious, loving, time consuming process demonstrating my profound interest in this culture. Although some may see a flawed society, bold imagery helps me convey a message of strength and bravado. There is an undeniable proudness rooted in being working-class for me and that is why I choose to paint so un-apologetically.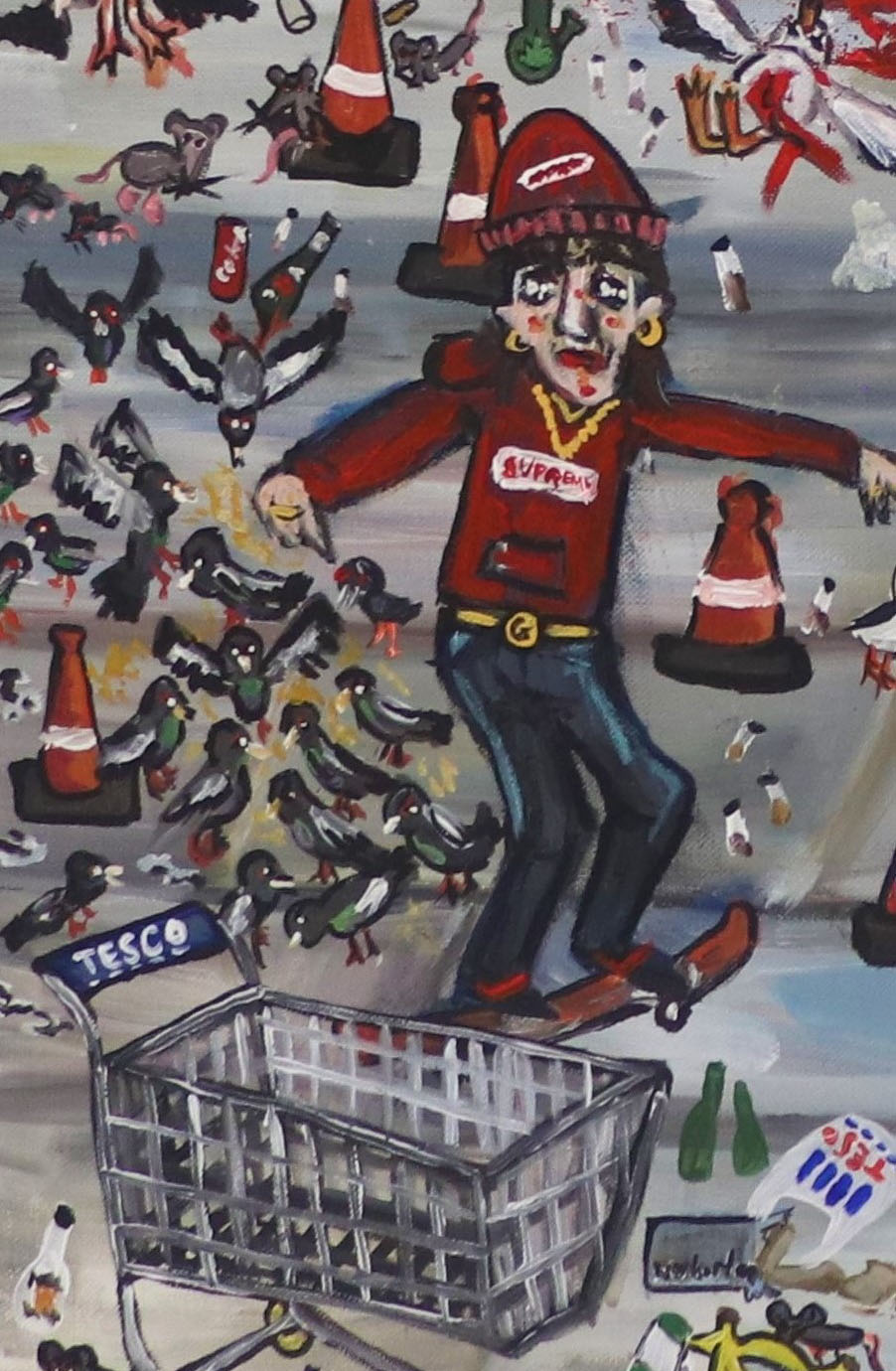 Tell us about the characters that feature in your work
I always over-emphasise the forms, behaviours, and fashions of my figures, often playing upon stereotypes of British working-class folk and young people. I do this because these are who I feel I most identify with as a working-class 21-year-old. However, these social groups have a history of being demonised by society as evident in the 'chav' stereotype - a person who is 'council housed and violent'. Another harmful stereotype of young people is of the hooded criminal, skulking on street corners with little ambition. By amplifying these stereotypes, I attempt to illustrate a dark sense of humour; mocking and playing to the idea that every working-class/young person can be identified this way (when of course - they cannot).
What have you enjoyed most about your time at Solent?
I've most enjoyed having the full support of the Fine Art lecturers on the course – they all really do get excited about your practice and encourage you to find your individual artistic voice and language. Like students, the lecturers have their own unique and varied art practices (and therefore standpoints) so there is always someone to offer you a different perspective on your artwork which is needed.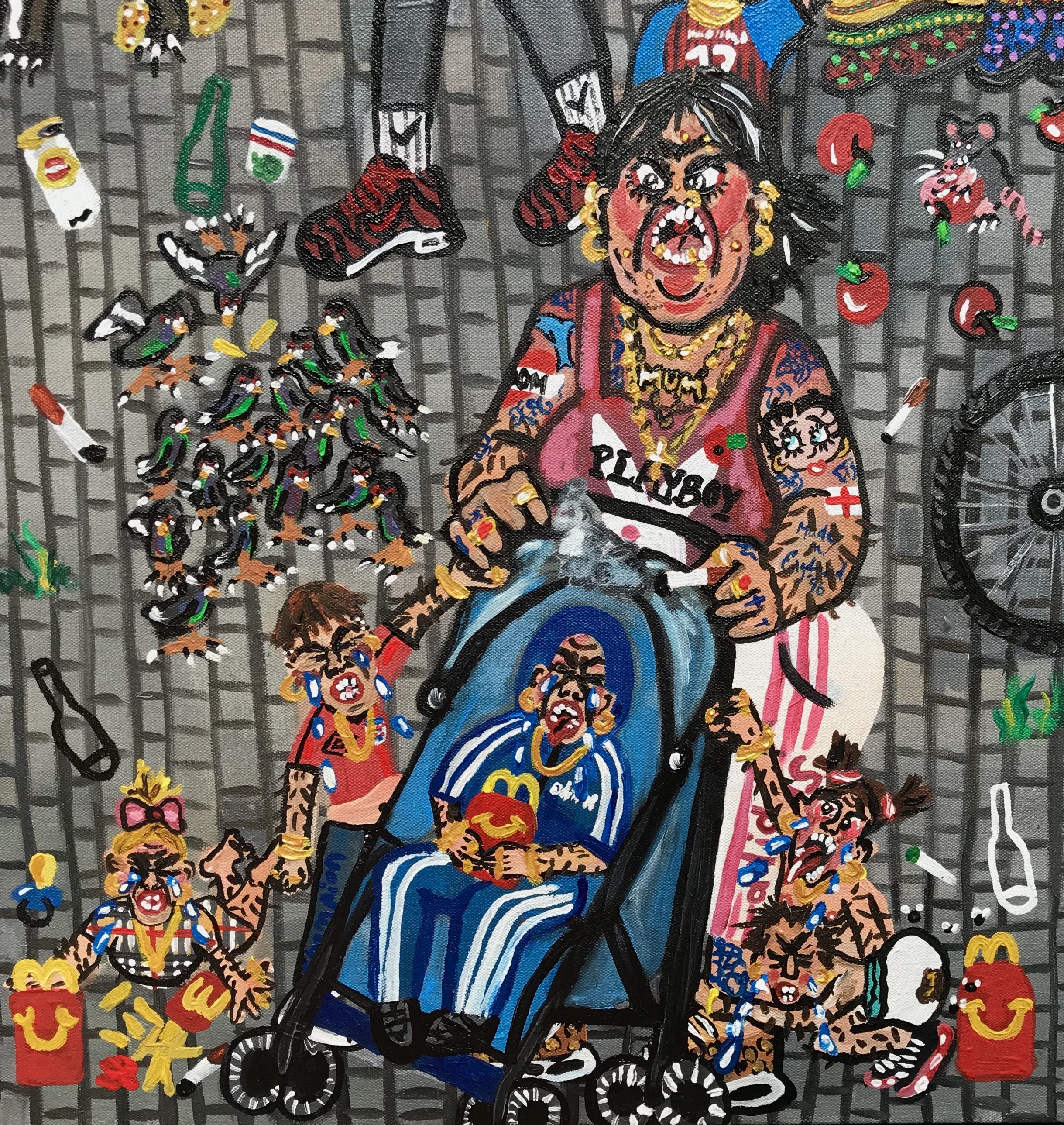 What's next for you?
Next, I plan to continue gaining experience within a gallery setting. Working with the Solent Showcase Gallery (over the three-year course) has allowed me to realise that I really enjoy assisting with artistic workshops, working with people from all walks of life. I want to continue this in my career as a practising artist and I hope to one day be leading my own workshops. I will also be pushing sales of my work by selling originals and prints of my paintings so look out for that.
Please share any advice you have for other students or potential students?
Get involved in everything the course has to offer. The three years go by so quickly and you have got to absorb as much as you can whilst you still have the privilege of being a student. Also, take time to connect with Southampton's art scene, go to events, visit the local galleries and network with other local artists. Opportunities that you can get involved with to further your career as an artist will arise from this, I promise you!
Megan's work contains adult content which is not suitable for all audiences. To view more of her work visit www.megangeorgiasmith.co.uk