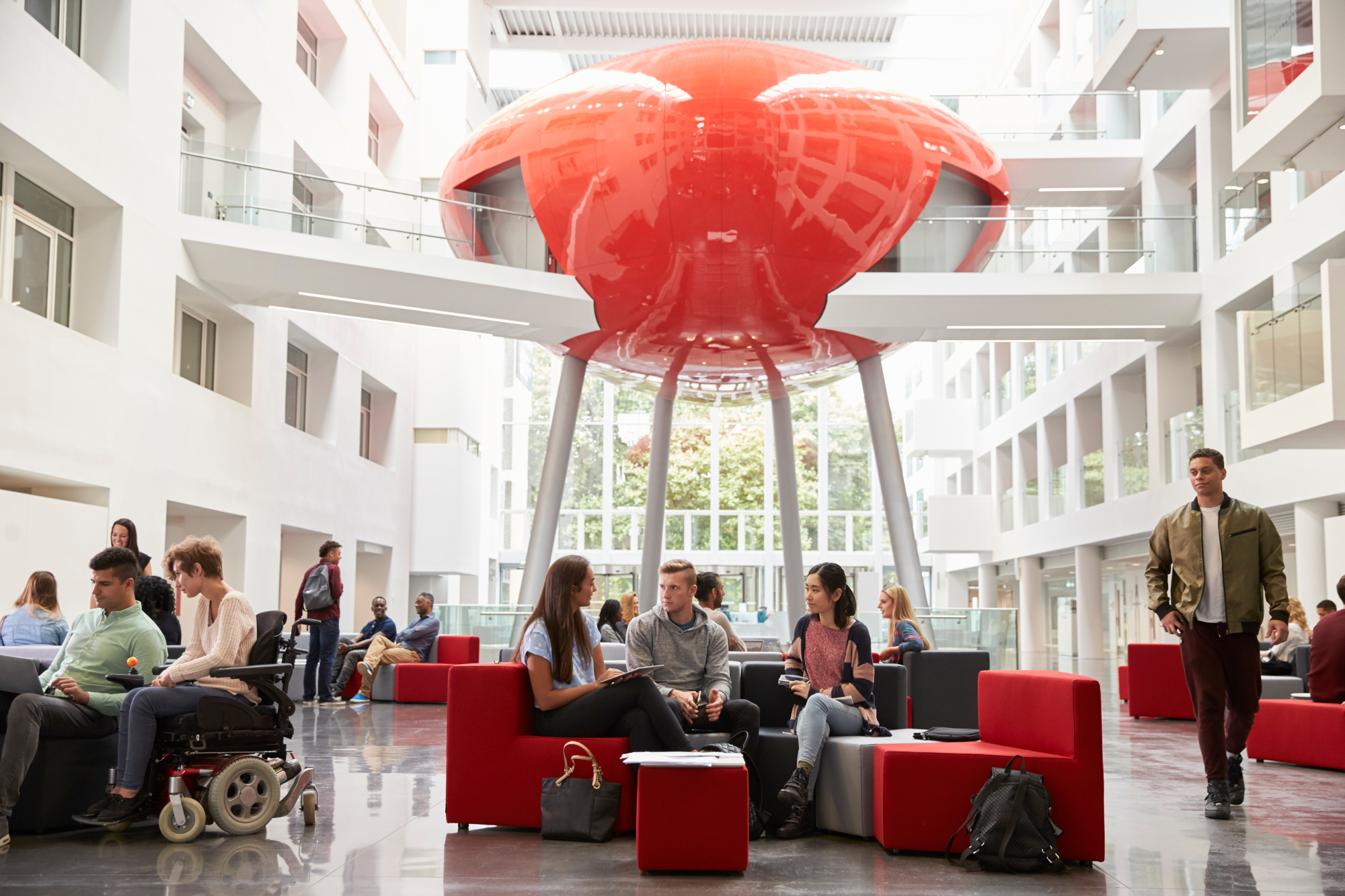 There have been a lot of changes to the University's East Park Terrace and Warsash campuses over the last few years – and plenty more plans in the pipeline. Take a look at the changing face of Solent's estate.
16th February 2017
Welcome to the Spark
Designed by Scott Brownrigg, constructed by Interserve and handed over to the University in time for the start of the 2016/2017 academic year, this stunning five-storey building is already enriching the student experience at Southampton Solent.
Named 'the Spark' in celebration of Solent's ten years of university status, the new building is a central, semi-public social learning space as well as a place where people can meet.
In just a few months it's played host to our summer degree shows, international events, Christmas celebrations and more… and it's providing students with a dynamic new space in which to study, socialise and share learning experiences.
The building's huge, attention-grabbing central atrium has brought a genuine 'wow' factor to the campus and will enable us to strengthen our connections to local and regional business and community organisations through exhibitions, conferences, events and social functions.
Enabling engaged, collaborative learning
The Spark's five storeys of new teaching spaces are designed to take advantage of the latest technology and educational theories, as well as reinforcing Solent's commitment to equality and access.
Designed to enable a more informal teaching culture, the Spark's classrooms don't look like classrooms – they break down the teacher-student hierarchy, encouraging learners to dive into the subject and adapt the experience to suit their own approaches and questions.
It's the only teaching building in the sector with such a large proportion of 'agile' furniture, designed to promote creativity, independent thinking, and learning in your own way. It breaks learners out of a traditional 'receiver of knowledge' mentality, getting them engaged through active questioning and thinking, and enabling students to concentrate on their learning and enjoy it. No more furiously scribbled notes, as everything (on-screen and audio) will be captured and uploaded to our virtual learning environment.
Beautiful, flexible social space
That same flexibility extends into the Spark's more public spaces, which are designed to enable both relaxed social interaction and collaborative learning.
Throughout and overlooking the main atrium, group and individual spaces allow more relaxed, informal work or socialising, along with power for laptops, tablets and other mobile devices.
Recognition of modern students' needs is also built into every room. Teaching spaces incorporate conveniently placed charging sockets, perfect for powering students' gadgets, and the furniture is modular, light and designed to be moved on a whim. Students can rearrange the space however they like, for whatever purpose, and it'll still look beautiful. It's flexible, social and striking design – a perfect example of the thinking behind the Spark.
A bold new conference space for the city of Southampton
In addition to state-of-the-art teaching facilities, the Spark is also a fantastic new home for Southampton Solent's popular conference centre – offering an exceptional range of city-centre conference and exhibition space for local businesses, community groups and more.
Whether clients are looking to organise buffets, private dining, intimate social gatherings or high-impact receptions and galas, the conference centre has space for every occasion.
Reshaping the Solent campus
Yet the Spark is only the start. As proud as we've been to see the building take shape, it is just part of a £100 million estate development plan which is due to be completed by 2020.
A new sports building for East Park Terrace
Already at the public consultation stage is the new sports building planned for the north end of our East Park Terrace campus. Providing access to improved sport and physical activity facilities for all University students and staff, the building will also include high-quality spaces for the academic requirements of the School of Sport, Health and Social Sciences.
Solent's sports teams have shown exceptional success in football, wheelchair rugby, sailing, cricket and more, but the University hopes to further raise its standing in the British Universities & Colleges Sport (BUCS) league tables for competitive university sport.
Our current sports facilities are scattered across the city, and the new sports building is designed to bring much of that together on our main East Park Terrace campus, enhancing the University's academic and extra-curricular sports activities and improving the student experience.
Expected to provide something in the order of six to seven thousand square metres of floorspace, the building (as currently planned) will include:
Two multi-purpose sports halls, including performance facilities and viewing galleries.
Two fitness studios.
A health and wellbeing gym.
A dedicated strength and conditioning gym for the elite athletes of Solent's High Performance Academy.
Specialist facilities for teaching and delivery of health services such as body MOTs, personal training and therapy.
Sitting alongside the Spark, this new sports building will continue the dramatic revitalisation of the public-facing frontage along East Park Terrace, continuing the campus' development into a site that students and staff alike are proud to point out to friends, family and visitors.
A new home for Warsash cadets
Warsash Maritime Academy's dedicated new city-centre accommodation and teaching facilities will bring a host of new benefits to cadets and trainees.
Southampton Solent University's Warsash Maritime Academy (WMA) is one of the world's top maritime education and training providers, located some six kilometres outside the city at the mouth of Southampton Water.
However in recent years, numerous space, building and environmental restrictions have made renovating and updating the Warsash site to maintain WMA's trademark excellence an increasingly challenging proposition.
Following extensive consultation, Solent will be retaining the waterside facilities at Warsash but moving some classroom-based teaching for maritime students to a dedicated building in the city centre by September 2017.
The new WMA building is located within the St Mary's campus – barely ten minutes' walk from East Park Terrace. This new Solent space will be exclusively for maritime cadets studying for a first certification award, and contains excellent classrooms and workshop facilities.
It's close to our David Moxon halls of residence, which will also be solely for the cadets and have improved facilities such as single study bedrooms and en-suite facilities. All cadets will have access to full facilities at St Mary's and on the University's city centre campus.
Activities and teaching at the lower, waterside Warsash campus site will continue after the move, and plans are also being made to upgrade the facilities there.
In addition to the new maritime teaching building, Solent is planning a thorough refurbishment programme of the Reginald Mitchell building on East Park Terrace. Intended for completion by 2018, the refurbished building will have a strong maritime focus: bringing classroom labs, workshops, and a simulator suite within a short walk of the new academy building.