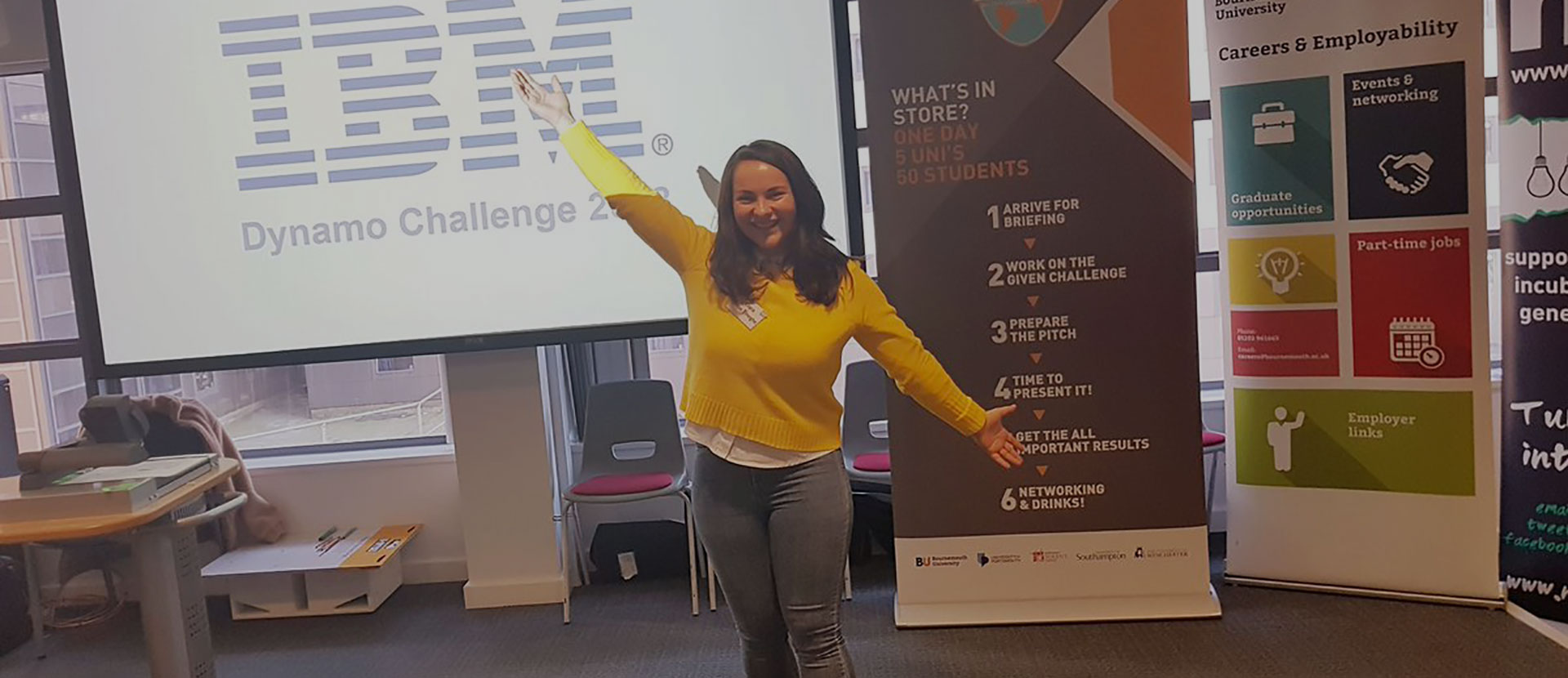 Rising to the Dynamo Challenge
Solent student, Cezara Denise Tineghe recently took part in the Dynamo Challenge - an inter-university enterprise competition. Here she tells us about the challenge and how she got on.
10th December 2018
Computing and games
Computing
The Dynamo Challenge is an inter-university enterprise competition, which encourages students from Solent, Southampton, Bournemouth and Portsmouth Universities to think outside of the box and solve a real-life business challenge set by IBM. They have just a few hours to complete the challenge before pitching their idea to a panel of judges. BSc (Hons) Business Information Technology student, Cezara Denise Tineghe took part in this year's challenge. We caught up with her to find out what happened. 
How did you find out about the Dynamo Challenge?
I found out about his event from my classmate, Magdalena Smolen, who works in Solent Futures. She asked if I would be interested in this activity and sent me all the details about the event.
What's the Dynamo Challenge about? What's the purpose of the event?
As the name says, it's a challenge which puts us face to face with a problem. The purpose of the event is to make us think outside the box and to come up with solutions for real-world problems. The teams were formed by students from five different universities and we had approximately three hours from the briefing to the final presentation. As time was very short, we needed to combine our skills of communication, presentation, public speaking with working under pressure and problem-solving.
Who else was in your team?
My team was made up of five members: Aran Eaborn and Georgios Michaloudis from the University of Portsmouth, Patrick Herklots from Bournemouth University, Kert Sepa from the University of Southampton - and me.
What solution did your team come up with?
The solutions we had to come with were around the question: "How could IBM encourage millennials (both males and females) to apply for STEM roles?". After debating on which could be the best solution, we focused on social media and games. We thought that social media is the most used instrument by millennials and with the help of influencers from YouTube and Instagram, we can promote short videos to spark their curiosity about STEM roles. The gaming part involved games based on their personality and possible jobs within the STEM field.
How was the experience for you? Do you think what you learned from it will help you in future?
It was a new experience to team up with people I don't know. Besides all that, it was filled with emotions and excitement! Any gained experience will help me in the future. I definitely encourage more students to take part in such activity. It's well worth it and it gives you an amazing experience.