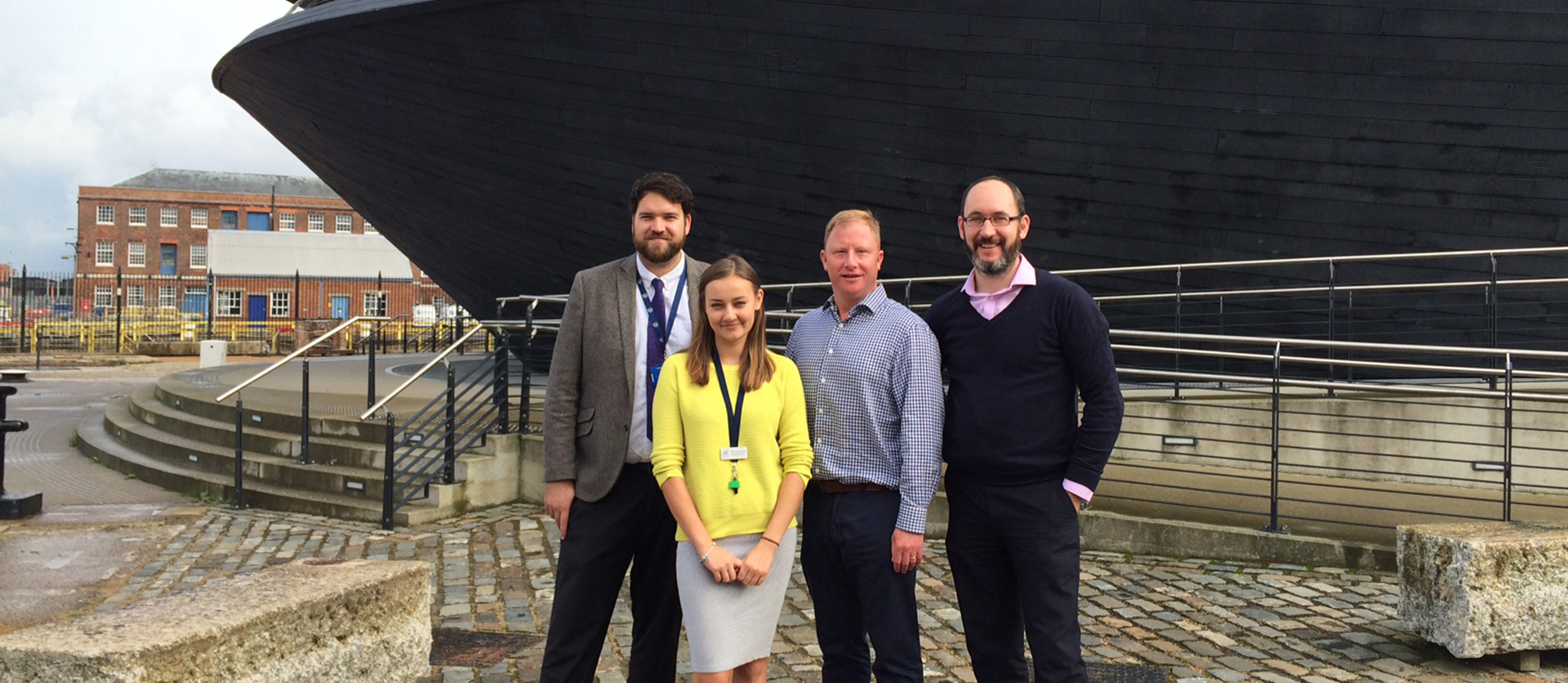 Solent graduate makes waves at the Mary Rose Museum
Solent graduate, Karina Smulska, is currently doing an internship at the Mary Rose Museum as part of the Strategic Graduate Programme. We talked to Karina to find out more about how she applied for the internship, and how she's getting on.
20th January 2017
Solent University has been working with the Mary Rose Museum (MRM) for many years and a number of our graduates have gone on to work for the MRM as part of the Strategic Graduate Business Programme where the University funds graduates for a six month period.  Both the museum and our graduates have benefitted from this relationship – with MRM having access to talented graduates, and the graduates themselves gaining valuable real-world experience.
Last year, as part of the programme, Karina Smulska, a BA (Hons) International Tourism Management graduate, was successful in gaining an internship at the Mary Rose Museum in a graduate museum management position. During her internship, Karina is working on a number of areas within the MRM including social media, volunteer subsistence, supervision of staff, coordinating customer surveys, responding to emails, making improvements to images in the museum, development of the museum's online shop, and assisting with the mail order system.
We caught up with Karina to find out how she's getting on.
What was it about this role that made you want to apply?
"I wanted an internship and this role was at management level so I felt it was a good introduction.  Also, because it was being offered through Solent I felt it would be safe and organised."
How did you find the interview process?
"I had already had a mock interview with one of the programme engagement team, so I felt really confident. Some of the questions were the same, but even those that weren't, I felt I could answer them easily.  The atmosphere was really friendly and I felt relaxed from the beginning."
What's your internship been like so far?
"It turned out to be more than I had hoped for. The induction was really good and took me through everything step-by-step to give me time to adjust.  Even though it has only been one month since I started, I have been given projects to do and I can manage my own time to get things done."
What do you think helped you secure the role?
"Meeting one of the programme engagement team and having the mock interview made the most impact and gave me the confidence I think was lacking.  I researched the company using LinkedIn, the MRM website, reading articles online and preparing in my own time, which also included practicing at home with someone else.  Finally, I remained positive about the interview.'
As well as Karina gaining valuable experience for the next stage of her career, the MRM also benefitted from employing a Solent University graduate.
We talked to Paul Griffiths, Head of Operations, and James Rodliff, Visitor Operations Manager, at the MRM, who said: "New students bring with them knowledge of the latest ideas and use of social media. They have cutting edge knowledge which very beneficial to the management team.
"Karina has become an important part of the management team. Previous Solent graduate interns have set the bar high, and Karina compares very well. We have hired interns previously because they always learn and fit in - we like to hire people with personality too. Karina has a good personality and copes well with everything we throw at her. We have high expectations of her."
When asked what advice they would provide candidates applying for jobs in the future, Paul and James said: "Proof read what you are sending in – check the facts on your CV match the facts on the application form. Attention to detail is important and you must do your research. It also helps if you have some enthusiasm about the business you are being interviewed for."
Feeling inspired?
Graduating from Solent University is the first step in your future career. A graduate job can allow you to put what you've learnt during your degree into practice in the workplace and, with the right support, preparation and mindset you could reach new heights in your knowledge and skills to make your graduate role a success.