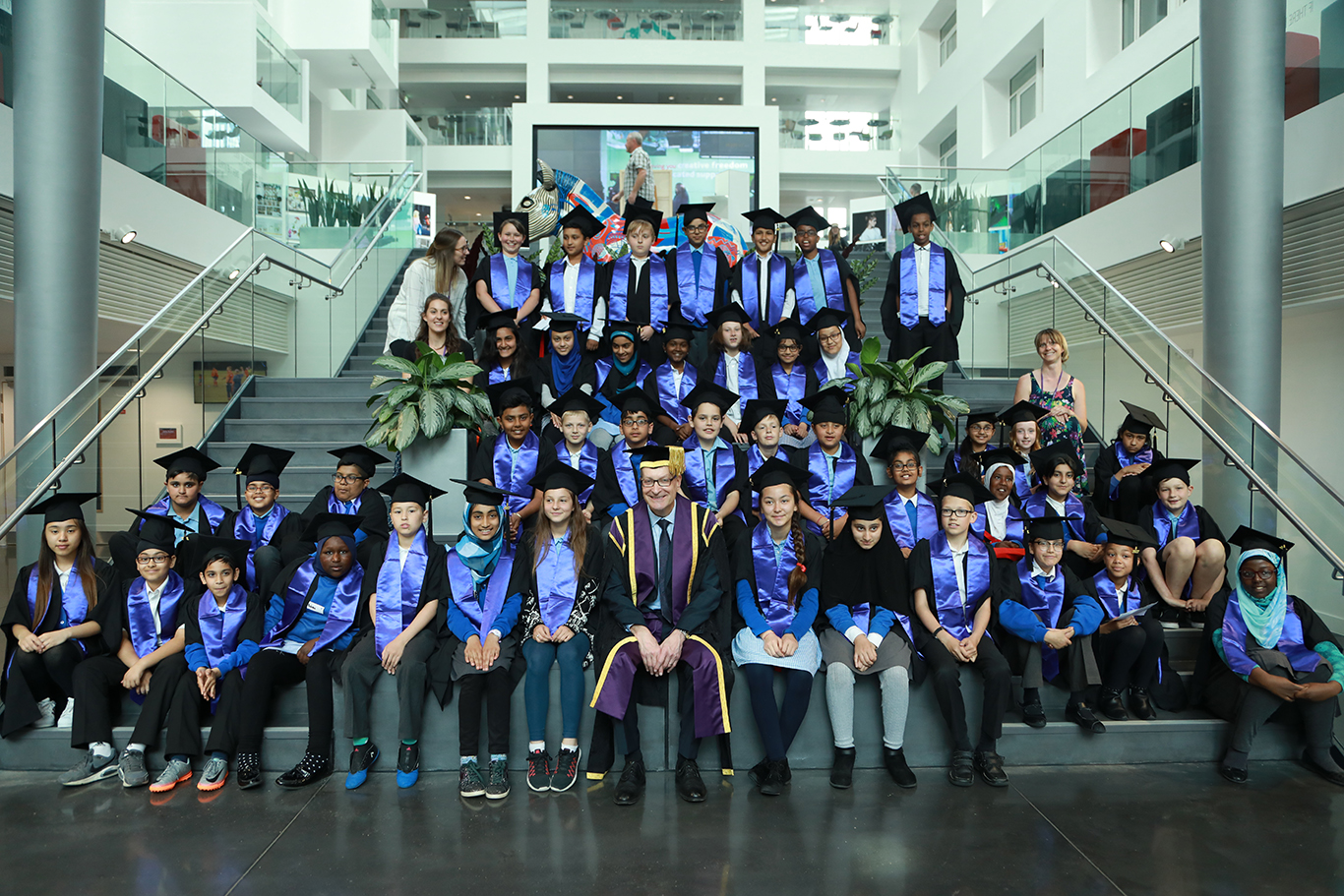 St Mary's school visit Solent University for campus treasure hunt
School pupils get a glimpse at university life
22nd June 2017
Year six children from local primary, St Marys CoE Primary School were given the chance to explore the world of higher education this week, with a visit to Southampton Solent University. 
As part of Solent's Step into Success programme, 53 pupils took part in a campus treasure hunt and a 'create your own university campus' workshop before gathering in the University's Spark building to meet the Vice-Chancellor. 
Groups of students presented their vision of an ideal university, with the winning team receiving a prize for their idea, 'The Diversity University' which focused on inclusivity. Some of the themes from the winning team included a sun garden, being able to travel to university on a cruise ship and key values for pupils which included respect, tolerance and co-operation.
Solent University Vice Chancellor, Professor Graham Baldwin then answered a series of questions from pupils, ranging from 'Can you go to two different universities in two different countries?' and 'What was your childhood dream to be when you became an adult?' The winning question, 'How does the position of Chancellor and Vice-Chancellor differ?' also received a prize.
Professor Baldwin commented on the visit: "These visits are a great opportunity for young people to find out what university is all about and start thinking about their aspirations for the future. And it is fantastic for us to meet our next generation of students, discover what they're interested in and let them know that higher education is an option for everyone.
Faye Bauck, year six teacher and upper key stage two phase leader at St Marys CoE Primary School said: "The trip to Solent University was a fantastic opportunity for the children to explore, discover and learn about the different aspects of university life. The children loved the day and still talk about what they saw and the tasks they carried out.
"It has also allowed our children to understand there can be more in their futures and that they can reach for the stars when thinking about future careers. Hearing many of the children declare that they would like to become doctors, graphic designers and vets was truly wonderful. Thank you Solent for this wonderful opportunity – we can't wait for next year!"