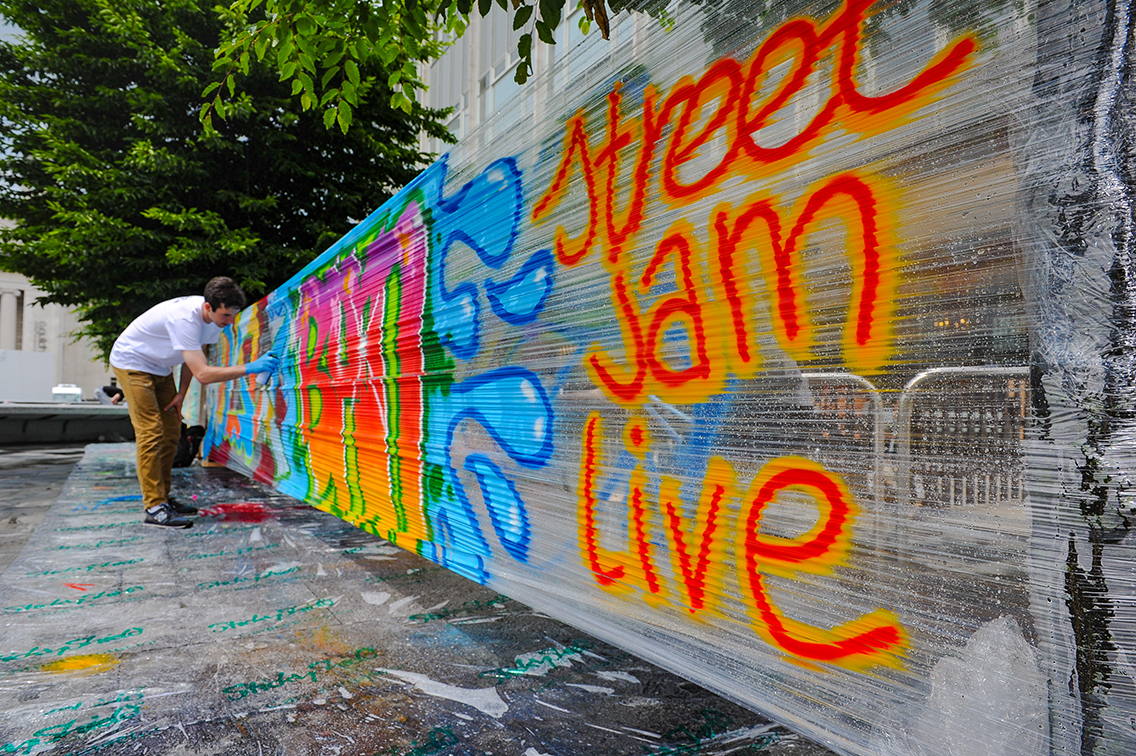 Street Jam Live 2017 returns to Southampton
Showcase Gallery brings back live street art
10th May 2017
Event: STREET JAM LIVE 2017
Date:  SATURDAY 13 May, 10am-5pm
Venue: SOUTHAMPTON GUILDHALL SQUARE
Southampton Solent University's Showcase Gallery brings back live street art this May with Street Jam Live 2017 – a free, public event in the heart of the city's Cultural Quarters, celebrating street art, music and dance.
Bonzai, Slam, Kev Munday, My Dog Sighs, Latchkeykid, Ryan Kai, Dance from Breakin' Convention, Southampton solent university art students and many more.
For the third time Showcase Gallery takes over the Southampton Guildhall Square with visual artists ready to show off their skills to the public. This year we are partnering with the Mayflower Theatre and Breakin' Convention to deliver street dance performances and workshops for everyone.
Artists will create new work throughout the day on large scale board, perspex and paper, while graffiti artists will create new pieces using cellograff - a technique developed in France in 2009, by Astro and Kanos - which involves using spray paints on a cellophane surface, creating a wall-free, legal, graffiti piece.
To add to the street vibe, SOCO Music Project will be in residence with an open mic stage, hosting impromptu performances from local hip-hop artists and rhymers.
Mayflower Theatre will bring some fantastic street dance performances from local groups and Sadler's Wells Hip Hop Dance Festival - Breakin' Convention.
This is a great opportunity for all ages to come and see artists and musicians working live. There will be activities for all ages and the opportunity to learn new skills, including:
Live music making
Kids chalk area
Community Stencil Wall
Open mic sessions
This FREE event is open to everyone. You can share your pictures and videos of the day, using the hashtag #streetjamlive.
FOR further information you can contact Showcase Gallery on:
Twitter: @SolentShowcase
Facebook: solentshowcase
Instagram: solent_showcase
Email: showcase@solent.ac.uk