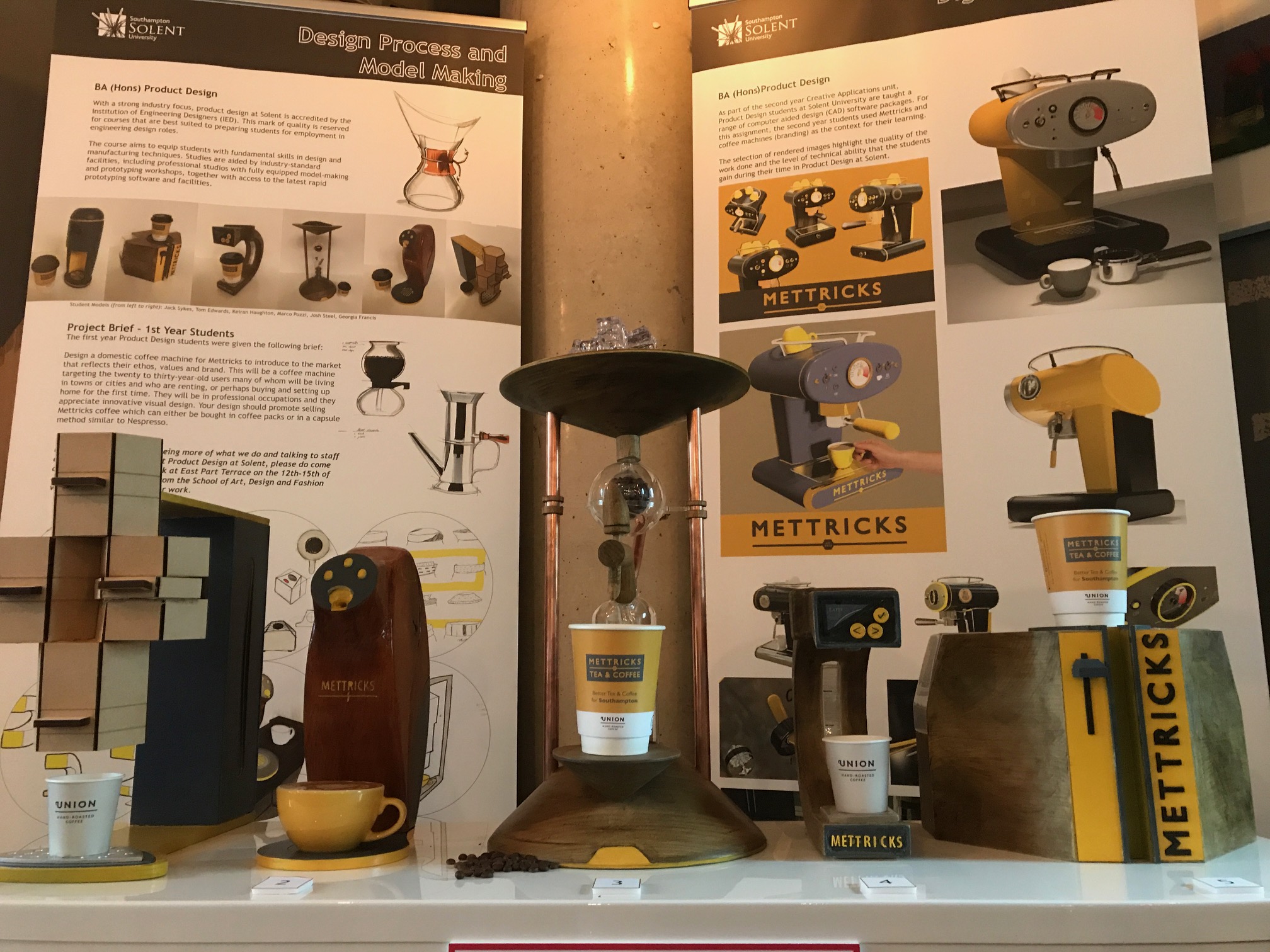 Student wins Mettricks coffee machine challenge
Stylish coffee design inspired by Japan
9th June 2017
Last month, a selection of our BA (Hons) Product Design students were tasked with the brief of designing a domestic coffee machine for one of Southampton's coffee houses, Mettricks.
For three days, the unique coffee designs were on display in Mettricks, with the public voting for their winner – Marco Pozzi.
We caught up with Marco, 23, to out about his Japanese inspired design, which would mean waiting one month for a cup of coffee…
Congratulations on winning this project – how does it feel to have the public vote for you?
It's a great reward to know that your ideas match with the taste of lots of people. This has been an interesting challenge to find a good aesthetically pleasing product.
How did this opportunity come about??
This project was part of our marketing target subject. We had to present a full portfolio and the finished model.
Where did you get the inspiration from for your project?
Most coffee machines use a hot brew method. The main components are hidden in a well shaped design, which is the coffee machine you see. But you can't see how it works. I decided to go the opposite way; a cold brew with visible components, with a touch of Japan. That's where my inspiration came from, the Kyoto Dripper.
Tell us about the design?
This is a classic Japanese method of cold brew with ice on the top, the filter with coffee in the middle and the cup at the bottom, all in a glass shaped component architecturally placed into an attractive looking house prop.
The ice melts with the temperature of the room and goes through the filter and into the cup. It actually takes a month for a cup, but it is worth the wait. The result changes every time depending on the coffee, ice type, humidity and smell in the room. I really loved the idea to show the components and the process to get the user involved in the design.
What did you enjoy most about this project?
It was a fun way to know how to approach peoples critiques, along with being a design challenge.
Alan Manley, Lecturer in BA (Hons) Product Design at Southampton Solent University worked with the students on the Mettricks project, he said: "The Mettricks project was a fantastic opportunity for our first-year product design students to get involved with a live project from one of our industry partners.
"The students were asked to design a branded coffee machine for Mettricks and the work was publicly exhibited allowing students to get live and real-world feedback on their designs."
Find out more about our product design courses here.