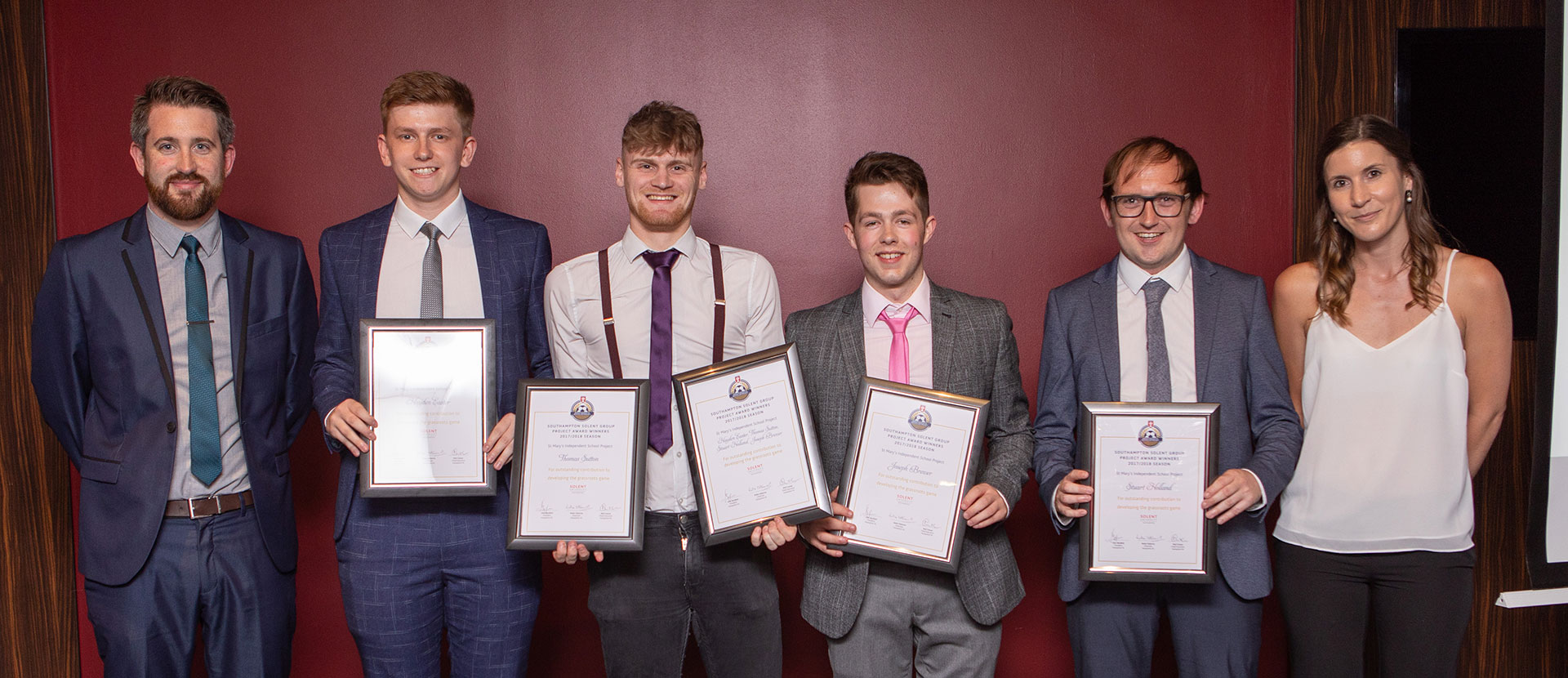 Students celebrate at Hampshire FA Grassroots Football Awards
Solent students were recognised for their sporting success in this year's Hampshire FA Grassroots Football Awards 2018. The evening was hosted at St Mary's Stadium, with Solent University sponsoring the Group Project Award 2018 and Football Futures Award.
7th June 2018
Sport and fitness
Football
The University works with Hampshire FA on a number of initiatives throughout the year and are proud sponsors of the Hampshire FA's Football Futures programme, designed to increase the career prospects for young people in sport.
The evening saw three of Solent's sports journalism students receive the Media Project Award 2018:
Gurpreet Singh was presented his award for 'Asians can play football', a project debunking racial stereotypes that surround the sport. The feature brings together the Southampton Football Club Academy, Unity 101 Football Club and the Hampshire FA's Inclusion Advisory Group in an attempt to explore the topic of diversity in football.
Matthew Cousins was awarded for his project, 'The Charter Standard and Club Development', which focuses on the FA Charter Standard programme and the clubs it has helped to develop. Matthew interviewed members of Hampshire FA and Pace Youth FC to gain an understanding of the programme from both perspectives.
Daniel Sheldon was recognised for the 'Inclusion and Equality' project, which explored a range of equality issues within the football industry. Daniel primarily focused on the LGBT community, and transgender female footballer Natalie Washington. Interviews were also conducted with Kick It Out, Fratton Fever and Kroma.
Students Hayden Easter, Thomas Sutton, Stuart Holland and Joseph Brewer were also awarded for their efforts in the Group Project Award 2018. The group worked on a project with St Mary's Independent School, encouraging both girls and boys to participate in an after-school football club. The group developed a strong partnership between the school, Solent University and Hampshire FA. This is partially down to their dedication, attending school assemblies and delivering football lessons during PE. Thanks to their efforts, there are now over 15 students participating in football on a weekly basis. This award is presented as part of the University's UEFA award-winning Football Leadership Programme, which works with the local community to develop participation in football.
Finally, Team Solent Ladies FC received the Hampshire FA Fair Play Award 2018 for their sporting achievement in recent years, including winning the BUCS Leagues, BUCS Cup, the Hampshire County Women's League Division 2 and Invitation Cup, as well as the Hampshire FA Women's Intermediate Cup.
Tracey Bourne, Course Leader of Football Studies, said, "This was a fantastic way to celebrate these students' achievements and contribution to sport. Well done to everyone for your efforts throughout the year. It is great to see examples of such dedicated individuals representing the University in their field".