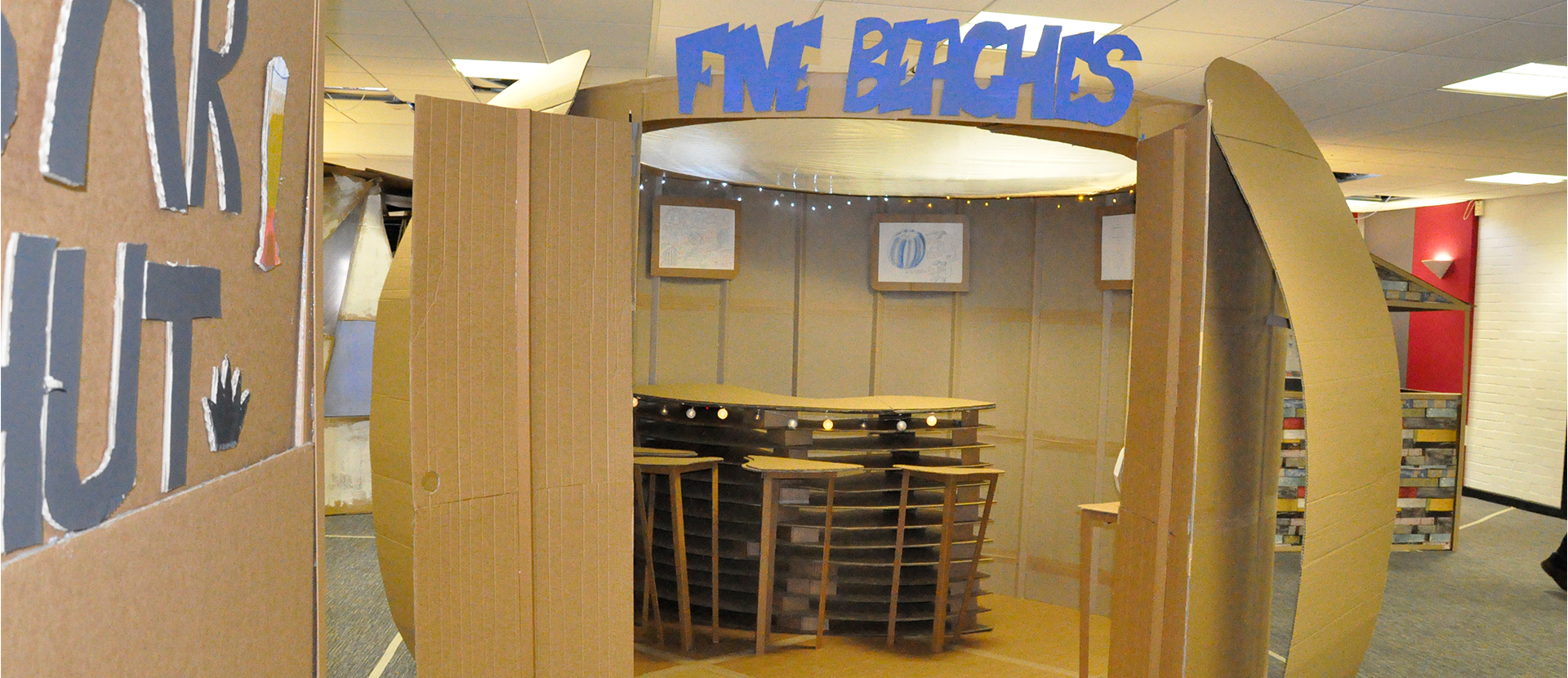 Students showcase beach hut builds to industry
New students on the Design Foundation course spent their first few weeks at University designing, constructing and decorating life-sized beach huts out of cardboard.
The five-week challenge was the very first project that the students undertook as part of their course; and the first time many of them have tackled a task of this magnitude. In teams of four to five, they were given 3.5m x 3.5m plots in which build their huts.
Associate lecturer, Denise White, says: "The brief for this project really allowed the students to have creative freedom, while still incorporating the different tracks that they can take as part of the Design Foundation course.
The students come from a range of disciplines, and include aspiring product designers, construction managers, interior designers and architectural technologists.
The final huts were constructed out of 240 sheets of cardboard – roughly the size of 26 car parking spaces – all of which will be recycled.
Before the builds were broken down, a team of industry judges from Ecologic Developments, Midas Construction, and the Chartered Associate of Building Engineers (CABE), scored the structures and provided professional feedback. CABE - the event's sponsor – also awarded a £250 prize to the winning team.
The judges had great things to say about the work on display.
Rob Whitham from Midas Construction said: "I'm astounded at the standard of design, team work and construction that has gone into this project."
Dale Anderson from the Chartered Association of Building Engineers was also amazed at the quality of the build, the team work and the detail that went into the design and fit out.
Pete Samson, Director of Ecologic Developments Ltd, who design and build beach huts, said: "The level of skill that they've shown here is highly impressive. It's good to see all the different disciplines come together to create a real-world offering."
Speaking about their project, Juthapa Maas, who was part of the winning student team, said. "Whatever you put time and effort into will come out great because it's something that you want to be great."
She also spoke about the social aspect of the project, saying: "We got to know each other really well, and we have made a group of friends which we will probably have for our time at University."
You can watch a quick time lapse of the students creating their beach huts below.