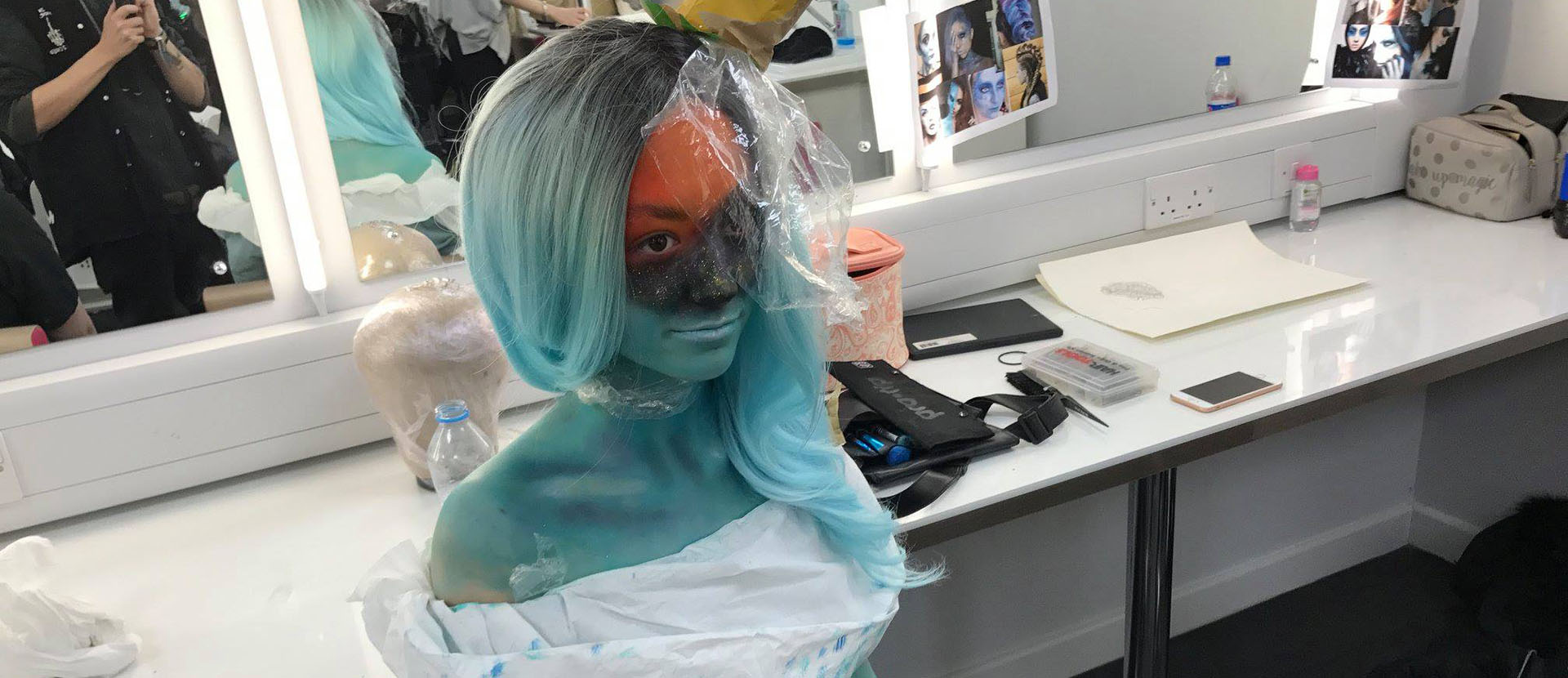 Subaquatic styling – hair and make-up artists get creative
Students and graduates compete in a tentacular spectacular
9th March 2018
Fashion
Fashion styling and image making
A hair and make up competition based on the theme of 'under the sea' has seen students and graduates get creative.
In collaboration with the student-run digital magazine AnonStyle, the competition FRONT 2018 gave entrants between two and four hours to showcase either fashion and editorial beauty or a prosthetics and character look on their model, and encouraged them to work in pairs.
It wasn't just Solent students and graduates that were eligible; the competition also had entries from Fareham College and Southampton City College.
Second year BA (Hons) Make-up and Hair Design students Misha James and Bethany Addington won the beauty and editorial category. Lecturer Kat Vogart, judge and organiser of the competition, says: "This was a great team effort; the girls created a stunning look and considered the overall presentation, including a costume and handmade headpiece that complemented their concept and design.
"They executed the application very well, worked professionally in a team, demonstrated beautiful use of colours and very strong creative techniques."
Misha and Bethany added: "The immortal jellyfish - Turritopsis dohrnii – inspired our design since we thought more people should know about it. Plus, there are so many different colours and varieties of jellyfish that we thought we could have some fun with it.
"We're thrilled to have won and the competition has been great. It's given us an outlet to release all the creative ideas we have on our course, and it was so much fun to release it all and do something crazy."
The other winners were:
College category: Erin Boxall and Chloe McDonald from Fareham College
Prosthetics and character: Ella Christenson and Natalie Hodgkins, 3rd year
Graduate category: Amelia Kildear
About the winners of the prosthetics category, Ella and Natalie, Kat Vogart says: "This team had a solid, well researched concept responding to the consequences of pollution. 
"They created a complete, convincing character that very well reflected their backstory."
Ella and Natalie add: "We felt overwhelmed with the reception we received winning the overall category, we had such creative brilliant competition and overall the win showed that our hard work paid off."