Biomedical science laboratories
Solent has a suite of newly-developed biomedical laboratories, purpose built to support teaching and research in biomedical science and nutrition.

About the biomedical science laboratories
The suite includes extensive support facilities, teaching laboratories for undergraduate practical classes, and a dedicated tissue culture laboratory. Our two teaching laboratories are comprehensively equipped and include: laminar flow hood and incubators for microbiological work, spectrophotometers for analytical biochemistry, PCR and gel electrophoresis running/imaging systems for molecular biology, and a range of microscopes for cell biology and pathology.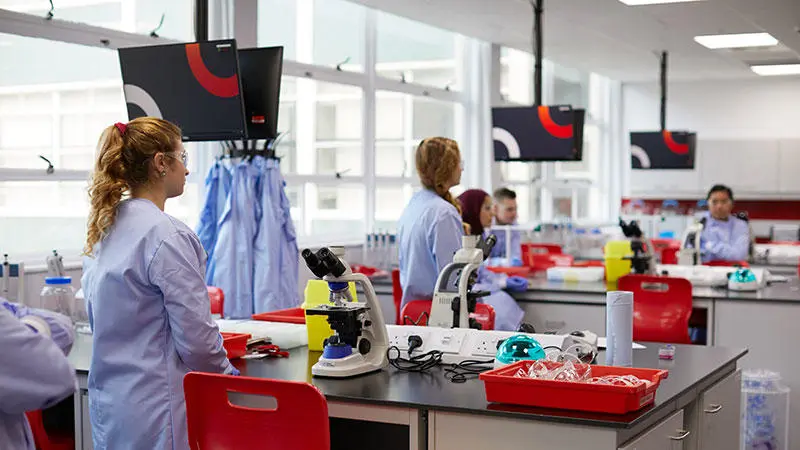 Our biomedical science students benefit from a wide range of practical classes, designed to give them experience of methodologies used both clinically and in research. Across the three years of the degree programme students are given the opportunity to practice and gain confidence in a range of techniques, equipping them to design and implement their own research project in the final year.
Available space
Two teaching laboratories, each with capacity of 20 students
One tissue culture laboratory
One preparation and instrumentation room
Equipment
Compound, fluorescence, stereo, and inverted microscopy with digital camera systems
Dedicated tissue culture facility including CO2 incubator, microbiological safety cabinet, and cell counter
Static and shaking incubators
UV-vis and visible spectrophotometers and nanospectrophotometer
UV-vis microtiter plate reader
Thermal cycler
Gel and Western blot visualisation system
Range of temperature controlled centrifuges
Ultralow temperature freezer and cryogenic sample storage
Courses that use this facility
BSc (Hons) Biomedical Science
MSc Clinical Exercise Science