Ship handling centre
Timsbury Lake is the home of our scaled model ship handling centre which provides specialist training for pilots, masters and senior ship's officers.

About the ship handling centre
Our ship handling centre at Timsbury Lake, near Romsey, provides world-renowned training for masters and senior officers on ships and large yachts, as well as specific training for pilots and berthing/mooring masters. 
The centre is the only one of its kind in the UK and one of a very small number worldwide, and provides a safe and controlled environment for practising and developing ship handling skills on a number of different vessels in a wide variety of conditions. The scaled models and our full mission bridge simulator can also be combined to provide real slow-speed ship handling and bridge resource management training.
The fleet
There are 11 ship models in the fleet, some of which can be reconfigured to represent several ship types. They include a large sixth-generation container vessel, tankers, very large crude carriers (VLCC), LNG carriers, bulk carriers, car carriers and a roll-on, roll-off ferry.
Each vessel is an accurately scaled model of a real ship and closely replicates the handling characteristics of an actual vessel, including single and twin screw propulsion. On-board logic systems ensure that engine output, delivery and response times, and rudder response times are correctly scaled. This also applies to bow thrusters and the windlass where fitted. The optimum scale used for most vessels is 1:25 and the models themselves are substantial, each measuring between seven and nine metres long and weighing approximately five tonnes. The electrically powered models are ballasted by a combination of water and solid ballast, which can be configured to provide loaded, part loaded or ballast conditions at different trims.
Five radio controlled tugs are available to support manoeuvring operations, including a Voith water tractor, two Azimuth stern drives and two Kort nozzles. A jack up oil rig is also available for specialist offshore training.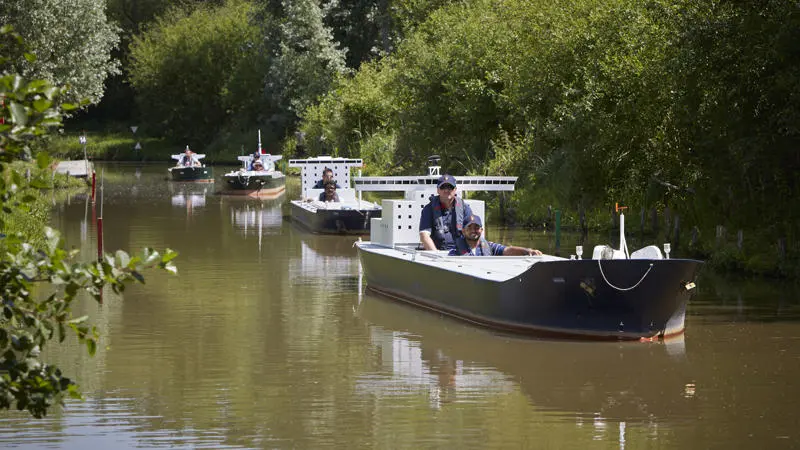 The models
Challenger - based upon a twin-screw cross channel ferry and is used in all aspects of twin-screw ship handling. It is fitted with twin independent rudders and a twin bow thruster. The twin screws can be adjusted to represent inward or outward turning propellers. It can be configured to operate with passenger or ro-ro superstructure.
Diligence - a generic product tanker model of approximately 40,000DWT. With an equivalent length of 177 metres, it is a standard single screw conventional vessel used for all aspects of ship handling training.
Endeavour - a 142,000DWT twin-screw shuttle tanker. It is a replica of a class of ship operated by an oil major. It can be configured with inward or outward turning propellers and is used for specialised twin screw ship handling. It can also be converted to a medium-sized LNG carrier.
Endurance - a 150,000DWT VLCC. With single-screw propulsion, a single balanced rudder and equivalent length of 304 metres, it provides excellent training for this vessel type.
Intrepid - a generic tanker or bulk carrier model, approximately 60,000DWT. It is a standard single-screw conventional vessel used for all aspects of ship handling training.
Nigeria LNG - a 1:25 scale LNG ship modelled on the 175,000sqm twin-skeg DFDE LNG carriers built in Korea by Samsung Heavy Industries for Bonny Gas Transport Ltd (BGT). The model was built by Nigeria LNG (NLNG). The scale model is used by NLNG for training senior navigation officers in the BGT fleet, as well as Bonny River pilots in the handling of six new ships built by NLNG. These ships are twin-screw, dual-fuel (gas or diesel) diesel-electric ships and are fitted with a bow thruster. The scale model is 11.68 metres long and weighs 7.8 tonnes. It has two fixed inward-turning propellers, two independent rudders and is fitted with operating anchors and a water ballast system to allow for alterations of trim and draft, replicating different load conditions for training purposes.
Pioneer - based on a real class of VLCC, it is a single-screw model with a single balanced rudder, useful for training in standard ship handling techniques. This ship model equates to a 210,000DWT VLCC, with a length of 324 metres, beam of 50 metres and draft of 19 metres.
Progress - a generic tanker or bulk carrier model, approximately 60,000DWT. It is a single-screw conventional vessel used for all aspects of ship handling training. Progress can be converted to a 225 metre-length car carrier fitted with a Schilling rudder.
Resolution - a 1:25 scale container ship modelled on a real 365 metre, 13,300TEU container ship. It is representative of all large model container ships for the purposes of ship handling training. The model is more than 14 metres long, displaces 12.5 tonnes, has twin bow and single stem thrusters, operational anchors controlled from the bridge, electro-hydraulic steering and main propulsion systems. Water ballast enables it to operate in light or loaded conditions. The deck has the ability to configure with full or partial container load and meets IMO regulations for visibility in relative terms. The model's hydraulic steering and engine controls are located in an enclosed bridge structure, approximately one third of the way forward. The container vessel can have 1:25 scale tugs positioned, replicating real ship manoeuvres. In addition, the vessel is fitted with thrusters fore and aft to represent a tug alongside, pulling or pushing.
Respect - a 1:25 scale model based on a Suezmax oil tanker of 27,000DWT.
Venture - a 1:40 scale model of an ultra large crude carrier of approximately 300,000DWT.
The models are controlled on board by two people and are driven by nearly silent electric motors. Their maximum speed is three knots, equating to about 15 knots of 'real' speed.
"The ship handling course is the best training I have had in my 29 years of going to sea. The models, instructors, and facility are outstanding." Janet DeCastro, Master, ConocoPhillips
"There is a model here that is a working model of the ships that I dock, so there is immediate application. I can go from this model and next week dock the real ship."
Captain Bob Baker, Alaska Pilot
Equipment
Harbour areas and 19 jetties, creating multiple berths and offering a wide range of ship handling scenarios.
Buoyed channels, critical bends, and turning basins.
Four-mile scale length canal, with a two mile straight reach, as well as a major curved section.
Over 50 per cent of the lake area, including canal and harbour areas, provides an environment ideal for the demonstration of shallow water effects.
Realistic ship-to-ship lightering, FSU, CBM and SBM exercises can be conducted.
Hydrodynamic effects are replicated to those around the real ship – this is particularly important when examining the interaction between ship to ship and ship to berth, banks, and shallows.
11 ship models in the fleet, representing several ship types.
Five radio-controlled tugs for manoeuvring operations.
Jack-up oil rig for specialist offshore training.