Saturday 27 June is Armed Forces Day, a day which recognises and celebrates the individuals serving in the various armed forces.
26th June 2020
Image © Crown copyright 2017

With public celebrations postponed this year, we caught up with Stuart Keegan who has recently graduated from Solent whilst serving in the Army.
Hi Stuart, tell us about yourself
My name is Stuart and I serve on the Full Time Reserve Service (FTRS) as a regimental administration officer for 165 Port & Maritime Regiment, which is one of the Army's largest reserve regiments. I manage a mixed team of civilians and military personnel and run the administration department and finance department (what we call G1 and G8 in the Army), so I've a broad portfolio including HR, discipline, pay, welfare, career management, public funds, non-public funds, information management, data protection, and I also provide advice and guidance on the differences in policy between the regulars and the reserves.
What course did you study and Solent and how has it helped you reach your goals?
I have just completed a blended learning MSc Management. The MSc has been very relevant to not only my day-to-day job, but has also really helped me with my charity work I do outside of work. The charity I've been involved with has undergone a period of change and some quite significant challenges. Having the experience of leadership in the Army and a far greater breadth of knowledge of management, thanks to the MSc, I've been able to contribute effectively to turning around the charity. Without going through the learning journey of the MSc, I wouldn't have been nearly as effective.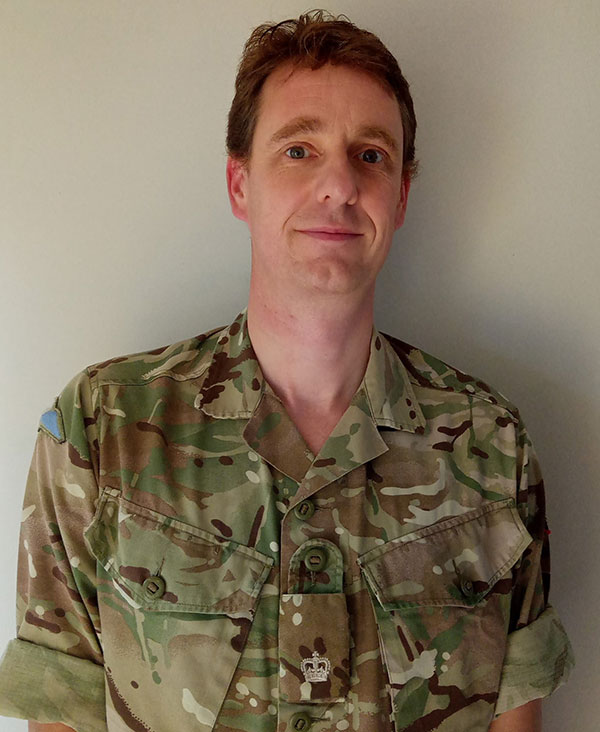 Tell us about your experience at Solent University
I joined the course late, so despite being on the back foot initially, I found the staff were helpful, supportive and understanding and the online learning provision worked very well. My fellow students came from a range of backgrounds and that made the experience all the richer. We all went through challenges on the course, and the network of support between us was fantastic, I've made some lifelong friends.
The biggest thing for me was that the tutors understand the challenges of studying part-time, and so while they're not prepared to accept a reduction in quality of work, they do support students to work to the best of their ability.
What does Armed Forces Day mean to you?
Armed Forces Day for me is a good opportunity to remember good friends I've met and served with over the years and being thankful that we have soldiers, sailors and airmen working away from home putting strain on family life – or being prepared to provide 'resilience' to the UK in time of national crisis.
The Covid-19 pandemic has shown us how adaptable and versatile the military are, with military staff building Nightingale hospitals, delivering stores of PPE and conducting hundreds of thousands of C-19 tests. As the military has shrunk (in manpower terms) and the security environment in the UK has changed, we are often 'out of sight, out of mind' these days. Armed Forces Day is a good day for the military to be visible and to celebrate what we add to the country.