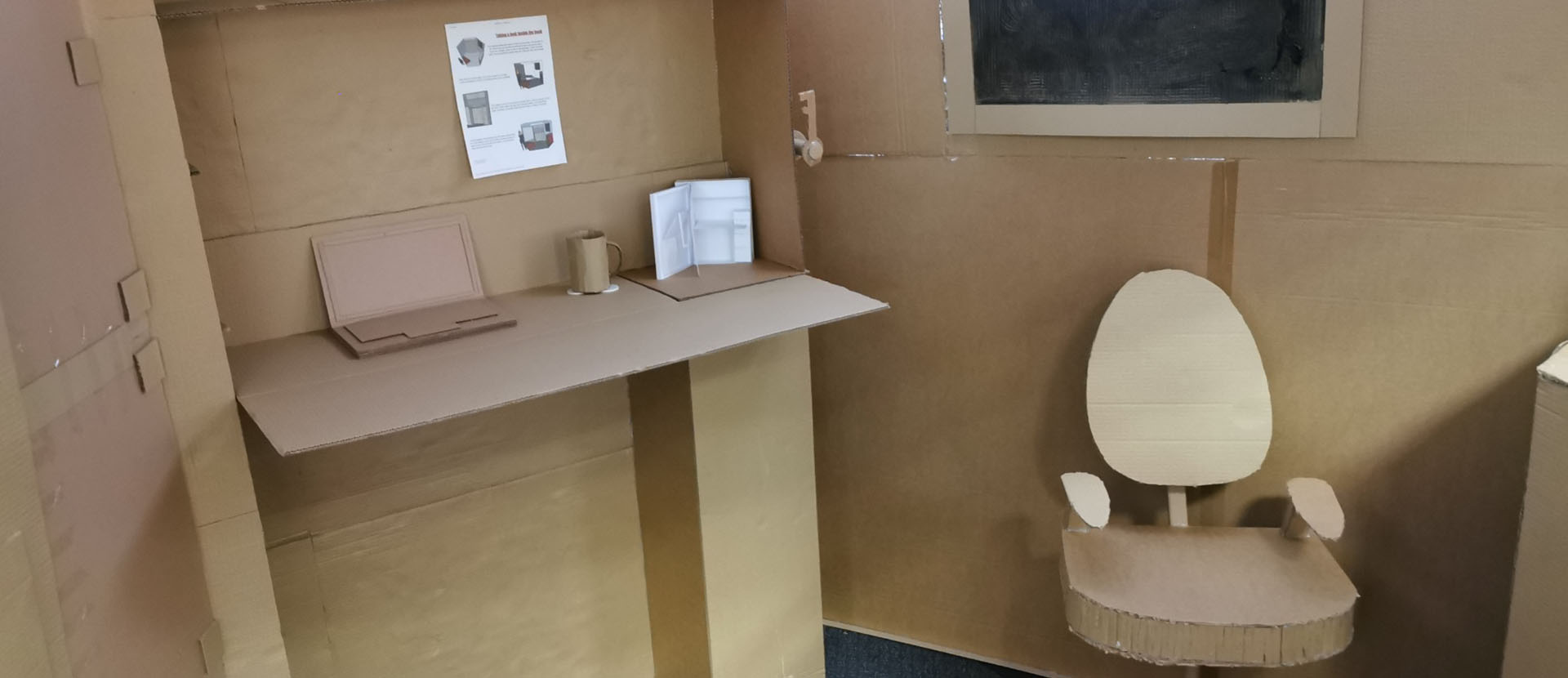 Design foundation students get creative with cardboard
Students on the design foundation year have recently completed their first major project - designing, building and decorating sustainable beach huts from cardboard.
5th November 2019
Denise White, lecturer in the built environment at Solent, said: "The beach hut project is completed within the first five weeks of the students' course. It emphasises team work and allows students to explore their creativity in a fun, exciting, but challenging way. This is one of the few times during their four year courses that the students will be able to build at such a size and work in a multi-disciplinary team."
With a growing trend for flexible office space and hot-desking, this year's brief was to design a beach hut that provided a flexible office space for Bournemouth Council that could be hired for short term use of an hour and up to a whole day. Students were encouraged to get creative with their designs to meet the needs of the end users, which could include students, bloggers, business start-ups or someone holding a meeting.
The project culminated in an award ceremony, where the huts were judged by industry professionals from the Chartered Association of Building Engineers (CABE), MLM Group and Midas Construction Ltd.

The winning build was 'Cabana Banana' created by students Georgina Huzzey, Diana Gomes Pereira, Sophie Dickinson, Ivana Klamová and Sean Lynes. The beach hut is built in the shape of a hexagon and offer a personalised and customizable workspace including a 'book workstation' with three flip down walls. The first wall has a flip down table, the second has a lockable whiteboard on both sides, and the third has a 30cm deep space with a flip-down work desk for a regular customer to use and lock.

Denise said of the build: "The judges really liked the fact that Cabana Banana's space was so usable. They could see the team had really considered the client brief and thought about how the hut could be used in a modular form. They especially loved the book workstation which allowed for a highly flexible workspace.
"We are very grateful to the continuous support from CABE, MLM Group and Midas Construction who have been involved with the beach hut build for the last three years. The input they add to judging day is invaluable and provides the students with real-life context, and challenges them to consider the real solutions to the 'cardboard' issues they faced.  The level of achievement for the first five weeks of the course impressed the judges, not only on the quality of the finish, but also the innovative ideas and solutions they created."
Ivana Klamová said of the team's win: "We were all very happy to win. We spent a lot of time and energy on the project, so it was a really nice reward."