Extracurricular: making the most of undergrad opportunities
Olivia Rodrigues, second-year LLB (Hons) Law student, talks about seizing the opportunities available during her first year
4th October 2022
I joined Solent University from a sixth form in North London and was able to visit the for a campus tour in the summer, just before I received my A-level grades. I picked Solent initially because it was ranked very highly for law in the Guardian league tables, and once I had visited the campus I knew that this was where I wanted to study my law degree.
One of the best things about my course lecturers is how approachable and friendly they are. If I need any help with careers guidance or with writing my CV, they always make time to help. Their professional experience is also extremely useful especially in regards to different career paths.
One way that this course helps to prepare us for a career in industry is through the numerous careers and skills events that take place because these not only help you in deciding what career path you wish to go down but are also a good way to build your CV. This is valuable especially when you have to start applying for legal work experience.
And during my first year of studying law at Uni, I made the most of my time through a variety of different extra-curricular activities and programmes offered alongside the LLB (Hons) Law degree.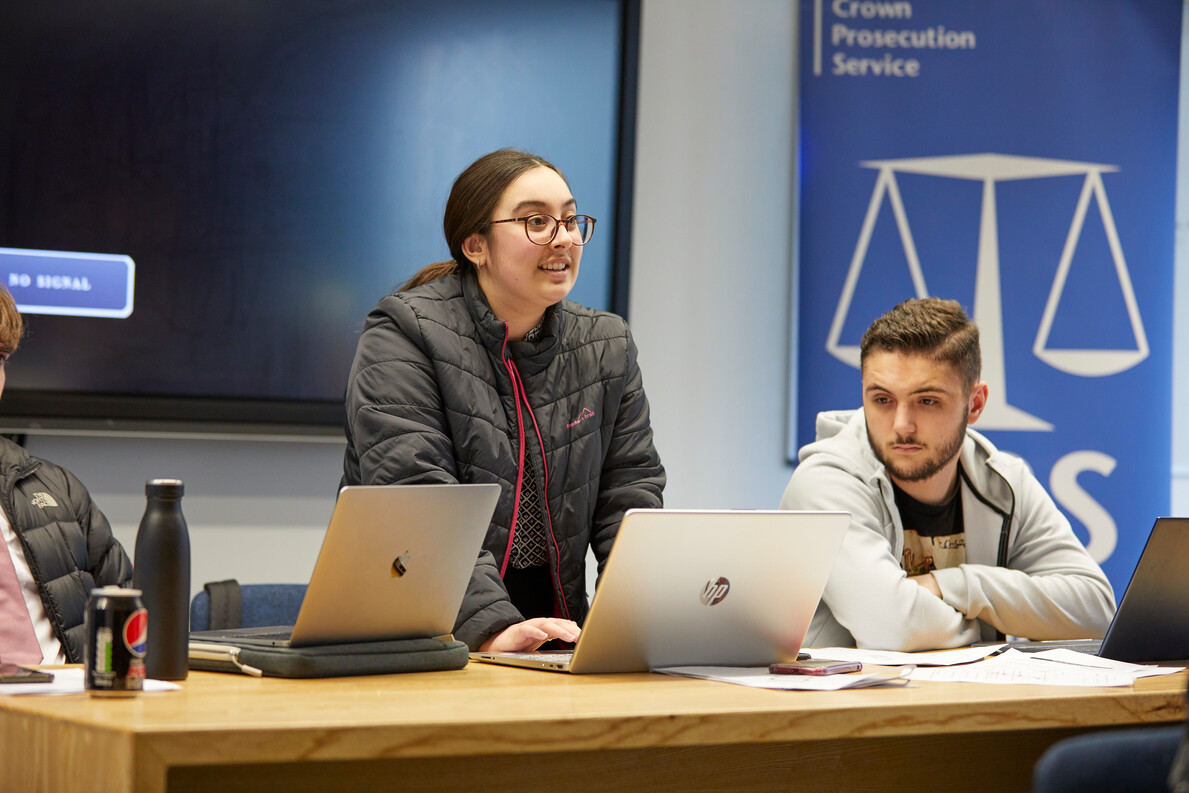 Mooting
Mooting takes place once a week in Solent's mock courtroom and is run by one of our lecturers. It is specifically for law students and mimics the scenario of presenting cases in the magistrates' court. In mooting, we practise tasks a lawyer will have to undertake, like writing and presenting your client's case; acting as either prosecution or defence; writing a plea in mitigation to secure your client a lesser sentence.
It's a great extra-curricular activity, and it also gives you the opportunity to take part in competitions both internally and nationally. Just before Easter we had a completion within the university that was judged by real barristers from College Chambers. We were also given the opportunity to compete in the national speed mooting competition, which is great for improving your ability to draft legal arguments, improve your public speaking and improve your ability to think on your feet.
"As well as the courtroom where we do our mooting, the library at the university is also a great place to study; there are lots of quiet areas and study booths that you can book should you need them. And there are numerous seating areas around the Spark building where you can sit with your laptop and get on with your work, especially if you are looking for a change of scenery."
Mentoring
Solent has provided the opportunity to benefit from having a professional mentor; in my case I was paired up with a medical negligence solicitor from a local law firm. Your professional mentor is able to help with writing your CV or cover letters, give advice on work experience and job applications, and so much more.
Through Solent's Law Society, I've also joined a peer mentoring scheme where first-year law students are paired up with second- or third-year law students who act as mentors, giving us guidance and advice to help us succeed in our first year.
Career events
Since I started studying law at Solent, there have been ample opportunities to attend career events and skills workshops; these are great at building up your CV and giving you a greater insight into career possibilities, such as the routes to becoming a solicitor or barrister.
Course Rep
During the first year of university, I volunteered to become a course rep – essentially a spokesperson for my coursemates, liaising with the university, raising any concerns the students might have, communicating important information such exam dates.
Together, all these activities have helped me make the most of my first year of university. And I'm very much looking forward to everything the second year has to offer!
To find out more about our law degree, visit the law course page