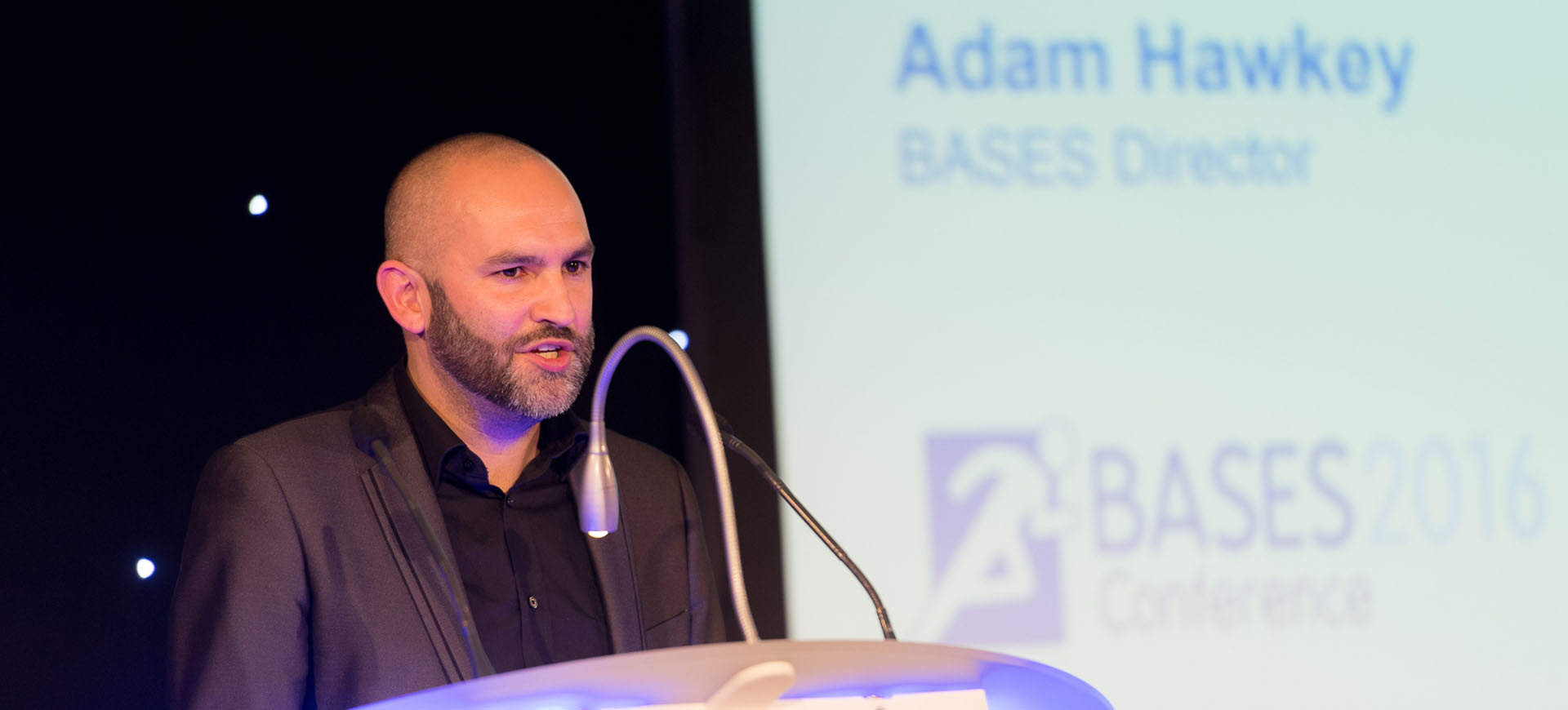 Head of Sport Science and Performance takes on new BASES role
Solent University's Head of Sport Science and Performance, has been made Deputy Chair of the British Association of Sport and Exercise Sciences (BASES).
3rd April 2019
He's advised Premier League football clubs, British Judo and British Gymnastics and assisted with athlete preparation for Olympic and Paralympic Games. Now Associate Professor Adam Hawkey, our Head of Sport Science and Performance, has been made Deputy Chair of the British Association of Sport and Exercise Sciences (BASES).
The former researcher with NASA's Biomedical Office, talks about his new role, the importance of BASES to sport science professionals, and what it means for our students.
How did you get the role and how does it feel?
I was made a Director of BASES in 2014, when I was appointed as Chair of the Division of Biomechanics and Motor Behaviour. My elevation to the position of Deputy Chair was decided by the BASES Board.
It's a huge honour to be appointed. I relish the opportunities and challenges that this role will bring and look forward to having a positive and lasting impact on the association and the wider sport and exercise community.
What is BASES and what is its importance to sport and exercise sciences?
It's the professional body for sport and exercise sciences in the UK. It advances excellence in the sport and exercise sciences through the promotion of evidence-based practice and the development and enhancement of professional and ethical standards.
The association also implements the BASES Undergraduate Endorsement Scheme (BUES), which quality assures degree courses, ensuring the provision of high quality education and training to sport and exercise science students. Here at Solent we have BUES courses in BSc (Hons) Applied Sport Science and MSci Football Science.
Why is BASES important to sports professionals?
BASES offers individual accreditation, which enables professionals working in sport and exercise science to demonstrate to employers and clients that they possess the knowledge and skills to practice safely and effectively. This highly sought after accreditation also leads to Chartered Scientist status (CSci) from the Science Council. We have accredited staff in all three main disciplines -Biomechanics, Physiology, Psychology here at Solent.
Crucially, the English Premier League and the English Institute of Sport (EIS) now require staff to be BASES accredited to work in sport science support roles. 
BASES also accredit laboratories enabling organisations and institutions to provide clients with confidence in a laboratory's physiological testing capability, leadership and governance. Solent has a BASES accredited physiology laboratory.
Tell us about your new role and how it will benefit Solent and our students?
I will be contributing to the development of relationships with other organisations and professional bodies.  I will also be representing the association's interests at key events and functions - including a invitation to attend the Houses of Parliament..
Helping to advance the association, raising standards in the support of elite performers, and heightening awareness of the importance of exercise and physical activity to improve health and wellbeing, are also key elements of the role.
The potential gains for Solent, specifically our students, include being able to offer a greater awareness of the opportunities and developments in the sport and exercise sciences, as well as a better understanding of their role in an increasingly influential community.
Associate Professor Adam Hawkey is Head of Sport Science and Performance. You can read more about Adam on his academic profile.