Honorary Degree Awarded for Significant Impact in the Fashion Industry
Caryn Franklin MBE has today (Tuesday 1 February) been awarded the honorary degree of Doctor of Arts by Solent University, Southampton for her significant contribution as a fashion and identity commentator and broadcaster.
1st February 2022
The prestigious award recognises Caryn's enduring dedication within the fashion industry, with a career spanning four decades. She is best known as the former fashion editor and co-editor of i-D Magazine and prime-time BBC TV fashion presenter throughout the eighties and nineties. Caryn's career has seen her demonstrate her passions as a multi-platform broadcaster, fashion and identity commentator and activist.
Throughout her years in the industry, Caryn has explored the politics of image and self-esteem through commercial, educational and activist positions. Projects have involved international design talent and everyday users of fashion as well as refugees in battle zones, workers in free-trade-zone slums, mental-health and body-image experts, MP's and Government.
Caryn is Co-founder and former Co-Director of the award winning All Walks Beyond the Catwalk: a 6 year campaign which normalised body difference in fashion, and was supported and in collaboration with two separate Govt ministers of Equality: Jo Swinson and Lynne Featherstone. Now a council member of FACE: Fashion Academics Creating Equality: an initiative which campaigns for more Black and Brown academics in university leadership, Caryn's educational stance as a visiting professor of diverse selfhood for Kingston School of Art, prioritises pro-social responsibility and accountability, using social psychology tools.
Her latest project in production is SKEWED, is a pop-cultural audio book with Goldsmiths Social Psychologist, Dr. Keon West tackling identity bias through current race, gender, sexuality, age and appearance beliefs.
On being awarded the honorary degree, Caryn says:
"Thank you to staff at Solent University for the Honorary Doctor degree. I'd like to think this award reflects approval for my tenacious interventions to a fashion industry that sometimes forgets it has the power to influence what people think and feel about their self-image and self-esteem. And, it has the power to iconise all human beings not just models.
"I strongly believe that no matter what stage or age we are in life, our unique opinions and stories matter, and we all deserve to be seen. Broadening the range of humanity we see in our media has been a long-term motivation for me. I'd also like to thank all those who have shared their stories and experiences with me. I'm in agreement with each and every one of them that our world is a much better place when we are all seen and heard."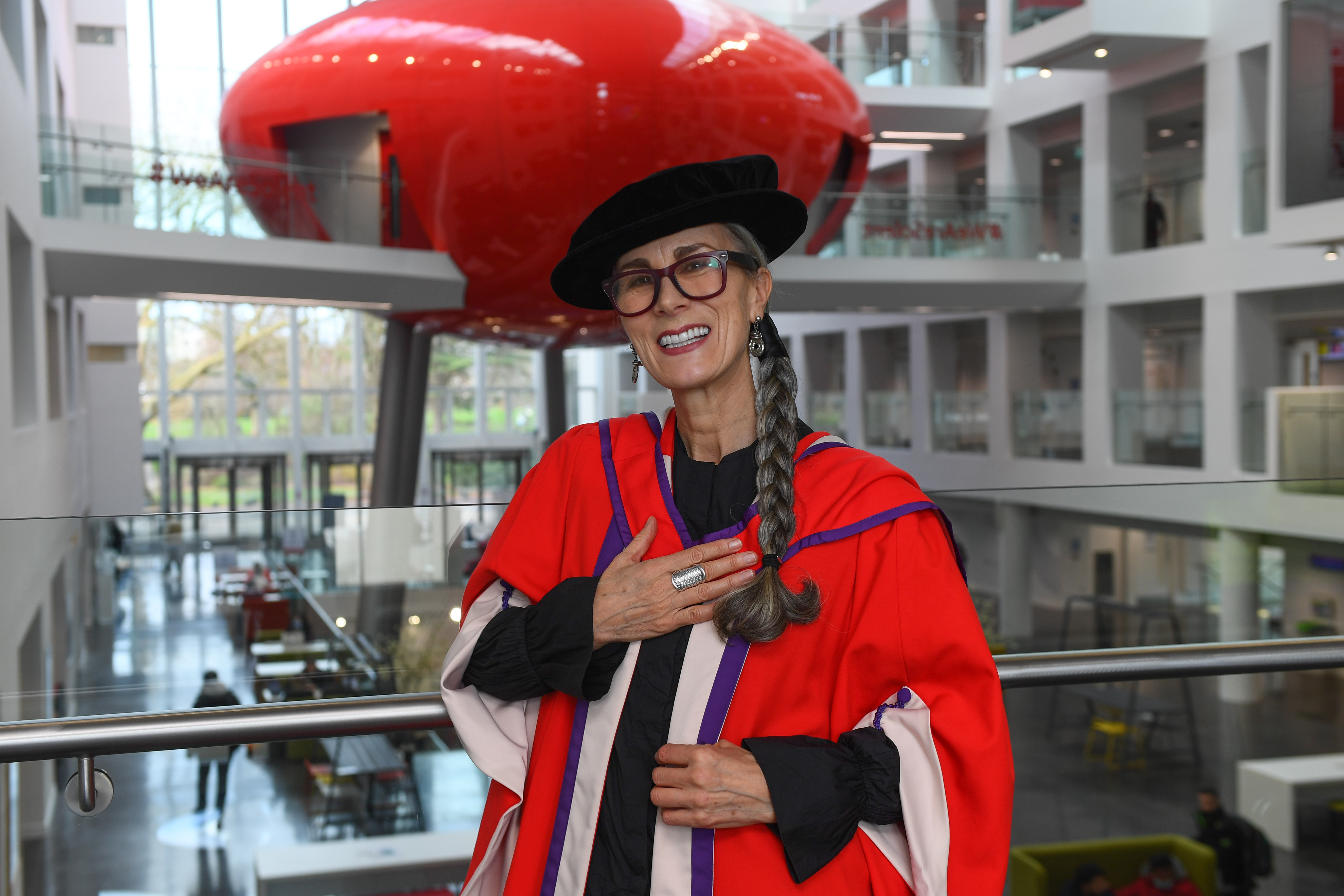 Caryn will be hosting the University's first Inaugural Honorary Doctor talk of 2022 'The Psychology of Bias'. Calling upon studies from the field of social science, emotional intelligence and leadership - and combining these insights with personal stories and experience - Caryn will highlight the benefits of surrounding ourselves with diverse identities.