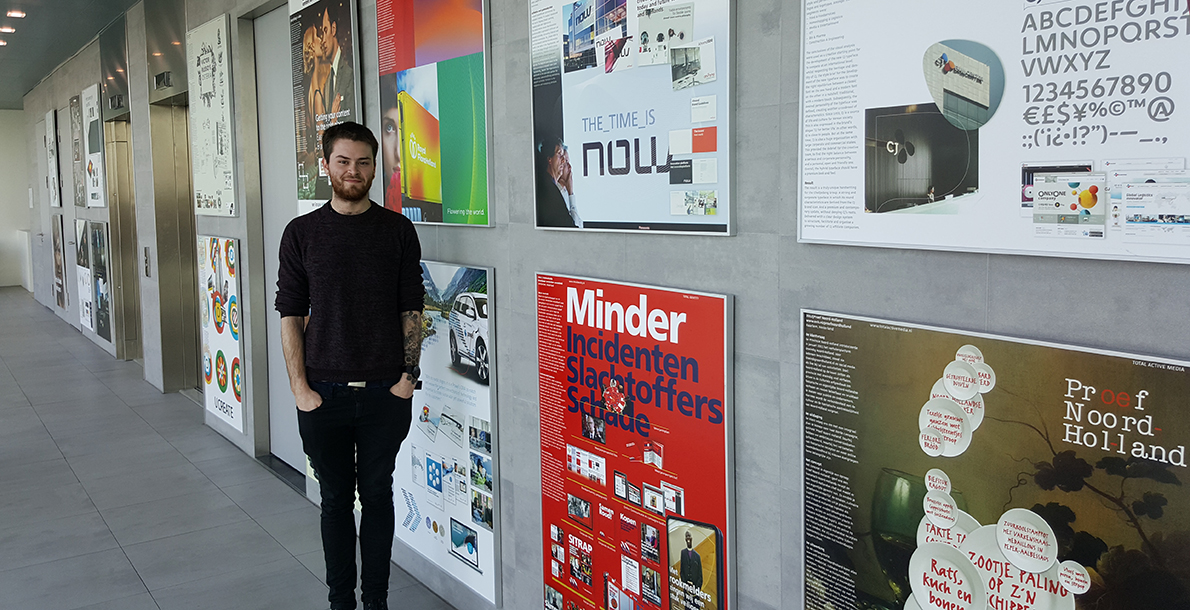 The future's looking bright for graduating graphic design student Adam Lane. He's finished his studies; is getting ready to showcase his work at the summer degree show; and looking forward to starting a six-month paid internship at the prestigious Total Identity studio in Amsterdam
2nd June 2016
We caught up with Adam to find out more about his internship, his final major project, and his plans after leaving Solent. 
Tell us a bit about your internship in Amsterdam 
I am due to start on 1 August. The Studio is called Total Identity (previously Total Design). One of the founders was Wim Crouwel, a renowned Dutch designer and  typographic genius. The  company is very much about identity and interaction design.  I am expecting to learn a lot form the experience and gain the necessary knowledge needed to begin working in the industry.
Hundreds of graduates apply for internships there every year. I'm a huge fan of Dutch design and I told my tutor Nick Long that I wanted to go and work in Amsterdam; he knew the  creative director of the company and encouraged me to apply. I had a skype interview and got the internship. I can't wait to gain the necessary knowledge needed to have a successful career in the industry.
Best of luck, it sounds amazing! Before you head off tell us about your final major project.  
A lot of my project is inspired by the work of Wim Crouwel and Hamish Muir, who both have a history of designing modular type. It's based around the theme of dots. I originally started off by doing some poster designs inspired by dots, but decided that I wanted to focus the project on experimental typography. Being a fan of Dutch design and the use of modular typography, I used this as a starting point. I started using grids to design a typeface – something I'd never done before, so I had to learn lots of new skills.
I wanted to design a series of three modular typefaces and a series of three books to accompany them. Each typeface is related to dots, whether its the way it has been designed or the way the typeface looks.
Talk us through your creative approach
Whenever I receive a brief I immediately start to think about what visual language I would like for the project. Generally I prefer to have a print-based outcome because I love it when I get to the end of a project and get to hold a physical copy. I start to think about interesting print techniques such as letterpress or screen printing.
I feel that my style of graphic design is a bit more unusual, a lot of modern design is very minimalist whereas I prefer to use lots of vibrant colours and interesting typography. I tend to be more influenced by older design styles.
What are your plans after graduation?  
Complete my internship at Total Identity and secure a job. Eventually I would like to get a job in print at one of my favourite studios, such as Spin and Studio Dumbar.
What made you decide to study Graphic Design?
I've always had creative ambitions and my college at course at West Herts College in Watford helped me decide that graphic design was the right choice for me.
What have you loved most about your course at Solent?
The print facilities; we have an entire print room with every kind of print technology you could ask for. It's meant that I have never been held back by the limitations of print.
The final-year degree shows take place from 10-15 June. They are open to industry and the general public.