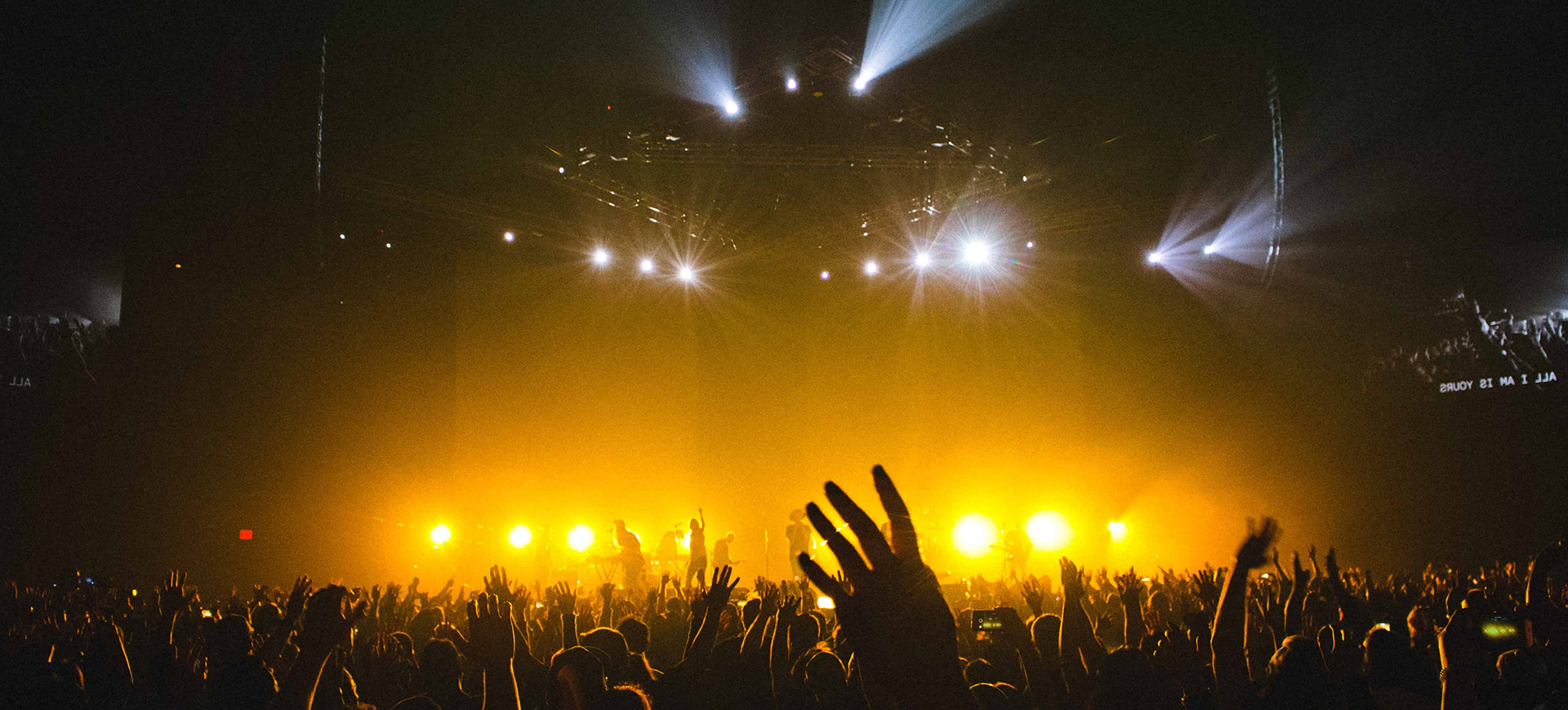 Music Festivals in the UK
Latest research looks at the future of Britain's outdoor music events
24th September 2018
The outdoor music festival market has developed and commercialised significantly since the mid-1990s, and is now a mainstream part of the British summertime leisure experience. The number of outdoor music festivals staged in the UK doubled between 2005 and 2011, reaching a peak of over 500 events.
Dr Chris Anderton's latest book, Music Festivals in the UK, looks at the outdoor music scene as a whole. The course leader for BA (Hons) Music Promotion talks to us about his latest research, why it's important to the UK festival industry and what the future holds for these outdoor events.
Tell us a bit about your latest book and how it differs to other publications on music festivals?
Music Festivals in the UK is the first book-length investigation of the British outdoor rock and pop festival scene as a whole. I examine the sector as a commercialised, mainstream part of the British summertime leisure economy which is influenced by the cultural symbolism of the past, but needs a new approach to understand their continued significance.
What made you research this particular area?
In the early 2000s I was researching a variety of themes related to the music industry as part of my masters, but noticed that there were very few studies into outdoor popular music events, even though the sector was beginning to expand rapidly at that time. The few publications that did exist either looked at festivals as part of 'alternative culture', with a particular focus on the free festivals of the 1970s and 1980s, or saw them as drivers of local economic growth and regeneration. The latter articles tended to focus on quantitative methodologies and emphasise managerial effectiveness and economic/environmental impacts.
I saw that there was a clear gap in the research between these poles – that contemporary commercial festivals could be studied both as businesses and in terms of their social and cultural importance, so that the transformations of the market since the late 1990s could be understood in greater depth.
Why is this piece of work important to the UK's music festivals?
The book recontextualises the history of music festivals in the UK. Rather than regard them as radical, alternative events co-opted by commercial and corporate interests, it shows how those interests were present since the nineteenth century. It suggests that the modern era of music festivals (since the late 1950s) needs to be researched and conceptualised in its own terms, rather than regarding them as a modern manifestation of ancient social and community festivals.
The upshot of this is that we need to understand the social meaning of contemporary events much more, to understand why they continue to be popular, why festivalgoers seem relatively unconcerned with the actions of brand sponsors (in comparison with the past), and what the role of the music festival is today.
What were some of the most surprising findings that came out of your studies?
I have studied the outdoor music festival sector for over fifteen years, and during that time I have seen festivals become more commercial and mainstream and increasingly integrated into the British summer tourism economy. The sector – which was once viewed with suspicion because of the hippies and radicals that were associated with it - is now viewed as a defining part of the British experience within government policy.
In the early 1990s, there were only a handful of large events that were targeted fairly directly at young adults, but today we have an enormous variety of festivals, of all sizes. Whoever you are and whatever your interests, there is likely to be an event to suit your tastes.
Of particular interest to me, was how festivalgoers themselves viewed and understood their festival experience – how even the most commercial events were important to their sense of identity, friendship and family, and how it is not necessary to view festivals as radical or alternative to view them as important.
So what is the future of UK music festivals?
Larger scale camping events have been suffering in recent years. We've seen the loss of Sonisphere, T in the Park, V Festival and many others that relied on high profile headliners to attract audiences, while unpredictable weather has caused further problems, such as those seen at Isle of Wight, Creamfields and Camp Bestival.
The broader music industry trend towards niche markets rather than mass market sales has also had an effect on the festival industry. On one hand, the larger commercial promoters are looking more at non-camping and city park-based events - which are more attractive to mass market pop audiences and less complex or economically risky in terms of their organisation. On the other, there has been growth in smaller, boutique or niche festivals that are less reliant on high profile artists. Alongside this has been the expansion of hybrid events that merge the music festival format with other event formats such as food festivals, car rallies and extreme sports – again, we can see this as an effort to minimise or spread the economic risks involved in putting on outdoor events.
What do you think makes an excellent music festival experience?
In many ways, this is an almost impossible question to answer. The key thing to remember is that the festival experience is thoroughly subjective and what works for one festivalgoer or group of friends, may very well not work for another.
The interaction of friends and families is highly important, and events which attract regular annual attendees do seem to have an advantage. The festival can become part of the festivalgoer's life story and sense of self, with the ethos, style and layout of a festival promoting feelings of familiarity and belonging, while the changing programme of acts and attractions adds feelings of difference and excitement.
Other people are also important, whether in the crowd listening to the acts, or camping around you. Such factors may be difficult to control, but when they are right, the festival can feel as if it is lifting off, taking you away from the everyday realities of life and work into a place where time seems to stop and worries fade away.
Organisers can do their best to enhance the experience through their production choices, but in the end it is the combination of all of these factors and more that affects the overall experience, which will differ from year to year and from event to event. 
 More information about Dr Chris Anderton and his work can be found on his academic profile.