New guidelines to support participation in heritage-based mental health projects
New set of best practice guidelines aimed at ensuring that participants and the historic remains involved are well supported launched on World Mental Health Day
7th October 2022
Health, psychology and sociology
Homepage - News - Featured
Taking part in heritage projects has become a popular way to improve mental health and wellbeing. A new set of best practice guidelines aimed at ensuring that participants and the historic remains involved are well supported during projects is launched today, on World Mental Health Day (Monday 10 October 2022).
A team of researchers, led by Dr Karen Burnell from Solent University, Southampton and Dr Paul Everill from the University of Winchester, produced the guidelines to help make sure that people are safe and supported when they take part in heritage projects and that we take care of the things and places that mean something to us. They will help project providers better understand and address their responsibilities; social prescribers/ link workers to gauge the quality of support that should be offered to individuals they might be considering referring to heritage-based therapeutic services; and to empower potential participants to ask questions, giving them a better understanding of what they might expect in terms of support.
The AMPHORA guidelines are designed to unlock the full therapeutic potential of the historic environment, through Authentic and Meaningful Participation in Heritage Or Related Activities (AMPHORA), in which participants are contributing fully to projects which, in turn, are able to provide the right support and safeguarding.
Dr Karen Burnell says, "Heritage projects seem to offer a unique experience. People living with complex mental health challenges can engage with meaningful activities in which their contributions are genuinely valued and all within a social environment. This seems to be a powerful recipe for improved mental health. Because of this, it is vital that projects get the foundations right and provide the infrastructure needed to ensure the best outcomes for people. We hope our guidelines will help projects lay the foundations of good practice."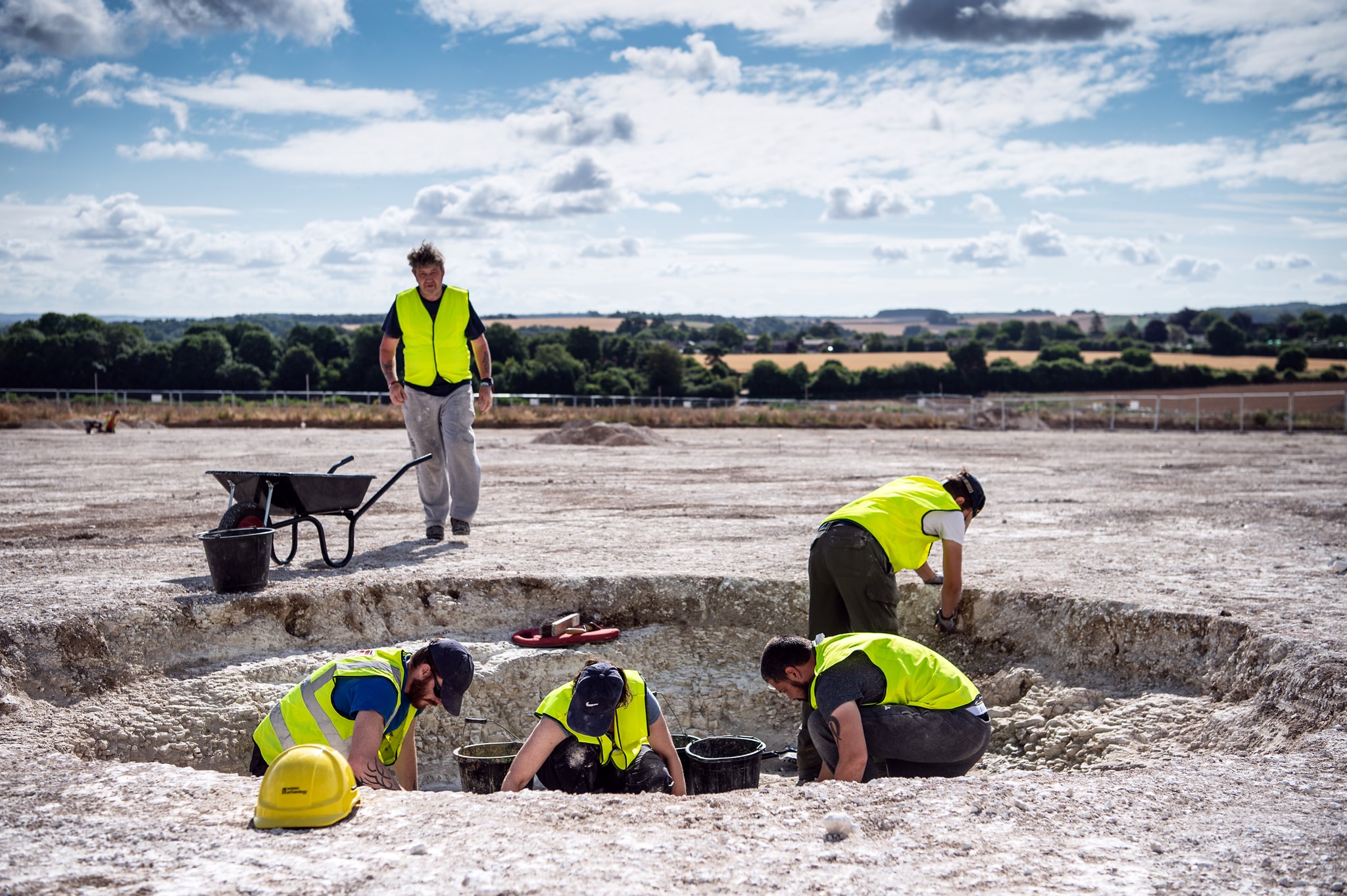 Dr Paul Everill said: "Archaeological excavation, in particular, is built around teamwork, and it seems that this is a key ingredient in developing support networks alongside the satisfaction derived from undertaking meaningful work on interesting sites. Colleagues across the discipline continue to work really hard to widen opportunities for engagement, but we also need to ensure that we work with experts in mental health to ensure that therapeutic projects are fully supported. The AMPHORA logo can hopefully become a form of quality assurance to demonstrate that all these things are in place."
Historic England, a partner in the initial research, supports the guidelines and recognises their importance in promoting public benefit through heritage.
Dr Linda Monckton, Head of Wellbeing and Inclusion strategy, said: "They will not only help heritage organisations and practitioners to confidently maximise the social impact of their wellbeing projects, but will empower people who experience mental health challenges to get involved, in the knowledge they will be properly supported, and to benefit directly from the healing power of our historic environment in a safe and comfortable way."
In welcoming the launch of the guidelines, Neil Redfern, Executive Director of the Council for British Archaeology (CBA), said that: "ensuring archaeological projects and events have the knowledge and tools to develop safe spaces and practices is essential. The CBA is delighted to not only support the AMPHORA guidelines but to be working with the team to develop specific guidance for safe, supported and inclusive participation in our annual Festival of Archaeology."
The guidelines have been endorsed by a range of organisations, including veteran-led heritage initiatives.
Professor Dominic Murphy, Head of Research for veterans' mental health charity Combat Stress which also endorses the guidelines, said: "We know that engaging with meaningful activities (known as behavioural activation) is one of the best ways to support people with depression. Importantly, heritage-based interventions can provide both behavioural activation and also help build friendships and social networks. The AMPHORA guidelines provide an invaluable resource for service-providers understand the most effective way to deliver a range of heritage-based interventions that have the potential to make positive changes for individuals experiencing mental health difficulties."
The National Academy for Social Prescribing (NASP) also endorses the AMPHORA guidelines for mental health, heritage and wellbeing. Dr Desi Gradinarova, National Lead for the Historic Environment at the National Academy for Social Prescribing, said: "We welcome the publication of these very useful tools, which will help social prescribing service providers, link workers and social prescribing users to access and engage safely with the rich wellbeing opportunities provided by our local and national heritage."
Other endorsing bodies include the Chartered Institute for Archaeologists - the professional organisation for UK archaeologists - British Archaeological Jobs and Resources (BAJR), the Enabled Archaeology Foundation, and Hampshire Cultural Trust. Archaeology Scotland, the Restoration Trust, Wessex Archaeology, Museum of London Archaeology, and the York Archaeological Trust – all engaged in their own community mental health initiatives – have also endorsed the guidelines.
Funded by a grant from the UKRI-funded MARCH Network, the research team – which also included Dr Lou Baxter, at the time of Bournemouth University - brought together a panel of 44 stakeholders with experience of living with mental health issues and also people with expertise in mental health and heritage in a Delphi Consultation* . This initial nine-month process concluded in November 2021. The production of the guidance documents has been funded by the University of Winchester.
The application of archaeology as a therapeutic intervention for veterans has achieved significant public profile through the work of Operation Nightingale and others since 2011, but meaningful participation in heritage-based activities need not be limited to archaeological excavation.
Archaeology, Heritage, and Wellbeing by Drs Everill and Burnell, published recently by Routledge, highlights the wide variety of ways in which heritage and historic environment can support community mental health and wellbeing.
The AMPHORA guidelines can be downloaded via the project website https://bit.ly/AMPHORAproject and the researchers are keen to hear from organisations that adopt and implement them for their projects.
* A Delphi Consultation is a series of questionnaires that allow experts to develop ideas and reach decisions about an issue by achieving consensus.
___________________________________________________________________________________________________
Image caption: Veteran studentship holders from the University of Winchester excavating a Hessian Mercenary dugout in a collaboration between Pre-Construct Archaeology and Operation Nightingale at Barton Farm, Winchester, 2018.
Photo credit: Photography by Harvey Mills ARPS