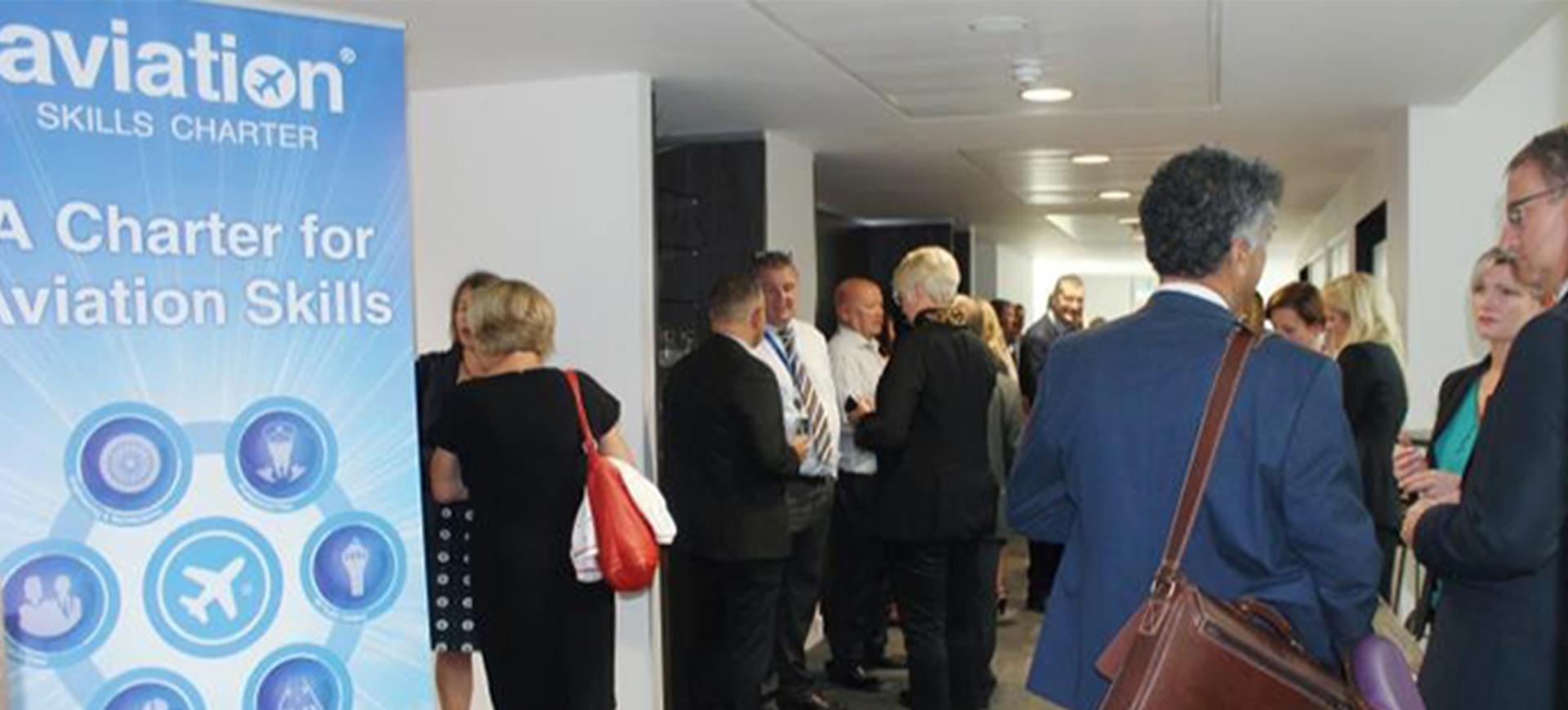 Regional charter for aviation skills launch
Solent University recently hosted the first regional launch of national initiative to attract and develop talent for the UK's growing aviation industry, A Charter for Aviation Skill. 
16th September 2019
Solent University recently hosted the first regional launch of national initiative to attract and develop talent for the UK's growing aviation industry.
Local industry, government, educators and trainers, along with supporting organisations, came together to for the regional signing of A Charter for Aviation Skill on 10 September 2019.
The need for a new approach to aviation skills grew out of a realisation that the aviation industry in the UK is facing strong growth both in a civil and defence capacity. This creates a clear and defined need to develop talent for a growing industry by engaging individuals, businesses, trainers, educators, and government to ensure people with the right skills are available for the right jobs.
John Ponsonby OBE, Chairman of ASP says: "We have a long and proud aviation and aerospace heritage and we are recognised the world over for the standard, quality, and content of our training. Our aim in launching this Charter is to build on the industry success to date and to increase our collaboration and cooperation. It is a fundamental pillar in our new approach and we look forward to working with the industry to deliver on its five areas."
The specialist nature of aviation professions requires that talent and disposition are identified early and that pathways into the industry are clearly signposted. The gaps in these pathways, and in the early identification of appropriate people, has led to significant skills shortages, which are forecast to worsen as aviation expands. Aviation Skills Partnership (ASP) set out an Aviation Skills Manifesto in 2016 that set out a plan to ensure a legacy of a well-trained workforce to supply the national and international markets.
In early 2019, recognising that elements of the Manifesto could be more inclusive and collaborative, ASP set about creating a new approach. ASP and its partners have moved to deliver on the commitment to:
Create a new Aviation Skills Charter with targets
Take specific steps to increase the scale and ambition of the Pathways and Academies
Create alignment amongst all stakeholders to ensure the sustainable supply of skilled people for the industry, crossing social mobility and social inclusion barriers
Work commenced on creating an inclusive and collaborative Charter and its shared targets including reaching out to all industry groups and looking to re-align the relationship between aviation and aerospace, civil and military, large and small. This included building on the successful public/private sector model of the first Academy of its type in Norwich which provides the proof-of-concept for regional growth.
A target was set for the pace of the work to be rapid and delivered with momentum so that short-, medium- and long-term plans could be enacted and aligned with the UK Aviation Strategy 2050, of which skills are such an important element. These plans include national and regional activity to capture all aspects and areas of the United Kingdom.
Professor Graham Baldwin, Solent University's Vice- Chancellor says: "We are very excited about working with Aviation Skills Partnership on this important project.  Solent has a world-renowned reputation for maritime education and training. We have recently opened our new Gosling Foundation Simulation Centre which is the largest public access centre in Europe. Recognising the increased demand for skills in aviation, and indeed in other areas of transport, we want to work with the industry to translate what we already offer at Solent into the areas of aviation and rail."