Shortlisting success at Graduate Fashion Week
Students from across our fashion courses have been shortlisted for this year's Graduate Fashion Week (GFW23) awards.
7th June 2023
Art and design
Homepage - News - Featured
Seven Solent University, Southampton students from across our fashion courses have been shortlisted by the Graduate Fashion Foundation (GFF) for Graduate Fashion Week 2023 (GFW23) awards – the largest showcase of UK and International BA creative fashion graduate talent in the world.

Emma Calder, Solent's Course Leader for Fashion (design), Fashion Photography and Fashion Styling & Creative Direction, says, "Graduate Fashion Week 2023 is an incredible opportunity for all our graduating fashion students to showcase their creativity, ingenuity and sheer determination to succeed."
"It's so exciting to see students from not only Fashion Design but Fashion Media, Fashion Graphics and Fashion Photography being so successful - it's such a great way for them to complete their studies with us at Solent.
Emma, who is also an academic trustee on the board of GFF, continues, "To have their work selected by a panel of industry experts is a huge honour and to be able to meet the judges and spend the day in London, networking with industry will be an amazing experience for them all. We can't wait to celebrate with them!"
Shortlisted students from Solent University, Southampton
The considered fashion award - Olivia Clayton, BA (Hons) Fashion Media
'Gifted & Free' is a unique, first of its kind app designed with sustainability, women in poverty, and female empowerment in mind. The app is a place for financially-struggling young women to collect free clothing from their local area for themselves and their kids, uploaded to the app by women looking to declutter sustainably and ethically.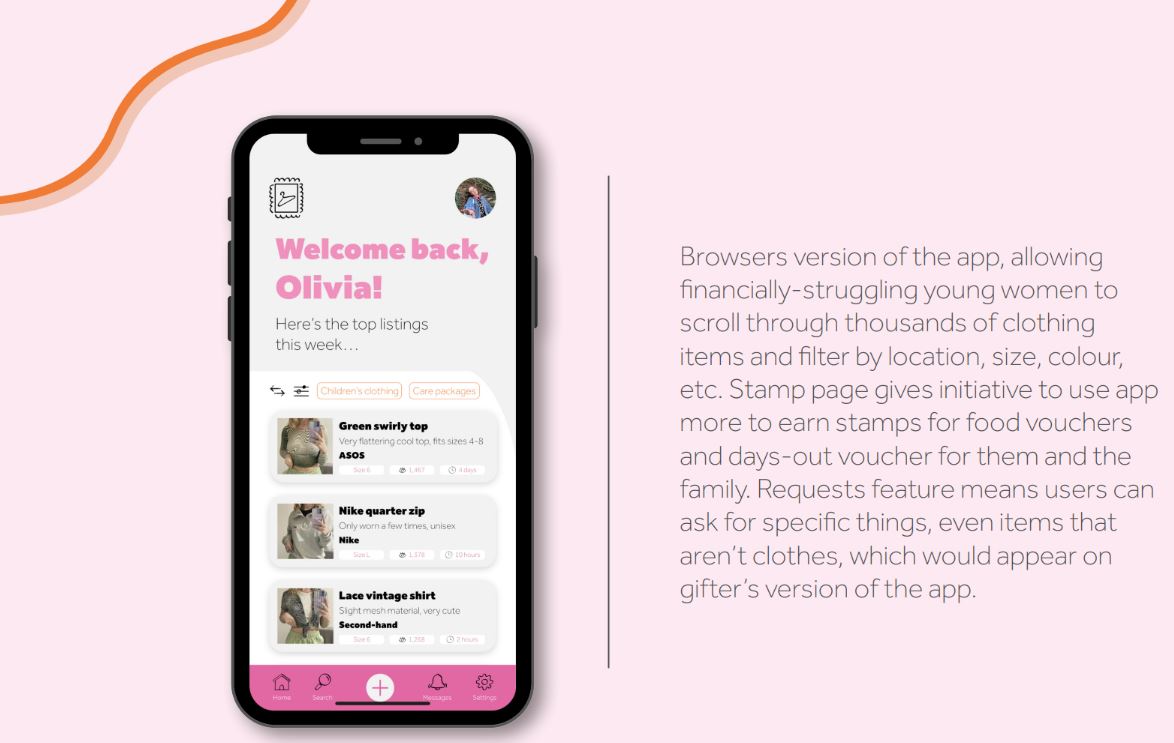 The culture and heritage award - Caitlin Coughlan-Leon, BA (Hons) Fashion Media 
Caitlin's first experience with print magazines was as a child sitting in a black-hair braiding shop in Hackney waiting for her turn.  She remembers flicking through the pages and seeing all the black girls in adverts and on the front page, "It wasn't until I got older, that I realised seeing women who looked like me wasn't the standard in the magazines sitting on the shelves, not on the cover and hardly in the content and adverts. This major gap in the market gave me the inspiration for ALL-IN, a publication centred around the black British creative scene and the brands that have flourished from it."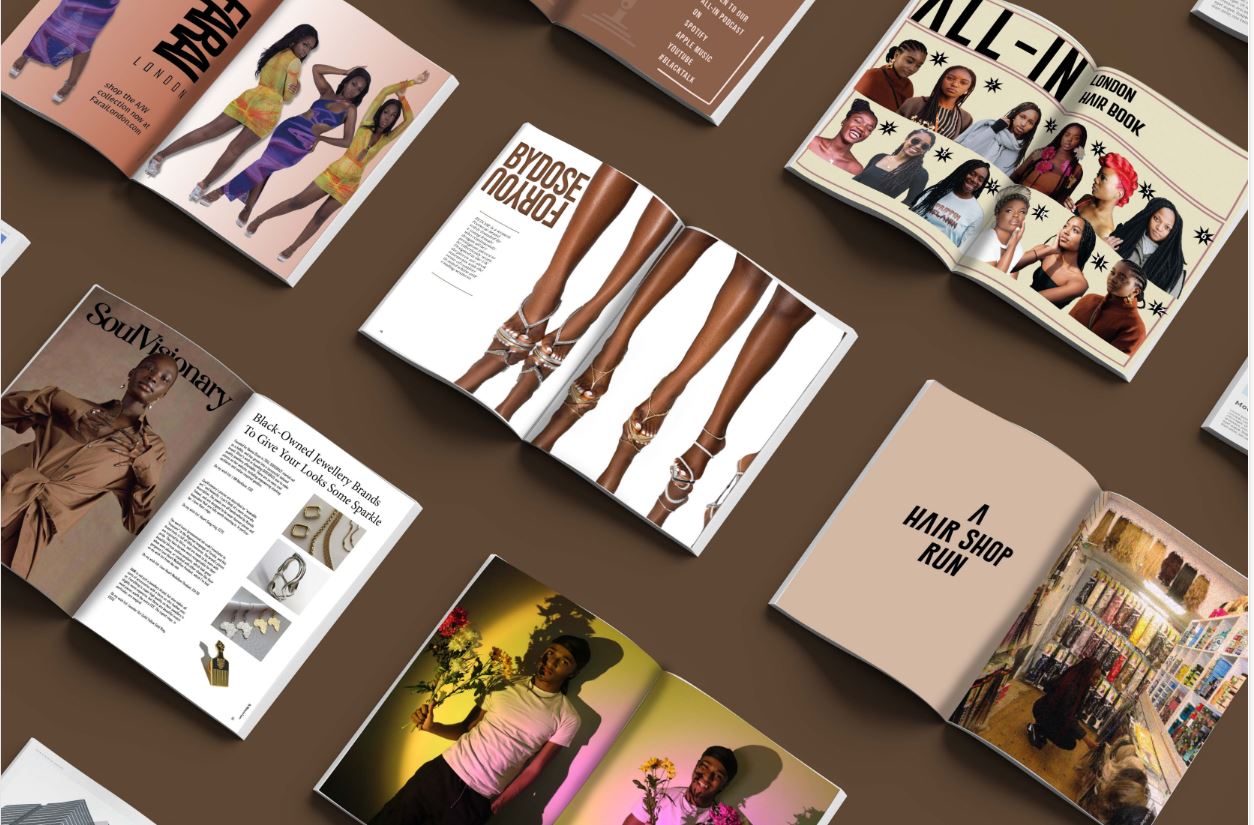 The fashion photography award - Eloise Doo, BA (Hons) Fashion Photography
'Unfiltered: The Social Sisterhood Issue', is a photographic journey of women navigating social media and self-identity. Eloise's project explores how the internet has brought incalculable opportunities for women to create, connect, and learn, while also exposing them to increased levels of harassment and discrimination.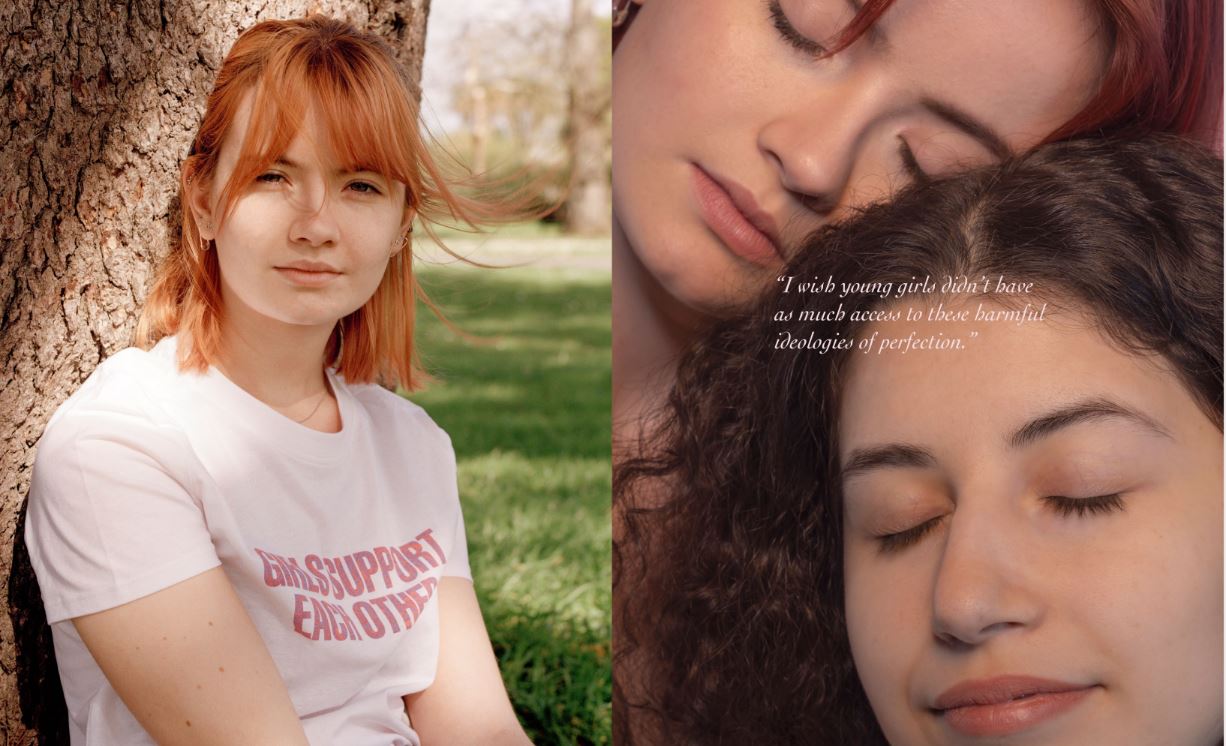 The Zandra Rhodes fashion textile award - Hope Tucker BA (Hons) Fashion
Living in a world of constant change with technology exponentially evolving, Hope's 'Futuredynamic' collection explores the idea of being dynamic, of being a force that stimulates change within a system. Fabrics are futuristic, smooth and sculptural, a mixture of matt and shiny, and includes scuba, technical fabrics and satin.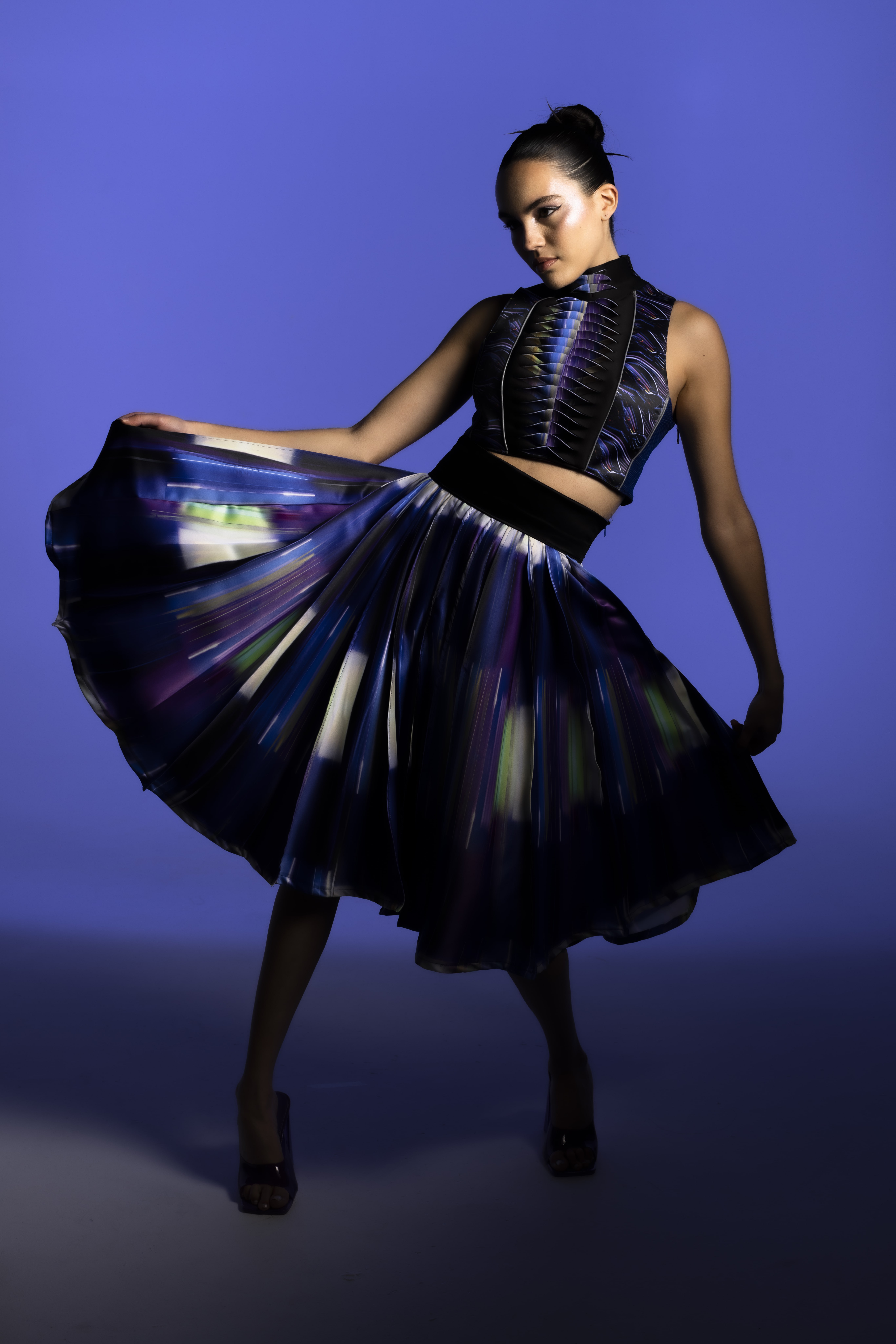 The Terry Mansfield fashion publication award - Kristian Braband, BA (Hons) Fashion Photography
'Fashioning Minds' is an exploration of the research area of fashion psychology, with a focus on identity and individuals' experiences. The publication consists of written essays, accompanied by photography to illustrate the discussed subjects. Classic and contemporary sources are called upon to provide insight into a different area of the fashion industry in each chapter, from sustainability to body image.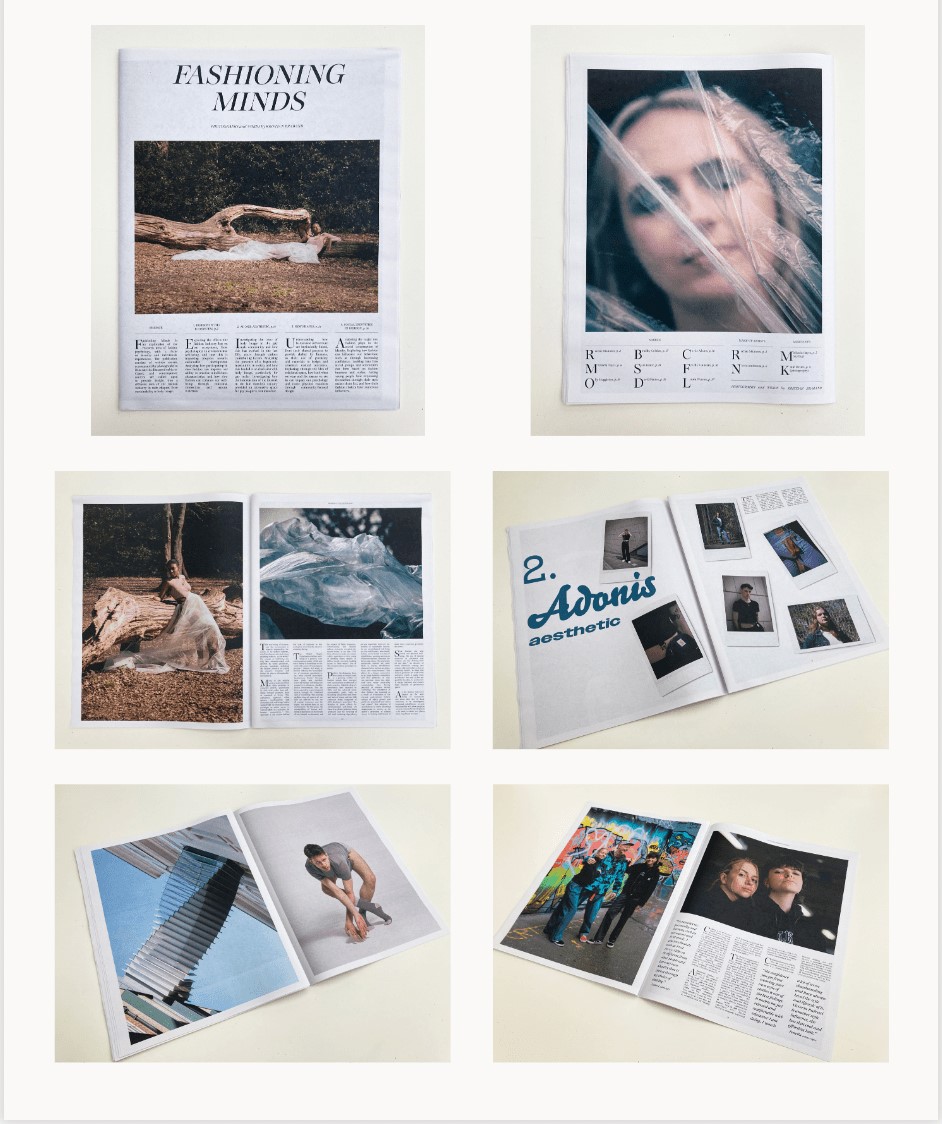 Kornitt X GFF Printed fashion textile award - Tamara Hejja, BA (Hons) Fashion. Tamara is one of three winners whose work has been selected to be showcased in the Best of GFW23 Catwalk Show on Thursday 15 June. Her 'Strong Vulnerability' collection reflects the necessity of both vulnerability and resilience and explores the beauty of this balance. The need to be strong, have a thick skin but also the benefits intrinsic to being sensitive and open. Delicate fabrics including chiffons, meshes and silks, as well as more structured fabrics, such as leatherettes and wools, are laser cut with organic-shaped holes and layered on top of each other.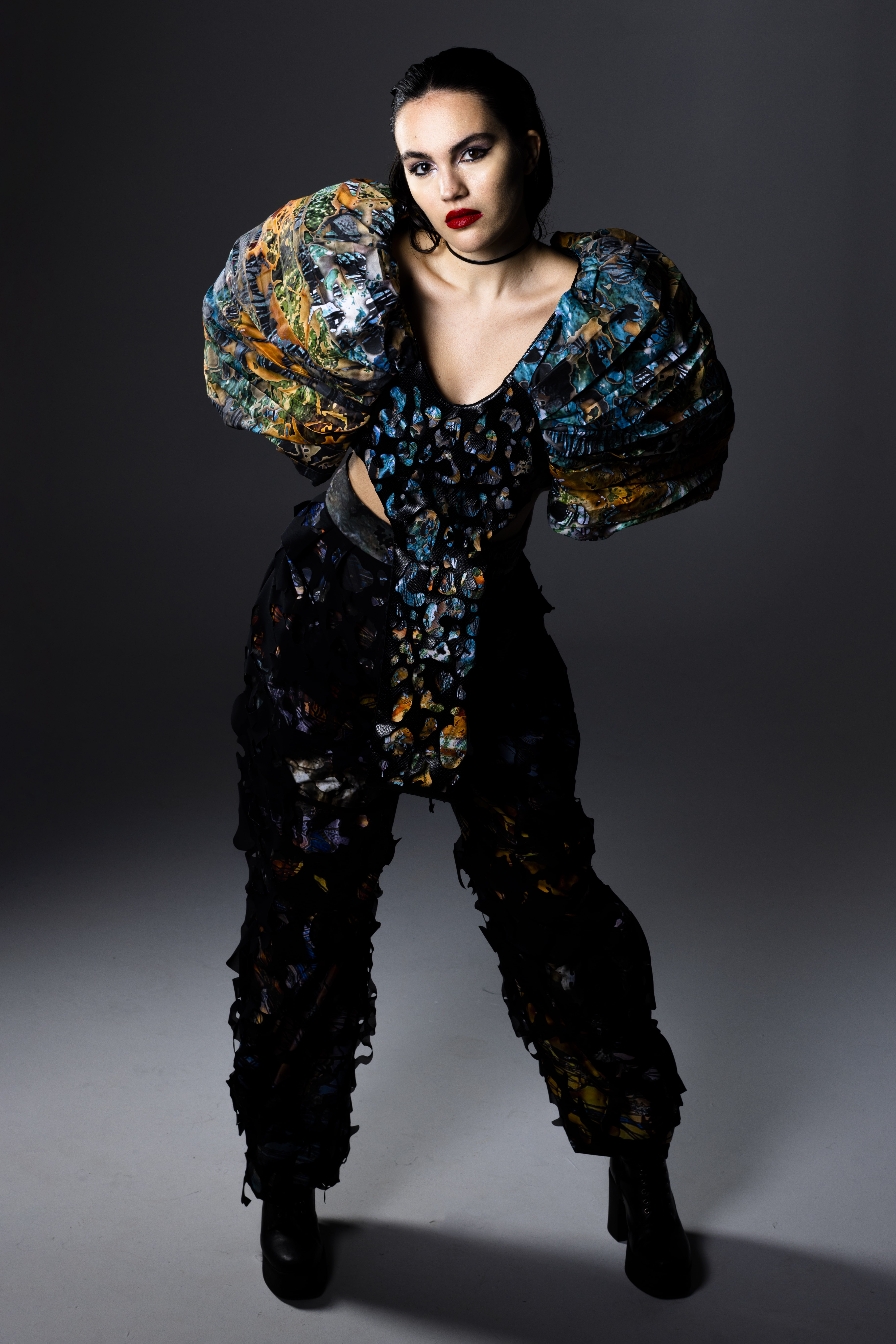 The culture and heritage award -  Bryony Taylor, BA (Hons) Fashion Graphics. 
Bryony chose to create a digital curly hair community that brings together people with all types of curly hair over digital platforms.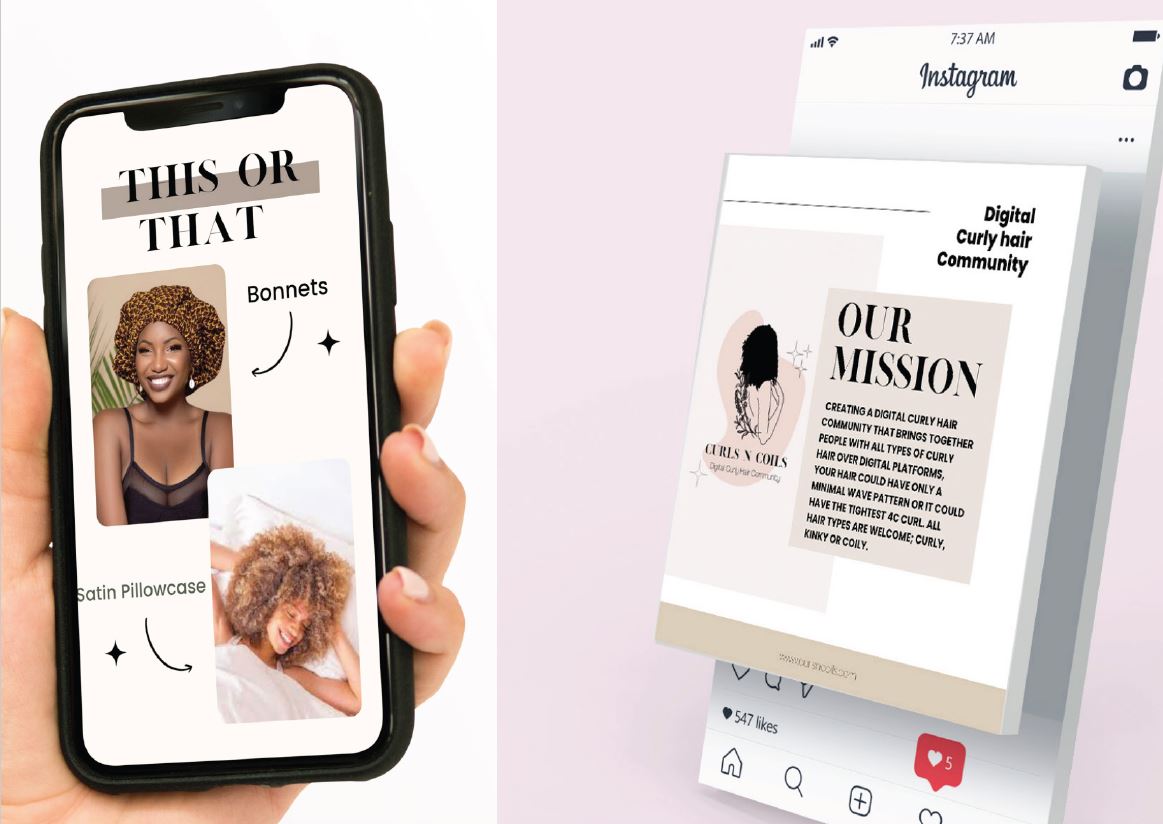 To see more from our Fashion students, portfolios can be viewed via the Graduate Fashion Week website https://www.graduatefashionweek.com/search-portfolios/
The winners will be announced on Thursday 15 June, the final day of GFW23, which is returning to the Truman Brewery in Brick Lane, London.