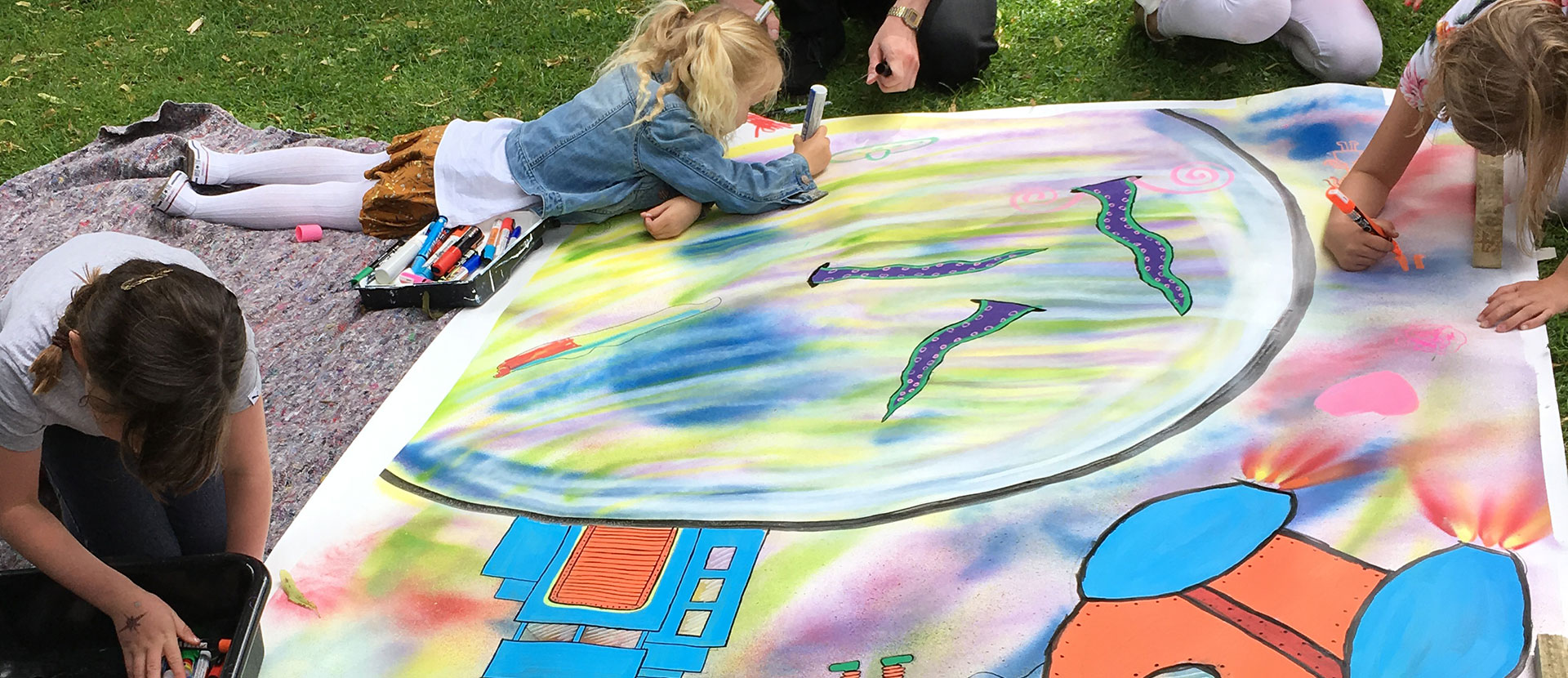 Solent Showcase helps community get creative at Umbrella Arts Festival
Solent Showcase recent supported a community arts festival - the Umbrella Arts Festival - with workshops run by staff from the gallery and BA (Hons) Illustration students.
12th July 2017
Southampton's vibrant cultural community was in full effect at the recent Umbrella Arts Festival on 10 June. The one-day festival brought together art, music and story-telling and poetry to Palmerston Park, in the city centre.
The festival's theme was 'Wellbeing', and explored how the arts can have a transformative effect on our health and wellbeing. This was demonstrated in a number of family-friendly workshops, live art installations, and music. The Arts Market also provided an opportunity for visitors to buy unique creations from local artists and designers.
As one of the main supporters of the festival, Solent Showcase Gallery organised three art workshops - umbrella decorating, wellbeing wall - draw how you feel, and Posca pen workshop. The workshops were delivered by staff at the Showcase Gallery. Four BA (Hons) Illustration students: Innocents Size, Ksenia Kasjan, Diana Dagadita, and Georgia Body, were commissioned by the Gallery to create new artwork on a large scale, based on the theme of what health and wellbeing means. Photography students also helped to deliver drawing and umbrella workshops - the umbrellas were decorated and used to create an installation in the trees.
Kate Maple, Solent Showcase Gallery's curator said, "The Showcase Gallery was pleased to provide artist-led workshops and proud to represent the University and promote art as a valuable way to improve wellbeing for everybody. We really enjoyed being part of the Festival and the growing network of arts communities in Southampton.
"Our students also benefitted from being involved in the workshops, where they gained valuable experience in a professional commission and working to a brief to deliver live public artwork. The workshops also encouraged them to interact with young people, learning to understand their needs to help develop their creativity."