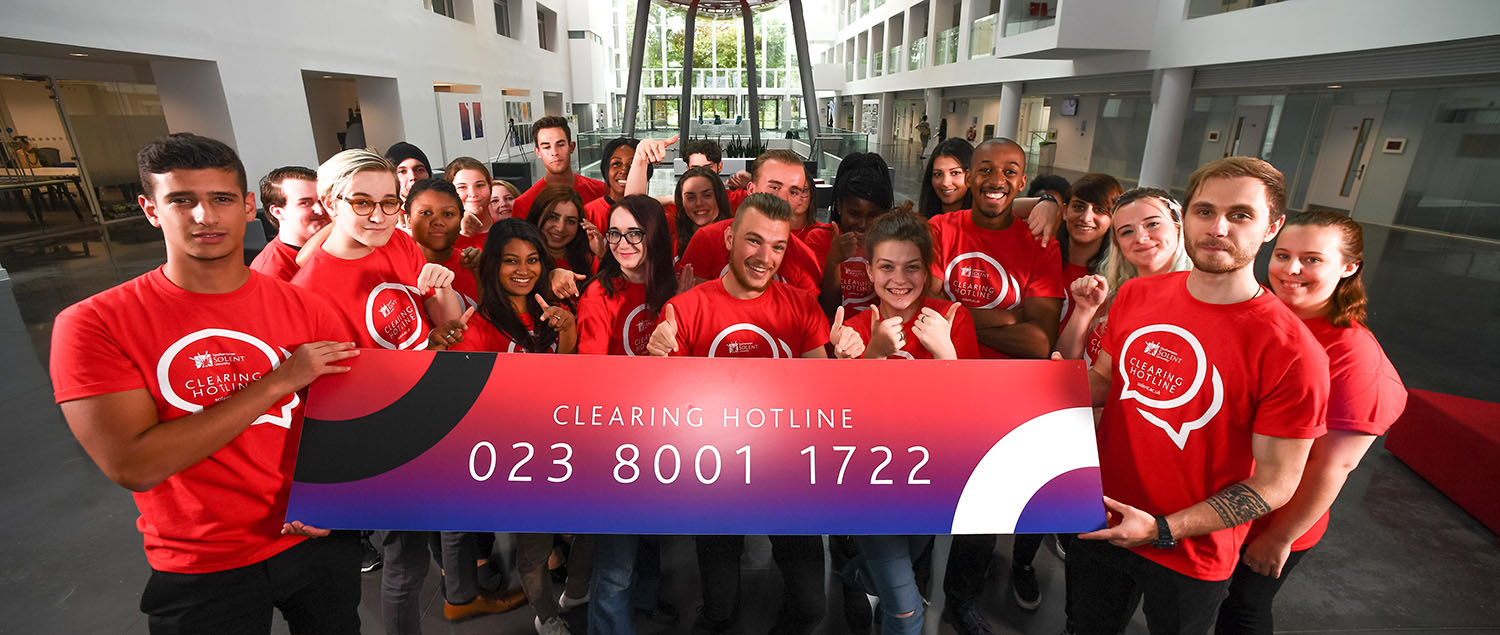 Solent students say don't panic about Clearing
Top tips for Clearing
16th August 2017
Results day is just around the corner, and Solent students are reminding people to not panic!
Clearing isn't just for students who don't quite get the grades they wanted; you might do better than expected, decide on a different university, or change your mind about whether university is for you.
Manned by trained staff and students, some who have been through Clearing themselves, our hotline will be open 7.30am to 7.30pm on results day – and you can call, email, live chat, Facebook, Tweet, WhatsApp, Instagram or Snapchat. Other opening times and details are on our website. 
We caught up with some students who share what Clearing was like for them.
Alfie Dedman, 20, is going into his final year of BA (Hons) Popular Music Performance; Jordan Gould, 20, is going into his second year of BA (Hons) Criminology and Psychology; and, Alistair McLeod, 24, has just graduated with BSc (Hons) Network Security Management.
What was results day like for you? 
Jordan: Well I didn't originally know I would be going to uni as I was a really late applicant; I had made plans to go out to America and play football but a sudden change in circumstances meant that I came back to go to uni.
Alistair: It was ok, I was quite nervous because I was applying for an artificial intelligence course at a different university, but after going to a few open days I realised that it wasn't really for me, so I took a bit of time. Then I looked at Southampton Solent University and I came a bit later than I actually expected, as I took a year out first. 
When/how did you decide to come to university? 
Alistair: I was made redundant on 1 September and the company was going to put me through a course in London, but when I was made redundant I looked at universities that I could still study electrical engineering at. I had some friends in Southampton, and they said that I would be able to move in with them if I did want to come here, so I got on the Clearing hotline, spoke to them, and they said that I could still get in for that year - I thought I was going to have to wait another whole year.
How did you find the Clearing process?
Alfie: It was fun to be honest; I phoned up Solent on the Clearing hotline and spoke to someone who was really helpful; they gave me all the information I needed. They were very knowledgeable so that I could find the right course and have somewhere to live in a very short space of time. It helped me out a lot.
Jordan: I was really stressed at the time but it was really simple and really calming to just speak to someone who knew what they were talking about and get it done really quickly, which is what I needed at the time.
Why are you working on the hotline this year?
Alfie: Helping other people obtain a place at university and study is quite a satisfying job to have - helping people to not only go to uni, but be independent and live by themselves and experience life in the city and meet new people.
Alistair: It sounds quite cliché, but having been helped through Clearing, I wanted to help someone else; I know what it's like to be on the other side. I enjoy it and that's why this is my third year doing it.
What are your top tips for those getting their results? 
Jordan: Definitely don't panic; the process can be really overwhelming but it is actually really easy.
Alistair: Don't panic, the Clearing hotline team can help you out and can give you a call back if you need it. It might seem like a really crazy, panicky time, and you want to get your deadlines in but the universities can help you out quite a lot, so relax, take it in your stride, and don't rush certain things. Make sure it's the course you want to do and come and enjoy the fun.
What's your favourite moment at Solent so far?
Alfie: I've learnt how to play music to a standard that I'm very satisfied with, and  my course has given me the knowledge and information that I can use and hopefully make a career out of.
Alistair: I was an ambassador for a little while and got to meet a lot of new people. We got to talk to people about coming to university and I know that one of those people came here, because I'm still friends with them!
Jordan: The societies have been great; I joined Snow Sports and got to go snowboarding for the first time. The independence of it has been great, you find yourself on your own and you get to experience so many grown-up adult realities and I've just found that fantastic.
What do you think about Solent? 
Alfie: It's in the middle of the city, everyone's always out and about in town, there's always stuff going on, and it's a very nice place.
Alistair: There are lots of opportunities here, make sure you check everything out. There's a wide variety of things to do, so many societies. The sport here is great, and the people here are really friendly.
Jordan: It's an ideal step for someone wanting to get out into the world.