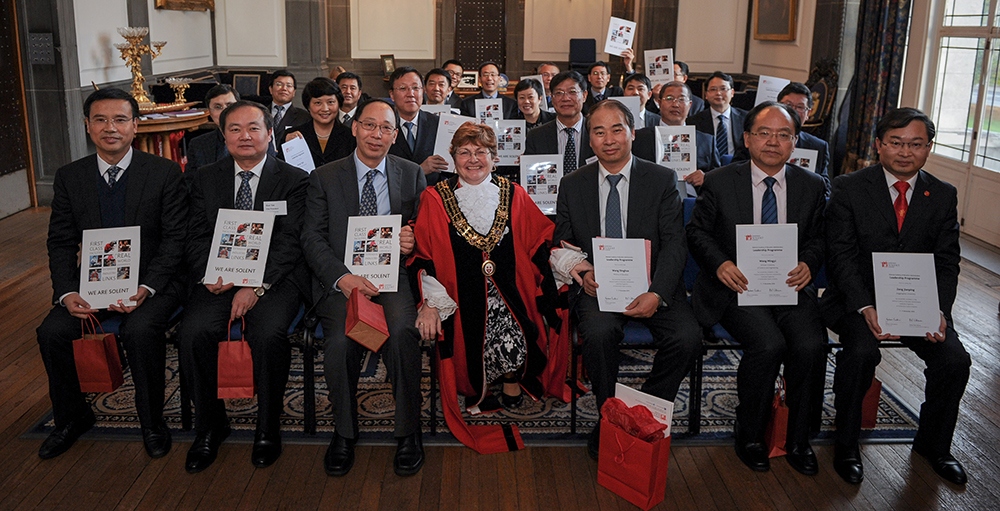 Solent welcomes NAEA delegation
Focusing on University and Industry Cooperation
30th November 2016
For the third year running, Southampton Solent University has welcomed delegates from across Central and Western China to participate in a leadership training programme for Presidents and Vice Presidents under the direction of the National Academy of Education Administration (NAEA), an educational leadership development body that operates under the authority of the Chinese Ministry of Education.
Southampton Solent University was one of four British institutions to deliver programming on the theme of University Scientific Research, Innovation and Entrepreneurship Education to the NAEA delegation during their time in England. Within this broader theme, NAEA asked Solent to focus on University and Industry Cooperation providing the opportunity to highlight its best practices in applied learning and industry partnerships.
23 delegates from 21 different Chinese universities, as well as senior representatives from NAEA and the Ministry of Education, took part in a five-day programme that included lectures, workshops and interactive sessions delivered by Solent staff, industry guests and representatives from the Southampton business community.
Sessions allowed the delegates to explore the opportunities and challenges associated with university and industry cooperation and how higher education institutions can produce graduates with the skills required by national as well as international businesses. Additionally, Catherine Lee (Director of Research and Innovation) and Katie Hornby (Knowledge Exchange and International Business Development Manager), facilitated a discussion on knowledge transfer partnerships, current practices and future proposals for Chinese universities to work with businesses and industries.
One of the delegates, Section Chief Xie Songchen from Southwest University of Political Science and Law, remarked that "The structure of the programme was really good, with good interaction and in-class discussion which combined learning with sharing of good practice. It left me with a great impression."
The programme also included a presentation from the Hampshire Chamber of Commerce, a tour of Warsash Maritime Academy and introduction to the China Centre (Maritime), updates from academic staff on research projects in areas such as Autonomous Surface Vehicles, Big Data and Research Informed Teaching and also examples of Solent Enterprise units working with industry and local businesses to promote student employability and enhance the curriculum.
Hongfang Luo, Vice President of Tongren University, was impressed that "Solent pays attention to nurturing students' practical, creative and employability skills" and made special note of the Employability Self-Evaluation test as a method of researching student employability. This followed Victoria Simpson (Solent Futures, Employment Adviser) presentation on the topic, with a talk entitled ESE Test and the Capital Compass: A Diagnostic Tool for Creative, Confident and Employment-ready Students.
The programme culminated with a roundtable discussion on industry/university relations and the employability of university graduates. Panellists included; Sally Thompson (Business South - CEO), Geoff Glover (Business South - Chair of Human Resources Forum), Christine Fountain (Solent University - Head of Further Education and Higher Education) and Tere Daly (Solent University - Director of External Relations). All participants agreed on the need for virtual engagement spaces as well as platforms for information exchange.
Professor Mike Wilkinson, Deputy Vice-Chancellor (External Engagement) and Visiting Professor with NAEA affirmed that the programme enhances Solent's international reputation "in a time where China is interested in an applied approach to education." Wilkinson went on to mention how programme delivery at Solent "also gives our staff an opportunity to engage in internationalisation and to learn from the delegations too."
Since December of 2014, Solent has delivered educational programming to over 70 individuals from 65 different universities and institutions in China through the NAEA Overseas Study Programme in the UK for University Leaders in Chinese Central and West Regions.