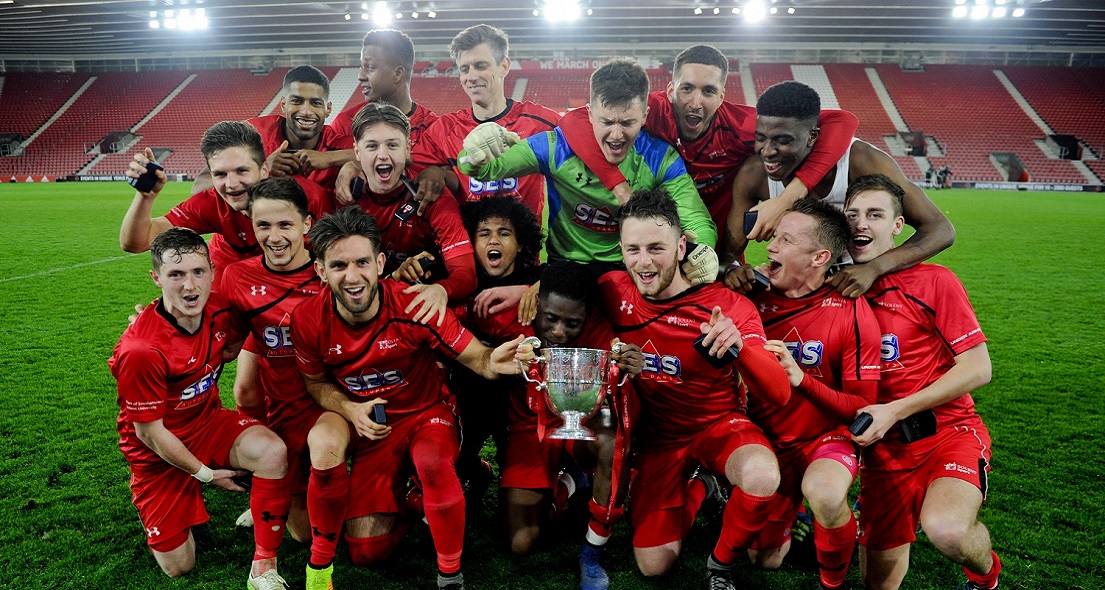 Southampton Senior Cup in the back of the net for Team Solent FC
Solent FC have secured the Southampton Senior Cup for the second time in eleven months.
14th April 2016
Team Solent FC have lifted the Southampton Senior Cup twice in the last eleven months at Southampton FC's home ground, St Mary's Stadium.  The Southampton Solent University team won five – nil to challengers Blackfield & Langley, who are currently ranked in second place in the Sydenhams league.
Jesse Waller-Lassen who captained the team to success and was awarded man of the match said: "It's the way we beat them, given the fact that they are second in our league, that we think surprised everyone. We didn't show much nervousness and went in confident – we made it look easy and that's what has made me so proud of our boys."
The student team got an early lead by scoring three goals in the first half and continued to carry the game when two more goals were scored in the second half. The first was scored within ten minutes by Pip Nolan, followed by a header from Martin Johnson and before the first half was up, Toby Adukunle put Team Solent at a three goal lead.
Shortly after the second half started, Adukunle went on to score his second goal of the match. Jesse Waller Lassen brought it home by securing a fifth goal just before the final whistle blew to make it a truly spectacular win.
Sports Development Manager at Southampton Solent University, Matthew Bishop, summed up the game in his tweet last night: "Simply outstanding performance tonight from our footy lads. Management, players and support staff should be very proud! #TeamSolent #PureClass."
The team were no strangers to playing at St Mary's Stadium, which certainly showed in their strong performance. The club met cup rivals Hamble last year when they beat the team three – two to become Southampton Senior Cup champions for the third time.
Club manager, James Taylor said: "It was an amazing night and all the players performed to a very high level and really deserved the win. To win the cup two years on the trot is a great achievement by everyone connected to the club."
The season isn't over for Team Solent FC yet as they ready to take on Newport (IOW) in the Sydenhams Cup Final at Salisbury FC's ground on Wednesday 2 May. Kick off at 3pm.
View all the photos from the match on the Solent Sport Facebook page