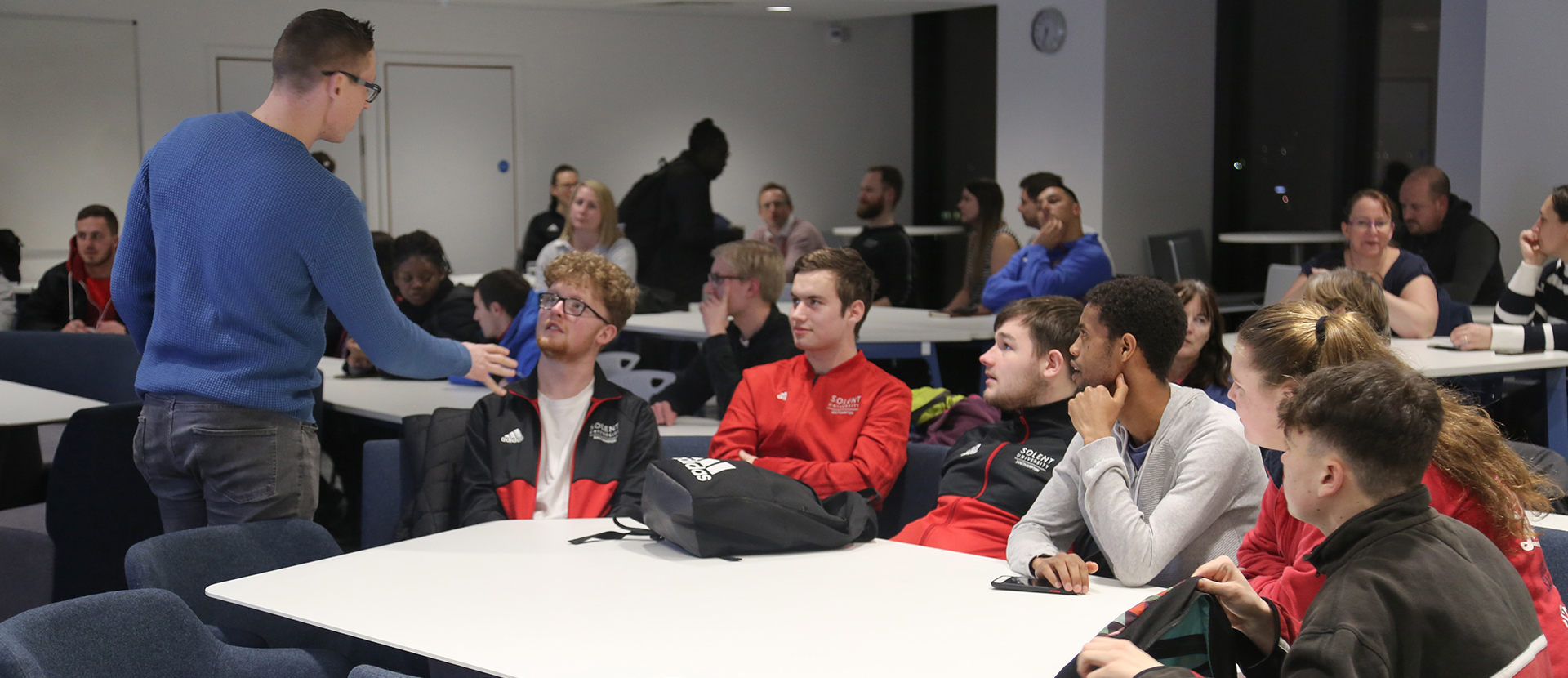 Sport, community, connection
Students from sport coaching and sport development, as well as local sporting organisations, recently had the opportunity to meet and make contacts at the first Southampton Club and Volunteer Network event, hosted by Sported and Solent University.
With around 50 people in attendance the evening offered presentations, from services such as the Saints Foundation, and group based discussions which encouraged students, staff, and services to explore how future partnerships and collaborations can be made.
We caught up with Kev Harris, course leader for BA (Hons) Sport Coaching and Sport Development, to ask why events like this one were important and how they can benefit everyone involved.
"At Solent we're passionate about trying to get students to do more than just learn within classroom environments. We want to push them out of their comfort zones and get them doing stuff in the community – and it's also important that they develop professional links with sports clubs."
"The evening has been great for getting contacts, speaking to Saints Foundation and looking at volunteer opportunities," Nathan Prior, second-year student on the sports coaching and development degree, said. "Building contacts is always great for future prospects – I'm looking at running a community innovation project to tackle social issues in the local area through physical activity, aiming to get girls' sport participation rates up – so events like this are perfect, as you can get contacts and build a network around you to work in partnership together."
"Everyone gets something out of the event," Gil Robertson, South East Regional Manager for Sported, told us. "They've either met a new partner they can work with, they can access a student coach, or they can become a member of Sported and the membership is for free."
"Sported is a UK wide charity that works with different organisations delivering sports for young people aged 11-25. Our team of over 300 volunteers deliver services which include applying for funding, writing business plans, support with marketing; all the things the organisations may not have the time or staff to do".
"The event was a great collaboration between Sported and Solent University, to bring the community together to access the services we can provide as well as informing students and organisations of the services available in the local areas".
 "Tonight went really well," Solent's Kev Harris agreed. "It's the first event we've run with Sported, who are a great partnership, and I think the students got a lot out of it. Next year we're hoping to get the word out – get more clubs attending and more students involved!"