Student Wins Prestigious Football Writer Award
Solent University, Southampton BA (Hons) Sports Journalism student, Saj Rahman has won the Football Writers Association (FWA) inaugural 'Unknown Voices' award
26th April 2022
BA (Hons) Sports Journalism student, Saj Rahman has won the Football Writers Association (FWA) inaugural 'Unknown Voices' award, in collaboration with Kick It Out - who work to tackle racism and discrimination in football. This the second successive year that a Sports Journalism student at Solent University has been awarded a top accolade from the FWA.
The second-year student's entry, chosen from hundreds of submissions, was remarked to be "a funny and perfectly observed piece about Dan Neild, a former couch potato who gave up slouching in front of his Playstation, and took up playing football and is now a regular with Weymouth" by the FWA.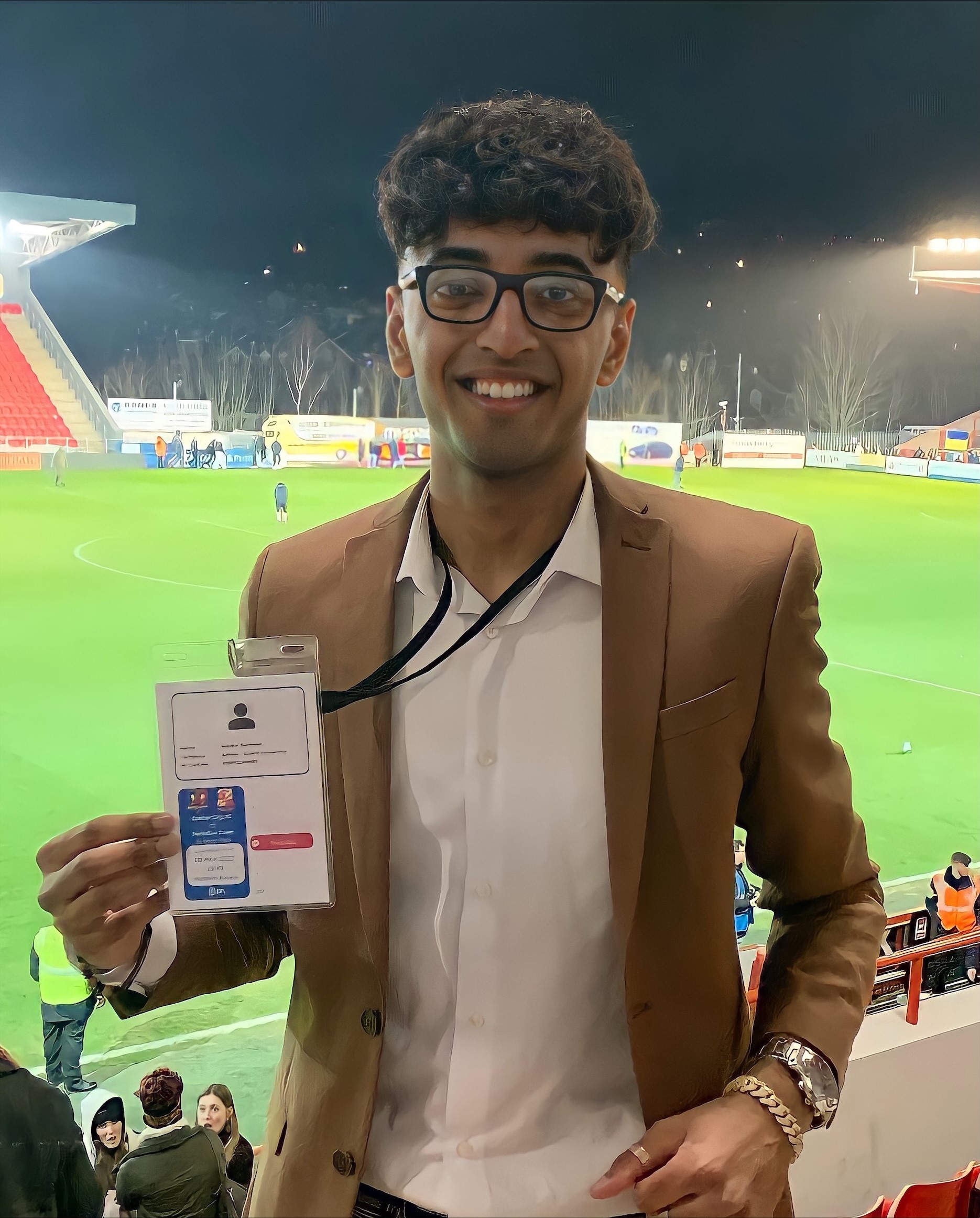 On the award, Saj Rahman, who grew up in Poole and lives in Bournemouth, says: "The award means a lot to me personally because it's gratification for something that I have been working at since I was around 12 years old, studying at Ferndown Upper School.
"I was adamant that I wanted to be a sports journalist from a young age. Coming from a Bangladeshi background, I think a lot of South Asians will know the stereotypical jobs for us like becoming a doctor or a lawyer and growing up there weren't many role models of my ethnicity for me to look up to. With the help of 'Kick It Out' and by winning this award I hope I can be that inspiration for other people of all minority backgrounds to chase their dreams."
He continues: "I would like to thank my lecturers at Solent University who have time to give me advice and pass on their expertise. My friends jokingly call me Mr. Relentless because I'm constantly looking to do more but instead of telling me to relax, the lecturers have always tried to push me further and without them it would not have been possible to win this award."
With a love of all sports, the 20-year-old has career aspirations to become the face of all major sporting events. He says: "I am confident that this award will open up a whole range of avenues to explore and I plan on making the most of that to get closer to achieving the dream."
Sports Journalism Course Leader, Will Cope, says: "We are absolutely thrilled for Saj, and this award is richly deserved. He is a great student, but also a lovely young man. He throws himself into every challenge with maximum effort and we on the degree are not the least bit surprised that the judging panel saw in him and his writing, what we see in him every day at Solent University. The best adverts for our degree are our students and graduates, and Saj is a very fine advert indeed. There is no doubt in our minds that he will go on to have a fine career in the sports journalism industry."
As well as a trophy, Saj will have his entry listed in the FWA Football Book of the Year Award, as well as winning £500, a free membership of the FWA for a year, an opportunity for work experience, plus the chance to benefit from mentoring from a member of the judging panel. Trophies will be awarded on the same night as the FWA Footballer of the Year at an annual dinner on 5 May at The Landmark Hotel, London
Read Saj's winning article here.