Students help businesses to succeed in the South
Student-led project highlights the benefits of living and working in the central south of England.
4th May 2021
Business and finance
Digital design and web development
Computing and games
Marketing, communications and public relations
Students from Solent's creative and digital media courses worked with the regional business network, Business South, to develop a new website that showcases why the Central South is a great place to live, work and make home.
While many of us already living in the Central South know what makes it great, recruiters and HR teams sometimes struggle to counter the pull of London with its close proximity. Employers who are represented through the Business South Workforce Action Group identified the need to develop a platform that showcases the regions strengths and could be used by SMEs who do not have the resources to create their own employee information packs.
Five students were commissioned through Solent's own creative agency Solent Creatives to develop a platform that would be of benefit to the business community. It included thinking of a project name, creating a brand identity, designing a microsite, and presenting the project to stakeholders, as well as the development and build of the site. This led to the launch of Succeed in the South, an online platform that showcases the regions strengths and contains information on studying, employment, lifestyle and connectivity.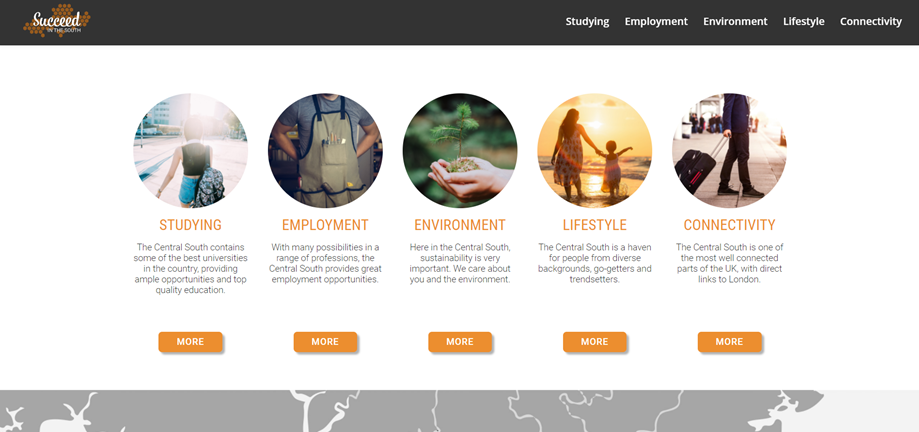 Commenting on the project Leigh-Sara Timberlake, Executive Director of Business South said, "The pandemic hit just as the brief was submitted to Solent University so we take great pride in the fact that our champions were agile and committed enough to mentor five students remotely who did not previously have business experience. I'd like to thank web design agency Nettl and 360 integrated PR for the support they provided to the students."
Georgia Pullen, Arne Schliebener, Michael Allen, Florian Fentzahn, and Despina Venizelou were the five students who drove the project. Reflecting on her experience, Georgia commented: "Succeed in the South was an exciting and unusual project that brought together a team of students and alumni from different disciplines to create an online resource. I enjoyed working on the project despite the challenges involved, such as learning how to manage team members' strengths and weaknesses. It was a great experience to work with a large, well-established organisation and I was pleased to see how the final product turned out".
As well providing real world experience, students were also able to benefit from mentoring support. Commenting on the work of the students, Daniel Wood, Managing Director of Nettl, said: "It was a genuine pleasure to work with and mentor such an incredibly talented and enthusiastic group of young designers and developers, and the team here are all very proud of the outcome, despite a challenging brief and a tight deadline."
Discover more about our business solution services.