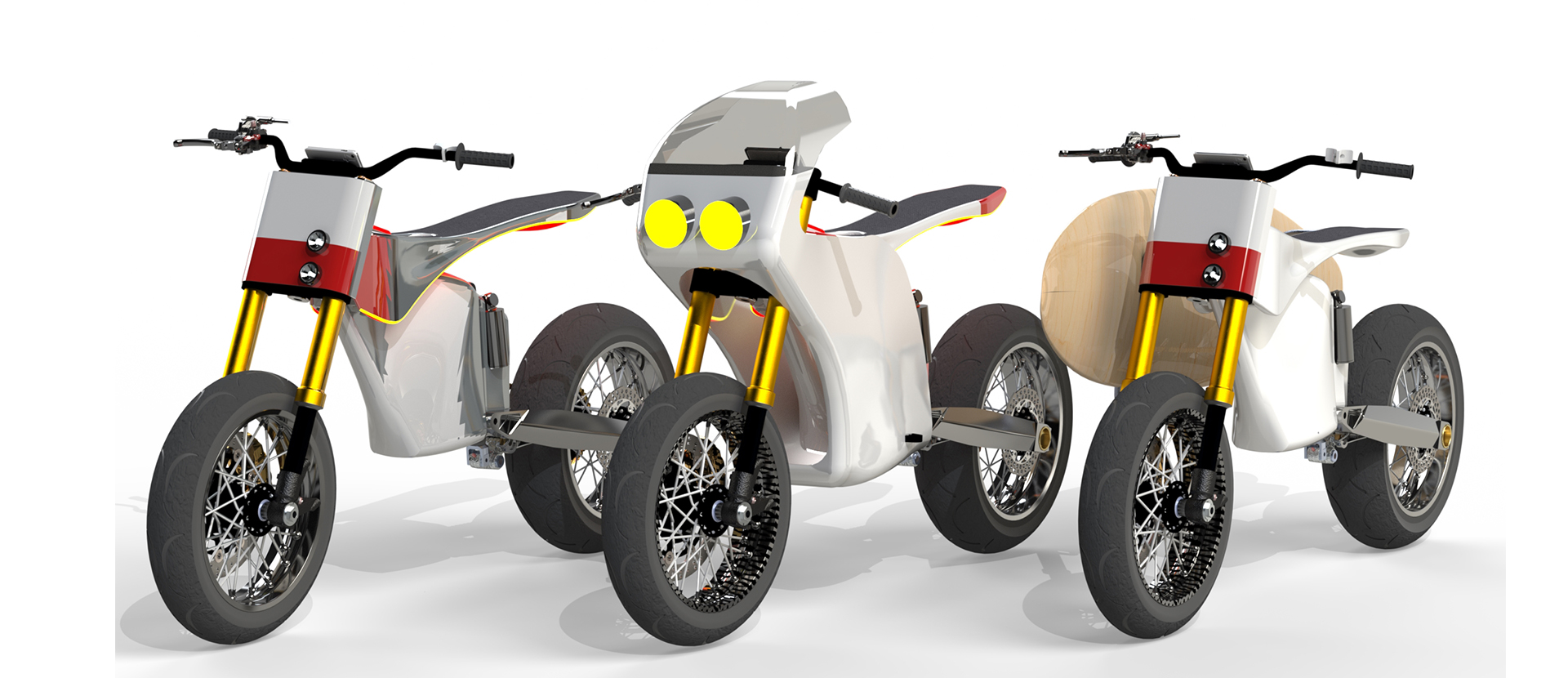 The future of motorbikes?
Student designs flexible motorbike
21st July 2017
BA (Hons) Product Design student Ben Lee, 23, recently showcased his final major project at Solent's School of Art, Design and Fashion end of year degree shows.
The unique project, an electric motorbike, was designed to fit every user and secured Ben a first-class honours degree when he graduated this month.
We caught up with Ben to find out where he got his inspiration behind the unique project and what is next for him…
Tell us a bit about your final project 
My final project was an electric motorbike, FIFTEEN, that will ergonomically fit every user. The motorbike will have a system that will allow the user to collect batteries from certain parts of their town or city, with modular parts. It will be completely unique to the individual user. The bike includes a rechargeable battery system, a novel seat adjustment solution and the ability to be customised for a wide variety of situations.
I also looked at the lighting on the bike to ensure it has more of a road presence.
What was the inspiration behind your project?
My inspiration came from the lack of this type of product on the current market and finding out what problems people have with existing bikes.
With a passion for motorbikes, I decided I wanted to design something that pushed the normal look and the way that people interact with motorbikes.
What have you enjoyed most about your time at Solent?
I have thoroughly enjoyed my time at Solent, learning the subject and expanding my knowledge on design. I have made some lifelong friends, worked with inspirational tutors and had experiences that I would have only been able to experience at university.
What's next for you?
Through the University I have gained some work experience with 2LK, an experimental design agency. Although at the moment there is nothing set in stone for a job, I do have a few things lined up for when I finish. With the skills I have been taught at Solent, I'm confident that something will prevail from the interviews I have attended.
What tips would you give to other students or potential students?
The best advice I can give to any future student is to work on the project every day, even just for a couple of hours to make sure that the stress isn't there on the day of the deadline. Also, enjoy every moment as it goes so fast.
Find out more about our design courses here.