Theo Paphitis

Chancellor
Principal Officers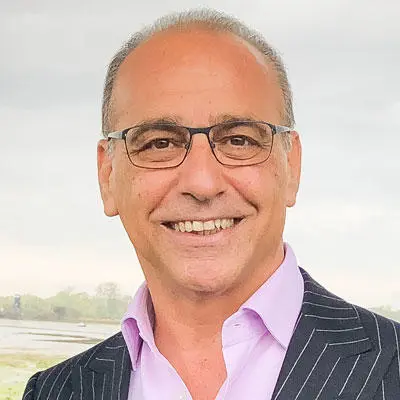 Role at Solent
Theo Paphitis is Solent's second and current Chancellor, bringing his entrepreneurial and business experience to the University and its students
The Chancellor is the ceremonial head of the University, presiding over Solent's annual graduation ceremonies and other formal functions.
The Chancellor also represents the University externally, both nationally and internationally – together with the Vice-Chancellor and the Chairman of the Board of Governors, he is the University's principal ambassador.
Experience
Theo was born in Cyprus. His business empire spans retail, property and finance and he brings a wealth of experience and business acumen to the University.
He says: "Part of my responsibility as Chancellor at Solent will include working closely with, and building relationships with, each of the schools within the University. I will spend time with them, understand what they are doing and get to know the expectations of the students, and how I can help. Not only with my own skill set, but introducing students and staff to my own contacts and people I have built up close working relationships who can also offer guidance and wisdom."
When Theo left school at the age of 16, without any qualifications due to his dyslexia, he started working as a filing clerk/tea boy for Lloyds Insurance. Theo soon realised his passions lay elsewhere and went on to take a job working for Watches of Switzerland, where he discovered his love for retail.
After several years in retail, the opportunity arose for him to return to insurance where he gained invaluable experience in finance and property, but eventually returned to his passion - the world of retail.
Over the years Theo has revived the fortunes of some well-known high street brands such as Ryman, La Senza and Robert Dyas. In addition, in the Spring of 2011 he launched what has now become the multi-award winning, global lingerie brand Boux Avenue. He also acquired arts supplier London Graphic Centre in 2016, to complement his Ryman business.
Another of Theo's passions, sport, led to him having eight successful years as Chairman of Millwall Football Club, achieving promotion to the Championship and FA Cup Final against Manchester United as well as qualifying for Europe. He was also elected an FA Councillor and a Director of the Football League.
Theo is also known for his many appearances on television, including nine series on the BBC's Dragons' Den, Theo's Adventure Capitalists, Britain's Next Big Thing, Back to the Floor and The One Show, and as a regular media commentator on current affairs on news programmes such as Question Time.
In 2010, small business champion Theo launched #SBS Small Business Sunday, from his kitchen table on Twitter to help small businesses. This now has over 2,400 #SBS winners in the network, a free annual event and expansive business network. He is passionate about creating and supporting entrepreneurs and encouraging start-ups across the UK.
Theo and his businesses have raised over £4m for Comic Relief and Sport Relief over the years, and he is also an ambassador for the Royal Manchester Children's Hospital. Theo's own charity, The Theo Paphitis Charitable Trust, also supports many smaller charities in the UK.
Theo is a long-standing ambassador of the Ryman National Enterprise Challenge, encouraging young people to get work ready and understand the world of business before starting work. He was also a Skills Show patron from 2012-2015, the nation's largest skills and careers event, that helps to shape the futures and careers of a new generation.
Speaking of his appointment as Chancellor, Theo says: "I am delighted to be Chancellor of Solent University, as the area is very close to my heart for many reasons. In 2010, I was awarded Honorary Doctor of Business and went on to support students with entrepreneurial advice through regular visits to the University. My daughters also studied at Solent, so I've had a personal connection with the institution for some time.
"There has never been a more interesting or challenging time to be part of the university sector and I am relishing the opportunity to help put Solent further on the map."