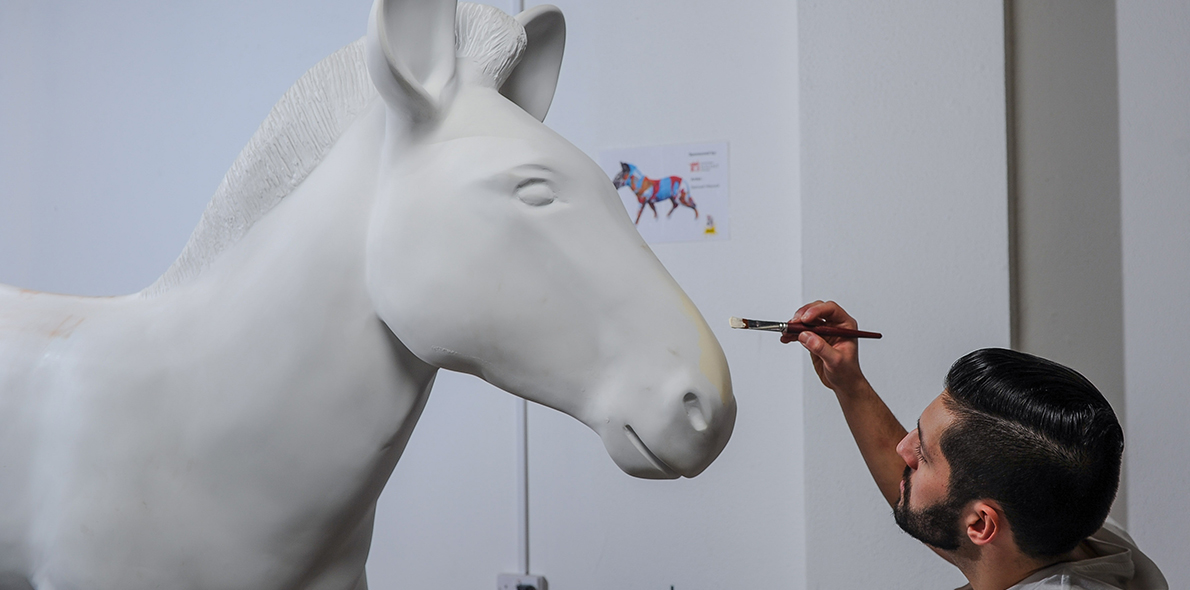 An interview with illustration student and artist Sam Hiscock
Sam Hiscock won our student competition for the chance to design Solent's zebra sculpture for Marwell Wildlife's Zany Zebras project – a public art extravaganza bringing art to the streets and parks of Southampton in summer 2016.
28th April 2016
Sam's work tends to portray the smaller details of life, targeting the overlooked quirks and curiosities of everyday life.
We catch up with him to find out a little more about him and his inspiration for the zebra design…
Tell us a bit about yourself
I am a Southampton-born third-year illustration student here at Solent. I have always drawn but didn't consider studying at university level until I went to college and completed a Foundation Diploma in Art. Though drawing is my passion, I have a bucket load of obscure interests from old promotional advertisement and packaging tins to antiques and larger British moths!
Tell us a bit about your zebra design and the inspiration behind it
The origins of my design ideas come from African textiles, prints and tribal masks. Researching such imagery felt like the natural starting point before constructing my design, and I was so inspired by the colours and patterns of these images I had to incorporate this visual heritage in my design.
What materials will you be using?
I'm predominately using acrylic paint but on the last layer I plan to use a very thick opaque paint pen to draw on the final details.
What are you looking forward to most about the project?
Working alongside other artists with different backgrounds and seeing the finished zebra at the end!
You'll be working alongside other professional artists, what are you hoping to get from the experience?
This is something that I'm very excited about! It will be great to see the different interpretations and ideas, and hopefully gain some advice from fellow creatives.
Have you done anything like this before or worked on any other commissions?
I recently illustrated the cover of the 2016 (January to May) events brochure for Southampton City Art Gallery and Sea City Museum. But I have never been part of a project that requires me to work directly on to a 3D object in this way.
How has your course helped your professional career so far?
As well as teaching you to adapt new techniques and processes to your own illustrations, the course develops you as an individual, both personally and creatively, which is crucial for anyone who is entering such a competitive industry.
You can see Sam at work in Marwell's artist painting space in The Marlands Shopping Centre, Southampton, until early May, and follow his progress on Twitter @SolentZanyZebra.

Marwell's Zany Zebras will gallop through the city's streets this summer, creating a fun, family friendly trail for all to enjoy. There will also be a trail of replica miniature Marwell Zany Zebras hidden throughout Marwell Zoo itself.
As well as showcasing artistic talent in the local area, the project also aims to highlight the plight of zebras in the wild. The zebra sculptures are modelled on the Grevy zebra, which is the largest and most endangered of the three species of zebra. It is taller, has larger rounded ears, and narrower stripes. The money raised from the project will to help conserve endangered Grevy's zebras and support communities living in the arid rangelands of northern Kenya.