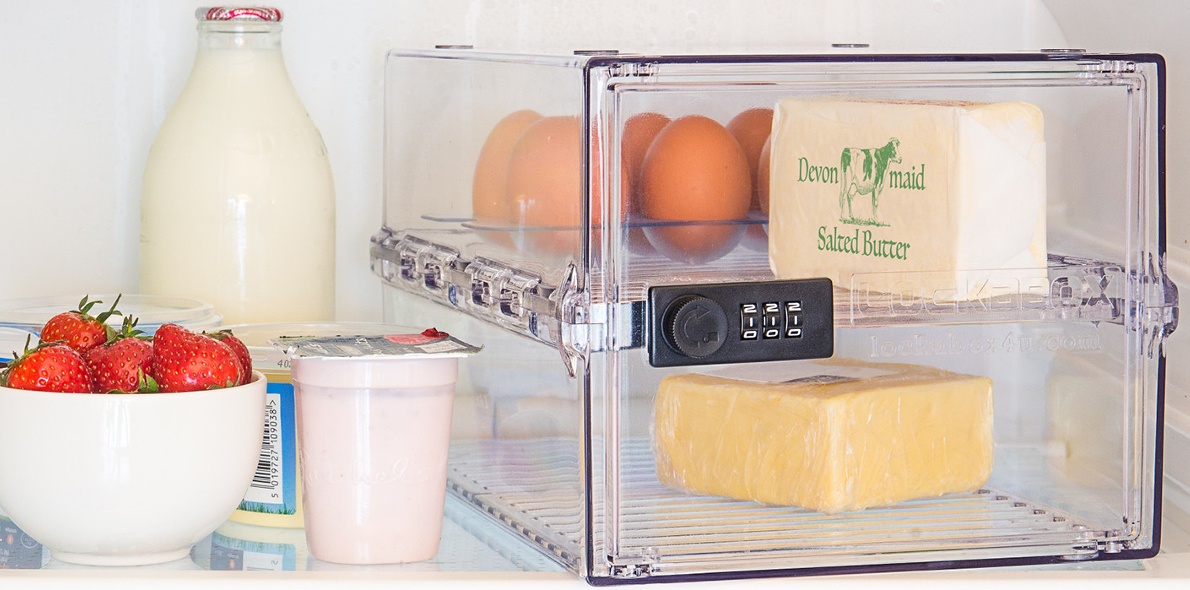 Outsmart the Milk Marauders with John Lewis
1st March 2016
Southampton Solent student Peter Morris's early-morning eureka moment led to Lockabox – a growing business and an inventive product, which has now been picked up by retailer John Lewis.
Starting off as a builder in south Devon, Peter moved to Southampton to follow his interests by studying music technology, but his experience of living in a shared house sparked the idea that would grow into Lockabox.
"Many former university students will remember getting annoyed when housemates 'borrow' your food from the fridge and there's nothing left when you're hungry," he explains. "When it happened to me, I began to think 'there must be a way round this…?' and came up with the idea of a lockable box to keep your supplies secure inside the fridge."
It's a simple concept: a safe, hygienic and easy to assemble box, which locks. Designed to fit on the shelf of a standard fridge, it can also be used to keep health care products, cosmetics and medicines secure, as well as generally making sure personal items stay private.
"I quickly realised that while Lockabox was going to be a fantastic product for students, the market was much broader than that. So many people have things they want to keep visible but not accessible. Milk in student fridges was just the start. I started to think about shift workers with their lunch in shared fridges, parents keeping remotes away from children, camping trips. The list became endless."
In January 2014, after 18 months working on his idea on his own, Peter had another life-changing moment when he spotted a poster advertising the chance to compete for a £500 Southampton Solent University Students' Union business grant. "There was no time to prepare my elevator pitch but I had a USB stick to hand and thought I would have a go at impressing the panel. It worked, and I won the 2014 most innovative product award!" he says.
Later on, Peter took time out from his business and studies to hone his presentation skills and business plan and went on to win a £2,000 grant from the Solent student and graduate entrepreneur scheme.
"The panel suggested I had two things wrong with my business plan," Peter says. "One, I was going to make money much quicker than I forecasted, and two, I wouldn't be able to deal with the millions of orders I was going to get. Both problems I was quite happy to have!"
The process wasn't without its challenges, though. "Getting a registered trademark, designing a product with no design skills, prototyping with no money, generally having no money for anything when professional and legal advice is so expensive, writing my first business plan, raising finance, working with injection moulding tooling companies, meeting the back-to-uni retail deadline, managing advisors/people working for me and keeping control of cash flow."
It's been a long journey, but Peter is full of praise for the practical encouragement he has received along the way from Southampton Solent's enterprise team, including a mentor to support him as he developed the business.
"There was a lot to think about. I had already approached Chinese manufacturers to arrange prototypes but it can be difficult working on your own, without expert help. I'm grateful to the team at Southampton Solent for their practical help as I develop my idea. I would recommend anyone interested in running their own business to get in touch with them," he says.
Peter has patiently developed the Lockabox from his first idea to a sleek and effective modern design. Packed and ready, the British-made product is already on the shelves; Lockabox has attracted the attention of a major UK outlet and it is now on sale in John Lewis stores across the country.
Seeing the product in John Lewis was a real high point for Peter. "Seeing the first photo of Lockabox in a John Lewis store, seeing Lockabox listed on the John Lewis website… and recently, the unbelievable reaction we got at the Spring Fair trade show."
Now the idea is out there, Peter's hard work is paying off; entrepreneur and Solent honorary doctor Theo Paphitis has reviewed the product through his buying team for home and hardware store Robert Dyas ("he loves it and wants two for his daughters!", says Peter), and a Lockabox was hand-delivered to 10 Downing St in February by the CEO of the Made In Britain campaign.
The journey's not over, however, and we asked Peter about his plans for the future. "Get Lockabox far and wide into Europe and the US," he says. "Put on some crazy exhibitions to showcase Lockabox in student cities across the globe. Buy a yacht and settle in California with my surf shack on the beach and my music studio out the back!"
Find out more about enterprise and entrepreneurial support at Southampton Solent, or about Lockabox